U.S. U-17 Men's National Team Fall Residency roster named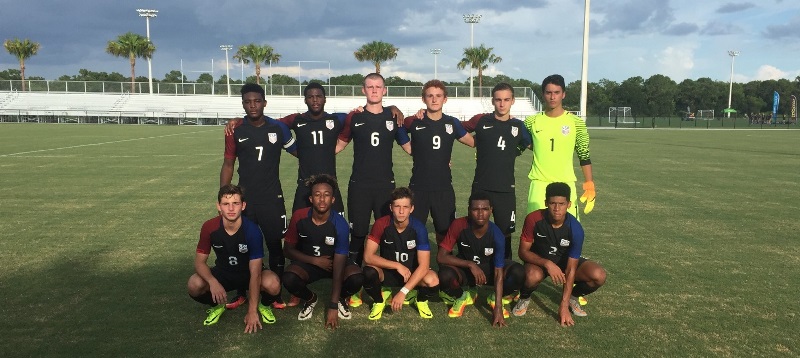 CHICAGO (Via U.S. Soccer) – U.S. Under-17 Men's National Team head coach John Hackworth has invited 32 players to the 2016 Fall Semester of the U.S. U-17 Residency Program in Bradenton, Florida.
The U-17 Residency Program roster features 21 players who were with the team during the 2016 spring semester. The roster also includes 29 players currently registered with Development Academy clubs and 30 in all with ties to the Academy.
"This is a special semester and year for our program," Hackworth said. "We are returning the majority of the 2000's and integrating the new group of 2000's & 2001's.  Our primary objective is player development with these talented young men, but with World Cup qualifying beginning in April, we will certainly put an emphasis on building a team that can achieve our desired goals."
+Read: U.S. U-19 MNT, Xolos exchange wins in training camp friendlies
This group of U-17 men first convened in August and jumped straight into the 2016 Torneo Naciones de Mexico, recording a tie, a win, and a loss, against Portugal, Qatar, and Mexico, respectively. The U-17 MNT then hosted two high-scoring victories against Guatemala in mid-September, followed by a win and a loss against Panama in their first foreign training camp of the year. Most recently, the U-17 MNT and Saint Louis FC U-18 Academy squared off in a thrilling 1-1 draw that ultimately resulted in a 5-4 shoot out win for STLFC.
Next on the schedule for the U-17 MNT is hosting Costa Rica on October 22 and 24 in Bradenton, Fla.
+Read: Saint Louis FC Academy tops U.S. U-17 MNT in PKs after 1-1 draw
Roster by Position
GOALKEEPERS (4): Alexander Budnik (Sockers FC; Arlington Heights, Ill.), Nicolas Defreitas-Hansen (Weston FC; Southwest Ranches, Fla.), Justin Garces (Kendall SC; Miami, Fla.), Quantrell Jones (Baltimore Celtic; Baltimore, Md.)
DEFENDERS (9): Carlos Asensio (Atlanta United; Roswell, Ga.), Jose Bencomo (Colorado Rapids; Aurora, Colo.), Christopher Gloster (New York Red Bulls; Montclair, N.J.), Jaylin Lindsey (Sporting Kansas City; Charlotte, N.C.), Carlo Ritaccio (BW Gottschee; Westbury, N.Y.), Nicholas Slonina (Chicago Fire; Addison, Ill.), Arturo Vasquez (FC Golden State; Mira Loma, Calif.), Chandler Vaughn (D.C. United; Woodbridge, Va.), Tristen Weber (Unattached; San Clemente, Calif.)
MIDFIELDERS (11): George Acosta (Weston FC; Hollywood, Fla.), Isaac Angking (New England Revolution; Providence, R.I.), Taylor Booth (Real Salt Lake AZ; Eden, Utah), Christopher Durkin (D.C. United; Glen Allen, Va.), Blaine Ferri (Solar Chelsea SC; Southlake, Tex.), Christopher Goslin (Atlanta United; Locust Grove, Ga.), Marcelo Palomino (Houston Dynamo; Houston, Tex.), James Sands (New York City FC; Rye, N.Y.), Indiana Vassilev (IMG Academy; Savannah, Ga.), Adrian Villegas (Portland Timbers; Hood River, Ore.), Akil Watts (IMG Academy; Fort Wayne, Ind.)
FORWARDS (8): Ayomide Akinola (Toronto FC; Brampton, Ont.), Matthew Hundley (Real Colorado; Littleton, Colo.), Zyen Jones (Atlanta United; Clarkston, Ga.),  Alejandro Pereira (Orlando City SC; Oviedo, Fla.), Bryan Reynolds Jr. (FC Dallas; Little Elm, Tex.), William Sands (New York City FC; Rye, N.Y.), Joshua Sargent (Scott Gallagher Missouri; O'Fallen, Mo.), Tonny Temple (IMG Academy; Millville, Pa.)