U.S. U-16 Girls National Team set for friendlies in the Netherlands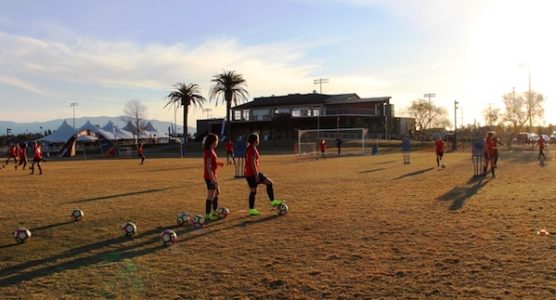 CHICAGO (Via U.S. Soccer) – The Under-16 Girls' National Teams will kick off its new cycle with a trip to the Netherlands running from June 10-17. The USA will play two games against its counterpart from the Netherlands with those taking place on June 14 and 16.
Barry Ritson will coach the squad and he called up 20 players, three born in 2005 and the remainder in 2004. Ten of the players on the roster, including all three '05s, helped the USA win the CONCACAF Under-15 Girls' Championship in Florida last August.
Those players are goalkeepers Nona Reason and Teagan Wys, defenders Elise Evans, Maggie Taitano, Evelyn Shores and Gisele Thompson, midfielders Juliauna Hayward and Olivia Moultrie, and forwards Jaedyn Shaw and Alyssa Thompson.
One of those players born in 2005 is Moultrie, who turned professional last February at the age of 13 when she signed an endorsement contract with Nike. She currently plays in the Portland Thorns Academy.
The U.S. Under-16 Girl's National Team was re-instituted in 2015. Prior to that year, U.S. Soccer had not had programming at the U-16 level since 2007. When FIFA instituted a world championship at the U-17 level for 2008 the U-16 age group was absorbed into the U-17s. In 2015, as part of an overall commitment to player development, new programs at the U-16 and U-19 level were started back up and U.S. Soccer now has a total of eight Youth National Teams for both its men's and women's programs: U-14, U-15, U-16, U-17, U-18, U-19, U-20 and U-23.
Those additions created two separate programming tracks for even-birth-year players and odd-birth-year players, allowing for a more consistent approach toward development and additional opportunities for players to participate in National Team events and matches.
The structure means that U.S. Soccer has two tracks for players, one for players born in even years and the other for odd years. If a player was born in an odd year, which are the age-cut-off years for the FIFA U-17 Women's World Cup, her track through the U.S. Women's National Team programs will be U-15 (two years), U-17 (two years) and U-19 (two years). Players born in even years, which are the age-cut-off years for the FIFA U-20 Women's World Cup, will follow the path of U-14 (one year), U-16 (two years), U-18 (two years) and U-20 (two years).
This year's U-16s are in the first year of their two-year cycle. Seventeen of players on the roster play in the U.S. Soccer Development Academy.
U.S. U-16 GNT ROSTER BY POSITION – NETHERLANDS TRAINING CAMP:
GOALKEEPERS (2): Nona Reason (San Diego Surf; San Clemente; Calif.), Teagan Wy (West Coast FC; Rancho Santa Margarita, Calif.)
DEFENDERS (6): Elise Evans (San Jose Earthquakes; Redwood City, Calif.), Kayleigh Herr (NC Courage; Cary, NC),  Elle Piper (San Jose Earthquakes; San Jose, Calif.), Evelyn Shores (Tophat; Atlanta, Ga.), Maggie Taitano (San Diego Surf; Carlsbad, Calif.), Gisele Thompson (Real So Cal; Studio City, Calif.)
MIDFIELDERS (5): Sydney Becerra (Solar SC; Lewisville, Tx.),  Danielle Davis (FC Fury NY; Port Washington), Juliauna Hayward (Real Colorado; Thornton, Colo.), Peyton Marcisz (San Jose Earthquakes; San Jose), Olivia Moultrie (Portland Thorns FC; Portland, Ore.)
FORWARDS (7): Ella Eggleston (Lonestar Academy; Austin, Tx.), Mia Minestrella (Beach FC; Redondo Beach, Calif.),  Katherine Rader (Orlando City Pride SC; Stuart, Fla.), Julia Saunicheva (San Jose Earthquakes; Santa Clara, Calif.), Jaedyn Shaw (FC Dallas; Frisco, Tex.), Alyssa Thompson (Real So Cal; Studio City, Calif.), Alivia Uribe (Reign Academy; Seattle, Wash.)