U.S. U-17 Women's National Team holding camp in San Diego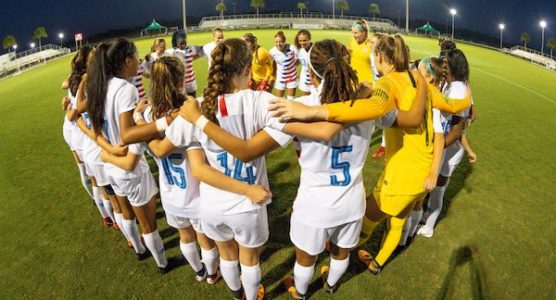 CHICAGO (Via U.S. Soccer) – The Under-17 Women's National Team is currently holding training camp from June 6-13, as head coach Tracey Kevins called 24 players to the Elite Athlete Training Center in Chula Vista, Calif.
The roster features 20 players who helped the USA win the UEFA Women's Development Tournament in Portugal in mid-May, sweeping games from Mexico, Russia and Portugal, and four players who were on the roster for the squad that won the UEFA Development Tournament in the Czech Republic the week after, downing Ireland, Czech Republic and Belgium.
The U.S. U-17 Women's national Teams out-scored its opponents 25-2 over those two tourneys. The roster features the scorers of 20 of those goals: Karlie Lema (5 in CZE), Allyson Sentnor (3 in POR), Amelia White (3) in POR), Amerlia Horton (2 in POR), Simone Jackson (2 in POR), Alexis Missimo (2 in POR), Trinity Byars (1 in POR), Arianna Manrique (1 in POR) and Jillian Shimkin (1 in POR).
In San Diego, the USA is taking on China PR in a pair of friendlies. The USA defeated China PR 3-1 in the first of two matches, receiving goals from Amelia White and Trinity Byars, along with an own goal by China. The U-17s are 7-0-0 in international matches in 2019.
U.S. U-17 WNT ROSTER BY POSITION – SAN DIEGO TRAINING CAMP:
GOALKEEPERS (2): Nadia Cooper (Shattuck St. Mary's; Katy, Texas), Neeku Purcell (Reign Academy; Seattle, Wash.)
DEFENDERS (7): Courtney Boone (Legends FC; West Covina, Calif.), Baleigh Bruster (Tophat; Atlanta, Ga.), Andrea Kitahata (San Jose Earthquakes; Hillsborough, Calif.), Aidan McConnell (Michigan Hawks; Dexter, Mich.), Ayooluwa Oke (Tophat; Atlanta, Ga.), Shea O'Malley (NC Courage; Cary, N.C.), Lilly Reale (South Shore Select; Hingham, Mass.)
MIDFIELDERS (7): Emily Colton (LA Galaxy San Diego; Carlsbad, Calif.), Emma Egizii (Beach FC; Downey, Calif.), Tatiana Fung (Legends FC; Fullerton, Calif.), Annie Karich (So Cal Blues SC; Surfside, Calif.), Devin Lynch (Sockers FC; Naperville, Ill.), Alexis Missimo (Solar SC; Southlake, Texas), Jillian Shimkin (FC Fury New York; Rockville Centre, N.Y.)
FORWARDS (8): Trinity Byars (Solar SC; Richardson, Texas), Giovana Costa (Madrid CFF; Weston, Fla.), Amelia Horton (Sporting Blue Valley; Olathe, Kan.), Simone Jackson (LAFC Slammers; Redondo Beach, Calif.), Karlie Lema (MVLA; Morgan Hill, Calif.), Arianna Manrique (Tophat; Buford, Ga.), Allyson Sentnor (South Shore Select; Hanson, Mass.), Amelia White (Fort Wayne United FC; Fort Wayne, Ind.)