U.S. U-16 Girls National Team plays Netherlands U-17s to 3-3 draw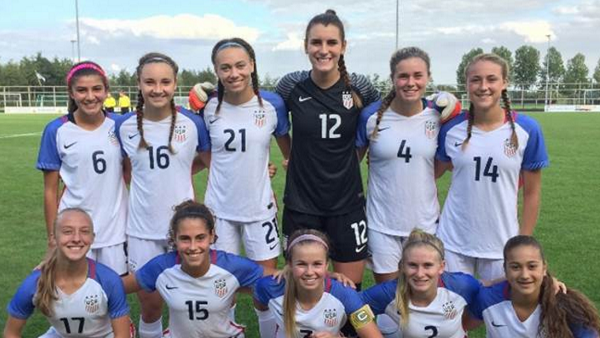 WOERDEN, Netherlands (Via U.S. Soccer) – The Under-16 Girls' National Team drew 3-3 with the Netherlands U-17 Women's National Team in the first of three games for the U.S. team during a training camp in Holland.
In the seesaw match, the USA went up 1-0, but held the lead for just three minutes. The USA then scored twice in a seven-minute span in the second half to go up 3-1 before the Dutch roared back with two goals in five minutes to equalize.
Forward Emaly Vatne opened the scoring in the 36th minute with her second international goal of the year for the U.S. U-16s after Madeline Vergura intercepted a pass in the attacking third and took a hard touch toward goal before slotting the ball past the several defenders and into the path Vatne. She took several touches to her left before finishing over the 'keeper.
+NCAA Women's Soccer Commitment Announcements: September 2016
Kerstin Casparij tied the game in the 39th minute and the game headed into the break tied 1-1.
The USA went up 2-1 in the 50th minute after Jenna Nighswonger won the ball centrally in the Dutch half and dribbled forward before playing a ball out wide to Vatne. She dribbled into the penalty box and played a square ball across face of the goal to Ashlynn Serepca who finished first time to the goalkeeper's right.
The USA made it 3-1 in the 56th minute on a penalty kick after Summer Yates was taken down from behind in the penalty box. She took it herself and finished smartly into the right corner.
The Netherlands scored in the 64th and 68th minutes to bring the score even and that's how the match ended.
U.S. head coach Jaime Frias called up 20 players for this trip that will also see the USA play matches against CTO Amsterdam on Sept. 23 and CTO Eindhoven on Sept. 26, which are regional academy teams that will feature mostly 17 and 18-year-old players, many of whom play for the Netherland's age group National Teams.
This age group is in the second year of a two-year cycle before becoming the U-18s and then the U-20s with the goal of playing in the 2020 FIFA Under-20 Women's World Cup.
U-16 Girls' National Team Match Report

Match: United States U-16 GNT vs the Netherlands U-17 WNT
Date: Sept. 20, 2016
Competition: International Friendly
Venue: S.C. Woerden; Woerden, Netherlands
Weather: 60 degrees; Partly cloudy
Scoring Summary:    1          2          F
USA                             1          2          3
NED                            1          2          3
USA – Emaly Vatne (Madeline Vergura)                   36th minute
NED – Kerstin Casparij                                               39
USA – Ashlynn Serepca (Emaly Vatne)                     50
USA – Summer Yates (penalty kick)                          56
NED – Kirsten van der Westeringh                            64
NED – Joelle Smits                                                     68
Lineups:
USA: 12-Hensley Hancuff, 16-Brianna Martinez, 21-Maycee Bell, 6-Madelyn Desiano (5-Sierra Enge, 46), 4-Shae Holmes, 3-Cori Dyke (10-Mia Fishel, 78), 15-Madeline Vergura (11-Croix Bethune, 67), 2-Jenna Nighswonger, 17-Emaly Vatne (13-Rebecca Jarrett, 67), 20-Summer Yates, 14-Olivia Wingate (9-Ashlynn Serepca, 46)
Subs not used: 1-Katie Meyer, 7-Samantha Meza, 8-Kali Trevithick, 19-Leah Scarpelli
Head Coach: Jaime Frias

NED: 1-Aukje van Seijst (16-Daphne van Domselaar, 46), 2-Lynn Wilms, 3-Anna Ursem (13-Licia Darnoud, 61), 4- Lisa Doorn, 5-Janou Levels (17-Romy Speelman, 61), 6-Lotte van Veldhoven (14-Kelsey Geraedts, 61), 8-Marisa Olislagers, 10-Kerstin Casparij (15-Kirsten van der Westeringh, 46), 7-Noa Pawirodimedjo (18-Romee Leuchter, 46), 11-Jill Bayings, 9-Joelle Smits
Subs not used: 12-Leonie Vliek, 19-Amy Banarsie
Head Coach: Marleen Wissink
Stats Summary: USA / NED
Shots: 7 / 11
Shots on Goal: 6 / 6
Saves: 3 / 3
Corner Kicks: 3 / 5
Fouls: 3 / 6
Offside: 5 / 1
Misconduct Summary:
USA – Brianna Martinez (caution)                  24th minute

Officials:
Referee: D. de Leeuw (NED)
Assistant Referee 1: Y. van de Velde (NED)
Assistant Referee 2: R. Droog (NED)