U.S. U-16 Boys National Team tops England at Val-de-Marne Tournament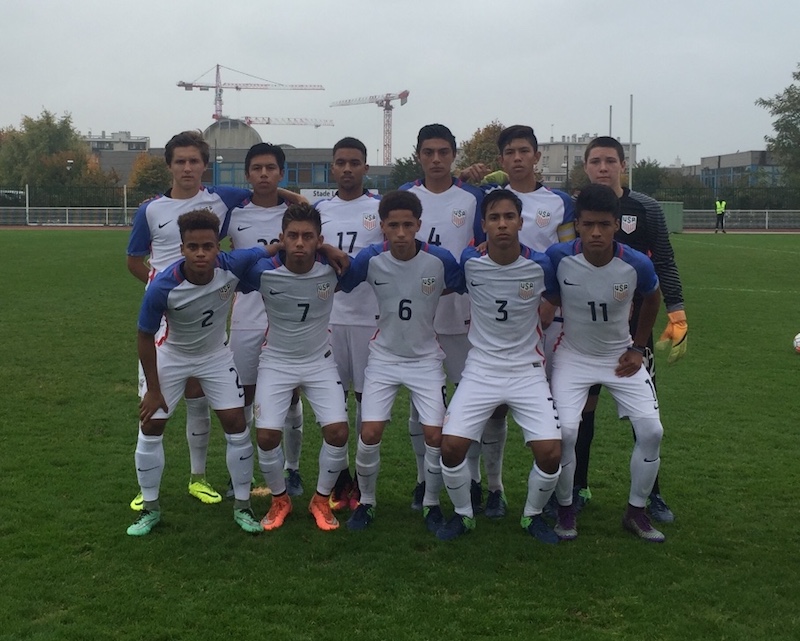 VAL DE MARNE, France (Via U.S. Soccer) – The U-16 Boys' National Team rallied their way to a 2-1 comeback victory against England in their first match of the Val-de-Marne Tournament in France.
Both teams had opportunities in the first half of the game, but neither was able to capitalize in the final third. The stalemate continued throughout the half and the players headed back to the locker room level at 0-0.
The second half got underway and England was able to get on the board with a 58th minute penalty kick converted by Edmond Maghoma. However, they returned the favor just three minutes later, conceding a penalty kick to the USA. Ulysses Llanez had no trouble finding the back of the net, tying the game 1-1 in the 61st minute.
Llanez, not satisfied with a draw, took the reins of the match and produced a beautiful finish to give the U.S. a 2-1 lead, and ultimately the victory, in the second minute of second half stoppage time. This win brings the U-16 BNT's record vs. England to 1-1-1 in 2016, having logged a 1-1 draw and a 4-2 loss against the England U-16's in two friendlies back in February.
The U-16's comeback win and Llanez's brilliant performance earned him Man of the Match, along with a trophy presented by the mayor of Villejuif, France.
Next on the schedule for the U-16 BNT is a matchup against Russia on Oct. 27 at 10 a.m. ET.
-U.S. U-16 Boys' National Team Match Report-
Match: U.S. U-16 Boys' National Team vs. England
Date: Oct. 25, 2016
Competition: 2016 Val-de-Marne Tournament
Venue:  Stade Louis Dolly; Villejuif, France
Kickoff: 10 a.m. ET
Weather: 60 degrees
Scoring Summary:      1          2          F
USA                             0          2          2
ENG                             0          1          1
ENG – Edmond Maghoma (penalty kick)                      58th minute
USA – Ulysses Llanez (penalty kick)                 61
USA – Ulysses Llanez                                      80 +2
Lineups:
USA: 22-Michael Collodi; 2-John Hilton, 4-Eduardo Blancas, 5-Leonardo Sepulveda, 3-Alexsi Morel (16-Ian Hoffman, 58); 8-Indiana Vassilev, 20-Luis Arriaga (10-Marcelo Palomino, 41), 6-Cameron Duke; 7-Jose Rivas, 17-Konrad de la Fuente, 11-Ulysses Llanez
Subs not used: 1-Nicolas Defreitas-Hansen, 9-Stefan Stojanovic, 13-Julian Hinojosa, 14-Nico Benalcazar, 15-Azriel Gonzalez, 18-Eben Noverr, 19-Jackson Conway
Head Coach: Shaun Tsakiris
ENG: 1-Luca Ashby-Hammond; 3-Jordan Aina, 12-Remarl Williams, 6-Clinton Mola, 7-Arvin Appiah, 10-Edmond Maghoma, 4-Ben Cottrell (8-Elijah Dixon-Bonner, 62), 16-Alfie Matthews (2-Bali Mumba, 60), 11-Curtis Jones, 18-Rayhaan Tulloch, 9-Paul Glatzel
Subs not used: 5-Zico Asare, 13-Harry Seaden, 14-Leighton Clarkson, 15-Brennan Johnson, 17-Reece Devine
Head Coach: Dan Micciche
Stats Summary: USA / England
Shots: 8 / 4
Shots on Goal: 5 / 3
Saves: 2 / 3
Corner Kicks: 1 / 3
Fouls: 7 / 2
Offside: 4 / 9
Misconduct Summary:
USA – Jose Rivas (caution)                  40th minute
ENG – Jordan Aina (caution)                53
USA – Ian Hoffmann (caution)              65
Notes: Game was played with two 40 minute halves.