U.S. U-16 Boys National Team earns 2-2 draw vs. Slovenia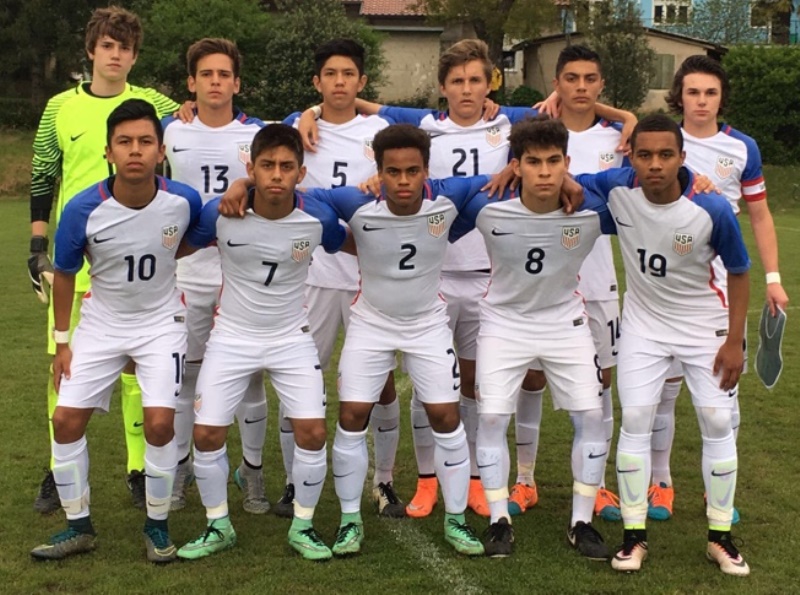 BILJE, Slovenia (Via U.S. Soccer) – The U.S. Under-16 Boys' National Team ended its match against Slovenia with a 2-2 draw in the 13th Tournament Delle Nazioni in Italy.
Slovenia grabbed the first goal by Tarik Nikolovski in the eighth minute. The U.S. was quick to counter just seven minutes later when Marcelo Palomino assisted Luis Arriaga for the equalizer.
Less than ten minutes later, the U.S. took the lead thanks to an assist by Arriaga leading to Jose Rivas' goal. In the 60th minute, Slovenia came back with an equalizer itself when Rok Maher put a ball past U.S. goalkeeper Alex Rando, ending the game in a 2-2 draw. Just before halftime, U.S. defender Leonardo Sepulveda was ejected, causing the U.S. to finish the game with 10 players.
+Read: U.S. Soccer Development Academy East Conference Recap: Week 21
With the draw, the USA drops to the bottom of Group C standings, just under its next opponent Brazil (April 27; 9 a.m. ET). Croatia and Slovenia top the group with 4 points each.
– U.S. Under-16 Boys' National Team Match Report –
Match: U.S. Under-16 Boys' National Team vs. Slovenia
Date: April 26, 2016
Competition: 13th Tournament Delle Nazioni
Venue: Bilje, Slovenia
Kickoff: 11 a.m. ET
Weather: 55 degrees; Rainy
Scoring Summary:           1              2              F
USA                                       2              0              2
SVN                                       1              1              2
SVN – Tarik Nikolovski                                   8th minute
USA – Luis Arriaga (Marcelo Palomino)   15
USA – Jose Rivas (Luis Arriaga)                   23
SVN – Rok Maher                                            60
Lineups:
USA:  12-Alex Rando; 3-Luke Hansen, 5-Leonardo Sepulveda, 13-Sebastian Serpa, 14-Eduardo Blancas; 2-John Hilton, 10-Luis Arriaga (4-Michael Pellegrino, 36), 6-Taylor Booth (11-Ulysses Llanez, 65), 8-Marcelo Palomino (9-Gabe Segal, 52), 7-Jose Rivas (18-Dominic De Almeida, 36); 19-Konrad De la Fuente, 21-Indiana Vassilev
Subs Not Used: 1-Nicholas Defreitas-Hansen, 15-Roberto Hategan, 17-Alexsi Morel, 20-Nicholas Mendonca
Head coach: Shaun Tsakiris
SVN:  1-Domen Gril; 2-Tarik Nikolovski, 3-Nik Ocko, 4-Ivan Makovec, 5-Matija Burin; 6-Nik Prelec (17-Mark Ceh, 36) (10-Abel Marc, 65), 7-Renato Simic, 8-Tamar Svetlin, 11-Mirko Mutavcic; 19-Marcel Zizek (18-Rok Maher, 52), 20-Jost Urbancic
Subs Not Used: 9-Nino Kukovec, 12-Tomaz Stopajnik, 13-Tine Jagodic, 14-Denis Gajic, 15-Luka Lovenjak, 16-Matic Bracko
Head coach: Dusan Kosic
Stats Summary: USA / SVN
Shots: 8 / 7
Shots on Goal: 3 / 4
Saves: 2 / 1
Corner Kicks: 3 / 3
Fouls: 10 / 8
Misconduct Summary:
USA – Leonardo Sepulveda (caution)      26th minute
USA – Leonardo Sepulveda (ejection)    32
*The game was played in two 35 minute halves.