U.S. U-16 Boys National Team begins 2017 with camp in Argentina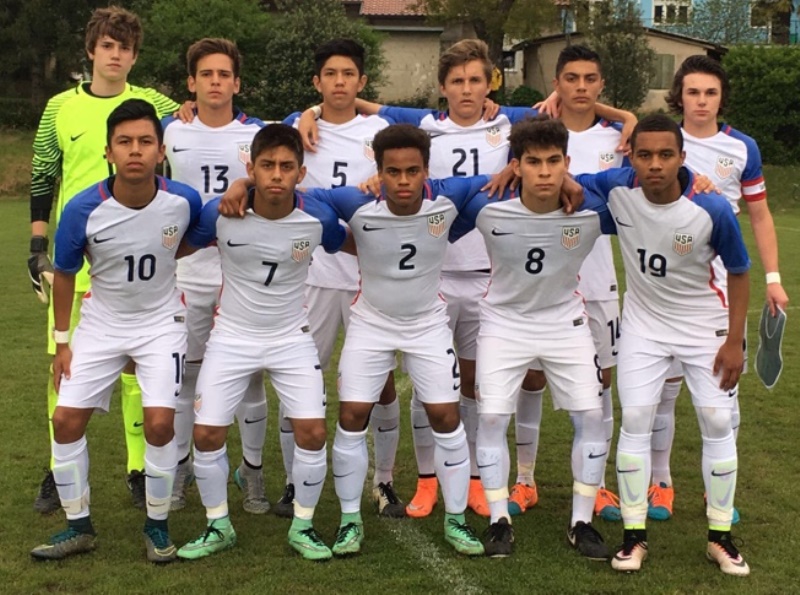 CHICAGO (Via U.S. Soccer) — Entering his second year as head coach for the U.S. Under-16 Boys' National Team, Shaun Tsakiris has named a 21-player roster for a ten-day international training camp taking place in Buenos Aires, Argentina.
"The number one objective of this camp is to get international experience," Tsakiris said. "That's the main objective. Then of course, we are also there to continue to evaluate and monitor the progress of players on our depth chart."
During the camp, the U-16 BNT will compete in three friendlies against clubs from different neighborhoods around Buenos Aires: A.A. Argentino Juniors (La Paternal), San Lorenzo de Almagro (Boedo) and Racing Club de Avellaneda (Avellaneda).
+READ: U.S. U-19 Men's National Team training camp kicks off in Florida
"Anytime you go down to South America, it's always going to be different than the competition we get in Europe, especially the style of play," Tsakiris continued. "I think this is a little more along the lines of what our players will face in CONCACAF and I think that the style matches that and prepares our players a little bit better. So, anytime we can go to Argentina or Chile or Brazil or any of these top countries, I think it's a great challenge for our players and ultimately, we want to prepare our players by giving them international experience."
The South American friendlies mark the first set of competitive games for the U-16 BNT since December's IMG Cup: Boys Invitational in Bradenton Fla., where the team played a year up and swept it's three group games, outscoring its opponents 17-0.
The age cut-off for this U-16 player pool, which is entering the second and final year of its cycle, is players born on or after Jan. 1, 2001.
+READ: U.S. U-17 Men's National Team Spring Residency roster announced
Development Academy Ties:
Of the 21 players called into this camp, 18 have spent time in the U.S. Soccer Development Academy and 17 are currently registered with a Development Academy program.
Midfielders Marcelo Palomino and Mario Anaya have the most Development Academy training, each with four years of experience.
Roster Notes:
Defender George Bello is the only player born in 2002, making him the youngest on the roster.
Roster by Position
GOALKEEPERS (2): Nicolas Defreitas-Hansen (Weston FC; Southwest Ranches, Fla.), David Ochoa (Real Salt Lake AZ; Casa Grande, Ariz.)
DEFENDERS (5): Julian Araujo (Santa Barbara SC; Lompoc, Calif.), George Bello (Atlanta United FC; Douglasville, Ga.), John Hilton (LA Galaxy; Long Beach, Calif.), Leonardo Sepulveda (LA Galaxy; Corona, Calif.), Nathan Toledo (FC Dallas; McKinney, Texas)
MIDFIELDERS (9): Everson Amaya Mejia (D.C. United; Alexandria, Va.), Mario Anaya (San Jose Earthquakes; Livermore, Calif.), Jordan Bender (Orlando City SC; Lake Mary, Fla.), Taylor Booth (Real Salt Lake AZ; Eden, Utah), Cameron Duke (Sporting KC; Olathe, Kan.), Nelson Martinez Rivera (DC United; Woodbridge, Va.), Matko Miljevic (A.A. Argentinos Juniors; Buenos Aires, Argentina), Marcelo Palomino (Houston Dynamo; Houston, Texas), Indiana Vassilev (IMG Academy, Savannah Ga.)
FORWARDS (5): Nicholas Mendonca (Clube de Regatas do Flamengo; Coconut Creek, Fla.), Benjamin Ortiz (La Roca FC; Orem, Utah), Bryan Reynolds (FC Dallas, Little Elm, Texas), Gabriel Segal (Bethesda-Olney; Bethesda, Md.), Jose Rivas (Weston FC; Weston, Fla.)