U.S. U-16 BNT falls to Norway 2-0 at Aegean Cup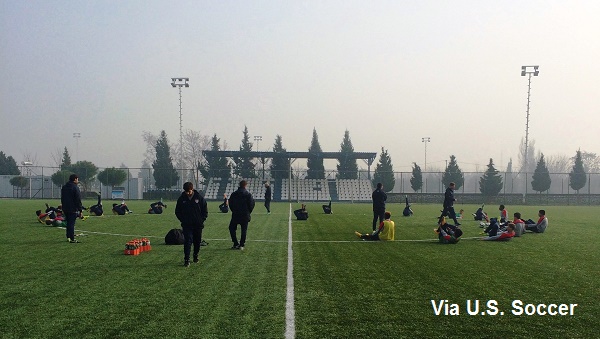 MANISA, Turkey (Via U.S. Soccer) – The U.S. Under-16 Boys' National Team dropped a 2-0 decision against Norway at September 7 Stadium in Turgutlu at the 2015 Aegean Cup International Youth Tournament.
Norway's Abdul-Basit Aguoda scored the winner in the fifth minute and Brage Berg Pedersen added a goal in the 80th minute.
Through two match days, Norway and Turkey are atop Group A with 1-0-1 records and four points, followed by the USA (1-1-0, 3 points) and Romania (0-2-0, 0 points). Host Turkey defeated Romania 2-0 on Tuesday.
+U.S. U-16 BNT beats Romania in Aegean Cup opener [Video]
The USA wraps up the group stage against Turkey on Thursday, followed by a placement match on Saturday.
-U.S. U-16 Boys' National Team Match Report-
Match: U.S. U-16 Boys' National Team (99-00) vs. Norway
Date: Jan. 20, 2015
Competition: 2015 Aegean Cup Under 16 Tournament
Venue: Eylul Stadium
Kickoff: 12 p.m. local
Weather: 60 degrees
Scoring Summary: 1 2 F
NOR                         1 1 2
USA                         0 0 0
NOR – Abdul-Basit Agouda    5th minute
NOR – Brage Berg Pedersen    79
Lineups:
USA: 12-Carlos Avilez; 18-Delasi Batse (2-Raul Aguilera, 41), 4-McKay Eves (capt.), 16-Kyle Gruno (11-Adolfo Trujillo, 69), 20-Matthew Real (3-Jose Alfaro, 60); 6-Juan Pablo Torres, 13-Jonathan Gonzalez, 10-Jose Carranza; 19-Leo Marquez, 17-Marty Raygoza (7-Justin Rennicks, 41), 15-Adrian Villegas (9-Lucas del Rosario, 49)
Subs not used: 1-Eric Lopez, 5-Rayshaun McGann
Coaches: Luchi Gonzalez and Shaun Tsakiris
NOR: 12-Markus Pettersen; 2-Dahle Borchrevink, 3-Tord Johnsen Salte (capt.), 4-Halvor Hovstad, 11-Leonard Getz; 8-Hassan Duman (17-Keirullah Ahmadzei, 60), 6-Felix Myhre, 10-Tobias Svendsen (15-Anders Johan Johansen, 74), 7-Brage Berg Pedersen (16-Henrik Christiansen, 74); 9-Abdul-Basit Agouda, 18-Markus Hobbestad (13-Nicholas Mickelsson, 69)
Subs not used: 14-Leo Ostigard, 5-Arne Holter, 1-Emil Odegard
Head Coach: Gunnar Halle
Stats Summary: USA / NOR
Shots: 9 / 9
Shots on Goal: 3 / 5
Saves: 3 / 3
Corner Kicks: 6 / 2
Fouls: 5 / 13
Offside: 10 / 2
Misconduct Summary:
NOR – Abdul-Basit Agouda (caution)  28th minute
USA – Kyle Gruno (caution)                 33
USA – McKay Eves (caution)               47
NOR – Tord Johnsen Salte (caution)     70
NOR – Tord Johnsen Salte (caution)     80
NOR – Tord Johnsen Salte (ejection)    80
USA – Lucas del Rosario (caution)       80
Officials:
Referee: Mehmet Disci
**PLEASE NOTE – Game was 80 minutes**