U.S. U-15 GNT begins 2015 program with 36-player training camp March 14-21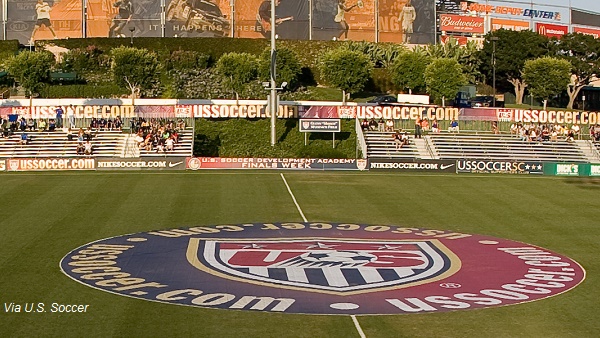 CHICAGO (Via U.S. Soccer) – The U.S. Under-15 Girls' National Team will begin its 2015 programming with a 36-player training camp at the U.S. Soccer National Training Center in Carson, Calif., running from March 14-21.
The camp will be run by U.S. Soccer Women's Development Coach Mark Carr, who has called up 31 players born in 2001 and five born in 2002. This age group will form the core of the team that will attempt to qualify for the 2018 FIFA U-17 Women's World Cup.
U.S. U-15 GNT Roster By Position:
GOALKEEPERS (4): Ryan Campbell (So Cal Blues; Dana Point, Calif.), Julia Dohle (New York SC; Scarsdale, N.Y.), Marzia Josephson (TFCA Alliance; Cary, N.C.), Maciah Lipsey (Michigan Hawks; Southfield, Mich.)
DEFENDERS (12): Caroline Conti (Carolina Elite SA; Greenville, S.C.), Isabella D'Aquila (So Cal Blues; Orange, Calif.), Aliyah El-Naggar (Cincinnati United; Mason, Ohio), Alyssa Fleming (South Shore Select; Marshfield, Mass.), Julia Hannon (HBC SC; Massapequa, N.Y.), Tori Hansen (CASL; Raleigh, N.C.), Faith Hopper (Fullerton Rangers; Fullerton, Calif.), Paige Hopper (Fullerton Rangers; Fullerton, Calif.), Savannah Kessler (Legends FC; Murrieta, Calif.), Makenna Morris (Bethesda SC; Germantown, Md.), Natalia Staude (Tophat SC; Marietta, Ga.), Kate Wiesner (Slammers FC; Monrovia, Calif.)
MIDFIELDERS (12): Croix Bethune (Concorde Fire; Alpharetta, Ga.), Jordan Canniff (Richmond United; California, Md), Katelyn Duong (FC Portland; Portland, Ore.), Hannah Gallegos (Rio Rapids SC; Albuquerque, N.M.), Jillian Martinez (Lonestar SC; San Antonio, Texas), Taylour Mendoza (Mustang Fury; Pleasanton, Calif.), Madison Mercado (San Diego Surf; San Diego, Calif.), Alexandra Palangi (Santa Barbara SC; Arroyo Grande, Calif.), Gabrielle Robinson (Braddock Road SC; Springfield, Va.), Leah Scarpelli (Match Fit Academy; Brick, N.J.), Hollyn Torres (FC Dallas; Frisco, Texas), MacKenzee Vance (Storm SA; Bluffton, S.C.)
FORWARDS (8): Sade Adamolekun (Lonestar SC; Spicewood, Texas), Vanessa Buso (Legends FC; Corona, Calif.), Lia Godfrey (Clay County SC; Fleming Island, Fla.), Samantha Meza (Dallas Kicks; Balch Springs, Texas), Nicole Payne (Concorde Fire; Birmingham, Ala.), Alexandra Russell (Albion Hurricanes FC; Katy, Texas), Hannah White (Tophat SC; Mableton, Ga.), Sarai Zedingil (Beach FC; Los Angeles, Calif.)