U.S. U-15 GNT earns three-game sweep at CFA Tournament in China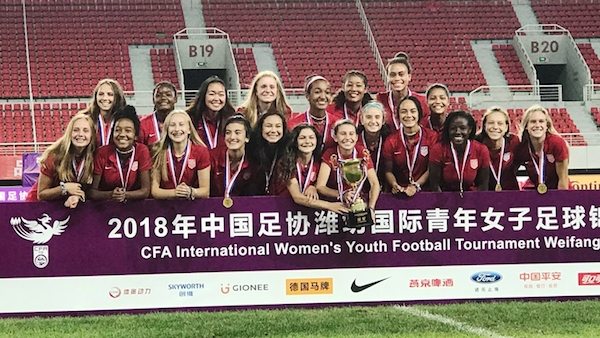 WEIFANG, China (Via U.S. Soccer) – The U.S. Under-15 Girls' National Team defeated the Czech Republic 3-0 to cap a three-game sweep during at the CFA International Women's Youth Football Tournament Weifang 2018.
The USA got goals from all three lines as forward Karlie Lema, midfielder Emma Egizii and defender Lilly Reale tallied. Egizii also had an assist.
Heading into the match, the young Americans had already won the tournament title with victories against Japan (3-2) and China PR (6-0). With the head-to-head result as the first tie-breaker, neither Japan nor China could pass the USA no matter what the result against the Czechs, but the USA did not allow a shot during the match to take full points from the three games.
The USA opened the scoring a few minutes before halftime as Egizii played a through ball to Lema who took one dribble and slid her shot on the round past the goalkeeper.
+READ: U.S. U-15 Girls National Team captures CFA Tournament title with game to spare
The USA made it 2-0 in the 51st minute on another through ball up the middle from Tatiana Fung to Egizii, who moved from provider to scorer in doubling the USA's lead.
The USA put the game away in the 58th minute off a corner kick. Devin Lynch served in the cross which found Reale in the middle of the penalty area for her to finish.
U.S. forward Allyson Sentnor was named MVP of the tournament while Neeku Purcell won the Golden Glove as the top goalkeeper in the competition.
Japan defeated China PR, 3-0, in the final match of the tournament to finish second. China finished third and the Czech Republic was fourth.
On Aug. 12, the USA won the Concacaf Girls' U-15 Championship with a 3-0 victory vs. Mexico, but that team was essentially an Under-14 team made up of players born in 2004 and 2005. This roster for the tournament in China was made up almost entirely of players born in 2003, the birth year for this current group of U-15s, with Sentnor as the only player born in 2004.
U.S. U-15 Girls' National Team Match Report
Match: U.S. U-15 Girls' National Team vs. Czech Republic U-15 GNT
Date: August 26, 2018
Competition: CFA International Women's Youth Football Tournament Weifang 2018
Venue:  Weifang Olympic Sports Center Stadium; Weifang, China
Weather: 84 degrees, humid
Scoring Summary:    1          2          F
USA                             1          2          3
CZE                             0          0          0
USA – Karlie Lema (Emma Egizii)                 42nd minute
USA – Emma Egizii (Tatiana Fung)               51
USA – Lilly Reale (Devin Lynch)                    58
Lineups:
USA: 22-Nadia Cooper; 14-Ayo Oke (capt.), 23-Baleigh Bruster, 5-Aidan McConnell (4-Lilly Reale, 46), 13-Andrea Kitahata (3-Kellie Pagador, 46); 15-Tatiana Fung (6-Devin Lynch, 54), 24-Riley Gleason (21-Annie Karich, 64), 2-Emma Egizii; 18-Karlie Lema (9-Simone Jackson, 46), 7-Ally Sentnor, 19-Farrah Walters (10-Amelia White, 64)
Subs not used:1-Neeku Purcell, 22-Nadia Cooper, 24-Riley Gleason
Head Coach: Tracey Kevins
CZE: 16-Markéta Kavková; 3-Lucie Koráková (2-Klára Ducháčkova, 46), 4-Lucie Jelínková (capt.), 15-Tereza Kubíčková (20-Tereza Vodvárková, 65); 13-Dominika Huvarová (8-Andrea Švíbková, 46), 7-Terezie Ohlídalová (17-Tereza Potůčková, 81), 10-Johana Tomečková, 9-Aneta Tomanová, 18-Denisa Tenkrátová (12-Radka Hlouchová, 49); 5-Andrea Kochanová (19-Adéla Tomanová, 29), 6-Andrea Křivánková
Subs not used: 1-Bára Beránková, 11-Kim Dinh Thanková, 14-Tereza Kristková
Head Coach: Eva Šmeralová
Stats Summary: USA / CZE
Shots: 13 / 0
Shots on Goal: 8 / 0
Saves: 0 / 5
Corner Kicks: 13 / 0
Fouls: 3 / 12
Offside: 3 / 0
Misconduct Summary:
USA – Farrah Walters (caution)         46th minute
Officials:
Referee: Chang Xinxin (CHN)
Assistant Referee 1: Lv Lu (CHN)
Assistant Referee 2: Wu Qiaoli (CHN)
Fourth Official: Dong Fang Yu (CHN)
CFA International Women's Youth Football Tournament Weifang 2018 Final Standings
| | | | | | | | | |
| --- | --- | --- | --- | --- | --- | --- | --- | --- |
| Team | GP | W | L | T | GF | GA | GD | Pts. |
| USA | 3 | 3 | 0 | 0 | 11 | 2 | +9 | 9 |
| JPN | 3 | 2 | 1 | 0 | 10 | 4 | +6 | 6 |
| CHN | 3 | 1 | 2 | 0 | 6 | 8 | -2 | 3 |
| CZE | 3 | 0 | 3 | 0 | 1 | 14 | -13 | 0 |