U.S. U-15 Boys National Team advances to CONCACAF Championship Final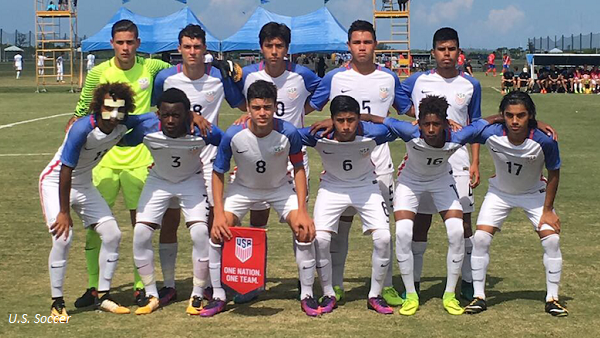 BRADENTON, Fla. (Via U.S. Soccer) – The U.S. U-15 Boys' National Team advanced to its first-ever CONCACAF U-15 Championship Final with a 3-0 victory over Panama. The USA went up early and never looked back with goals from Giovanni Reyna, Julian Gaines and Gianluca Busio.
The semifinal victory continues a dominant tournament run for the U-15s. The team has only trailed for 12 total minutes in its four tournament games, allowing only one goal. Reyna opened up the scoring for the USA in the sixth minute, giving the the team a lead it would not relinquish. Just before the halftime break, Lonestar S.C.'s Gaines netted to give the U.S. a 2-0 lead. Busio closed out the scoring for the U.S. with a goal in the 37th minute, his fifth of the tournament.
The U-15's now advance to face Mexico in the CONCACAF Championship Final on Aug. 19 at 11 a.m. ET Mexico has been similarly dominant in the tournament- not allowing a single goal and boasting a plus-13 goal differential heading into the final.
– U.S. U-15 Boys' National Team Match Report –
Match: U.S. U-15 Boys' National Team vs. Panama
Date: Aug. 17, 2017
Competition: 2017 CONCACAF Under-15 Championship
Venue:  IMG Academy; Bradenton, Fla.
Kickoff: 11:00 am Local Time
Weather: 85 degrees
Scoring Summary:      
| | | | |
| --- | --- | --- | --- |
|   | 1 | 2 | F |
| Panama | 0 | 0 | 0 |
| USA | 2 | 1 | 3 |
USA – Giovanni Reyna             6th minute
USA – Julian Gaines                 35
USA – Gianluca Busio              37
Lineups:
USA: 1-Damian Las (GK); 18-Joseph Scally, 5-Mason Judge (13-Kenny Nielsen, 47), 4-Axel Alejandre (14-Sebastian Anderson, 53), 3-George Bello; 10-Josh Atencio (15-Cesar Garcia, 57), 6-Adam Saldana (2-Peter Stroud, 53), 17-Gilbert Fuentes; 8-Giovanni Reyna (capt) (9-Alfonso Ocampo Chavez, 57), 11-Gianluca Busio, 16-Julian Gaines (7-Daniel Mangarov, 47)
Subs not used: 12-JT Harms
Head Coach: Dave van den Bergh 
PAN: 1-Saul Espinosa; 2-Modesto Justiniani, 4-Enrique Laguna, 6-Kevin Berkeley, 13-Luis Del Mar, 17-Adrian Hernandez; 5-Abdul Knight (15-Carlos Pena, 36), 8-Edilson Carrasquilla (16-David Cordoba, 36), 3-Jose Flores (11-Juan Gonzalez, 23); 9-Jeremy Pinzon, 14-Jordy Hidalgo (7-Jean Carlo Castillo, 56)
Subs not used: 10-Juan Sagel, 12-Julio Moran, 18-Julio Wong
Head Coach: Jorge Dely Valdes
Stats Summary: USA/PAN
Shots: 11/3
Shots on Goal: 6/3
Saves: 3/3
Corner Kicks: 2/2
Fouls: 2/7
Offsides: 1/0
Misconduct Summary:
USA – Axel Alejandre (caution) – 33 minute
Panama – Luis Del Mar (caution) – 34
Notes: Game was played with two 35 minute halves.