U.S. Soccer reveals first 25 clubs for Girls' Development Academy
CHICAGO (via USSF) – U.S. Soccer has announced the first 25 clubs that will be a part of the Girls' Development Academy, an initiative designed to accelerate the development of world-class female players that will begin play in the fall of 2017.
The program "will focus on positively impacting everyday club environments to maximize elite female youth player development," according to a federation press release. Increasing the training-to-game ratio, playing fewer but more meaningful games and providing assistance for coaching education and development are leading standards and best practices for the Girls DA.
"Launching a Girls' Development Academy is part of an unprecedented commitment to elevating the women's game," said U.S. Soccer Women's Technical Director April Heinrichs in the release. "The Development Academy program will offer clubs support and education to positively impact the development of players and coaches throughout the country."
Since 2007, the U.S. Soccer Development Academy has served as the elite male youth player development model for the country for players, coaches, referees and clubs alike. The Girls' Development Academy will be structured with many of the same principles and will begin play next fall.
"We all know how important it is to create the correct environment and expectations for elite playerdevelopment, something that was highlighted for me during my time as Development Director for our youth women's national teams," said U.S. Women's National Team head coach Jill Ellis.
"The Development Academy is an important step forward to continue the growth of the women's game inthe United States, and to create the best pathway for players to reach their full potential."
The following 25 clubs are the first being admitted to the Girls' Development Academy, with more membership announcements "taking place in the near future," according to USSF: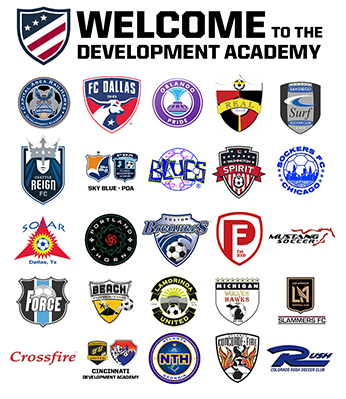 Beach SC (Torrance, Calif.)
FC Dallas (Frisco, Texas)
Real Colorado (Highlands Ranch, Co.)
Boston Breakers (Watertown, Mass.)
LAFC-Slammers (Los Angeles, Calif.)
San Diego Surf (San Diego, Calif.)
CASL (Raleigh, N.C.)
Lamorinda (Moraga, Calif.)
Seattle Reign (Seattle, Wash.)
Cincinnati Development Academy (Kings Hammer/CUP) (Cincinnati, Ohio)
Michigan Hawks (Livonia, Mich.)
Sky Blue FC-PDA (Bernardsville, N.J.)
Mustang (Danville, Calif.)
So Cal Blues (Rancho Capistrano, Calif.)
Colorado Rush (Littleton, Co.)
Orlando Pride/City SC (Orlando, Fla.)
Sockers FC (Palatine, Ill.)
Concorde Fire (Atlanta, Ga.)
Penn Fusion SA (Westtown, Pa.)
Solar Chelsea SC (Dallas, Texas)
Crossfire (Redmond, Wash.)
Portland Thorns (Portland, Ore.)
Washington Spirit (Boyds, Md.)
De Anza Force (Saratoga, Calif.)
Tophat NTH (Atlanta, Ga.)
These first 25 clubs have a total of 119 staff and coaches that hold a U.S. Soccer A or B Coaching License, and include 91 coaches who are employed on a full-time basis.  To date, these clubs have produced 307 players for U.S. Soccer's national teams (youth and senior) as well as 84 professional soccer players.
In addition, this group will be providing 276 full scholarships with a total of $1.49 million of scholarship funds being contributed.
Club applications were evaluated and accepted by U.S. Soccer's technical staff based on the following criteria:
• Leadership of the club and quality of the coaching staff
• Desire to embrace and promote the core values of the program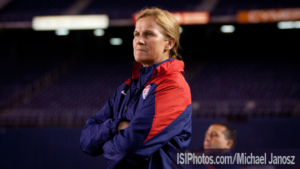 • U.S. Soccer license levels of coaching staff
• Infrastructure of the club and the resources currently being invested in development (facilities, scholarships, staff to player ratio, etc.)
• History of player production for youth national teams, the senior Women's National Team and professional leagues
• Market and depth of the player pool, geographic location and travel implications and proximity to other elite clubs
The program will feature three combined age groups: U-14/15, U-16/17 and U-18/19. Clubs will beexpected to train a minimum of four times a week.  The use of combined age groups will require clubs toform teams with a balanced roster of players from two distinct birth years. The games will be scouted by U.S. Soccer and the program will serve as the primary pathway to the youth national teams.
In addition to combining the most elite players from each birth year to form the mixed age group player pool, coaches will be encouraged to play their players "up" on an older age team within the club to help accelerate development.
The competitive framework will focus on the core values of the program, which emphasizes quality coaching and teaching in a positive learning environment for players with zero tolerance for poor behavior from coaches.
For clubs interested in applying to join the Girls' Development Academy, the application is available online. The deadline to submit club applications and all supporting documents is July 1, 2016 at 11:59 p.m. CT.  Club applications will be evaluated by U.S. Soccer staff based on "Key Performance Criteria."