U.S. Soccer Girls Development Academy U-18/19 Finals Preview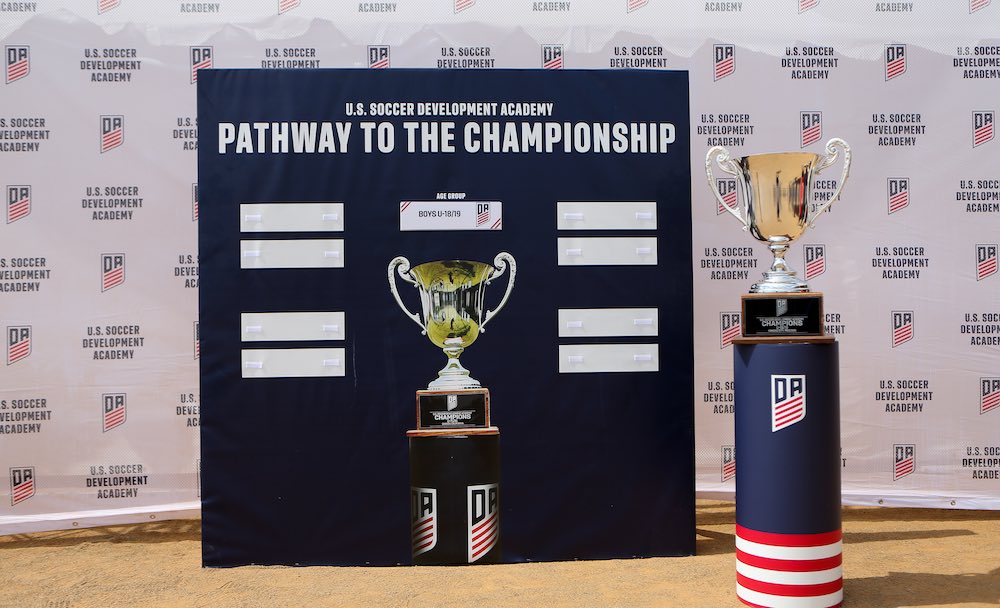 Final Kicks Off at 8 p.m. ET on Development Academy Twitter
and U.S. Soccer YouTube Channel
OCEANSIDE, Calif. – The U.S. Soccer Girls' Development Academy will crown its U-18/19 Girls Academy Champion on Friday night when Midwest United FC takes on San Diego Surf.
Following regular season play, the 16-team U-18/19 Playoffs kicked off on June 20 to determine a champion for the nation's highest level of youth women's soccer. After two tightly-contested semifinals, Midwest United and San Diego Surf will square off in the championship match at the SoCal Sports Complex in Oceanside.
Entering the Playoffs as the No. 9 seed, Midwest United FC narrowly advanced to the semifinals from Group A on a goal differential tiebreaker. That set up a showdown with Mid-America Division rival Sockers FC, who defeated Midwest United to take home the division title on the final day of the regular season. This time, Midwest United emerged victorious, nabbing two first half goals and fending off a spirited effort from Sockers for a 2-1 win. Jennifer Blitchok scored a brace, her third and fourth goals of the Playoffs. Stephanie Currie has also scored four goals for Midwest United in the postseason.
Despite a roster wracked by injury, No. 11 San Diego Surf qualified as the Playoffs' top wild card team. Playing on its home turf at the SoCal Sports Complex, Surf rallied to two straight victories to earn its place in the semifinals. Just two minutes in, forward Sara Jayne Affleck netted an unforgettable highlight-reel goal to give the Surf an early advantage. Not only would the strike secure victory, but also a spot on SportsCenter's Top 10. Facing one of the nation's best offenses, the Surf back line and goalkeeper Isabella Grust held strong down the stretch to secure a 1-0 victory on home soil.
The U-18/19 Girls Academy Final kicks off championship season for the second year of the Girls' Development Academy. While the U-18/19 champion will be crowned in Oceanside on Friday night, the U-15 and U-16/17 age groups will contest their semifinals and finals at the Academy Championships from July 8-11 at the OC Great Park in Irvine, Calif.