U.S. Soccer Development Academy players headline National Signing Day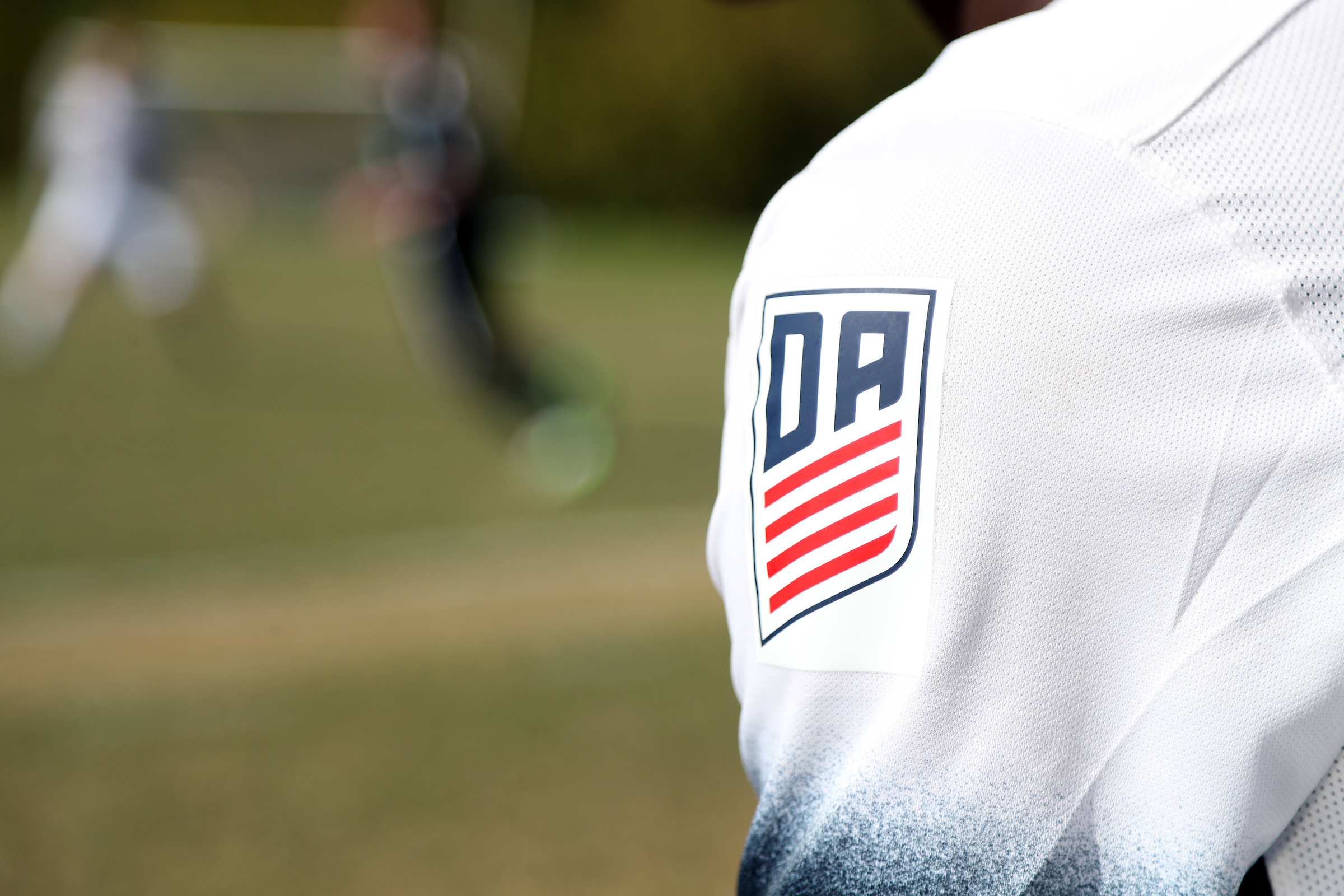 CHICAGO (Via U.S. Soccer) – National Signing Day took place on Wednesday, Feb. 1, with dozens of U.S. Soccer Development Academy players around the country announcing their college commitments starting this fall.
Of the 45 clubs that submitted college commitments, Indiana Fire led the way with 16 players heading to the collegiate level, followed closely by Capital Area Railhawks-CASL with 15 college commitments.
The 45-club group includes 373 Development Academy players.
+READ: Three MLS academy teams added to 2017 Dallas Cup Super Group
To submit Academy college commitments and updated signings for the Class of 2017, email [email protected].
Below is a breakdown by Academy club.
Arsenal FC: Uriel Mosqueda (Cal Baptist Univ.), Brian Gonzalez (Cal Baptist Univ.), Alex Lara (Cal State Fullerton), Davis Moreno-Jaime (Cal State Northridge), Andrew Quiroz (Cal State San Bernardino Univ.), Victor Aguirre (Cal Baptist Univ.), Josh Goodman (Eastern Oregon)
Beachside SC: Austin DaSilva (UConn), William Harned (Tufts Univ.), Djimon Johnson (Syracuse), Henry Kessler (Virginia), Sean Martin (North Carolina), Ryan McNamara (Fairfield Univ.), Ian Richling (Boston Univ.), Ryan Ruff (Fairfield Univ.), Guliano Santucci (Marist College), Tyler Shaver (Stanford), Ahdan Tait (Virginia), Travis Van Brewer (Tufts Univ.), Nadav Zarmi (Fairfield Univ.)
Boca United Football: Esteban Lestido (Belmont Univ.)
BW Gottschee Academy: Joseph Cusano (Iona College), Jamie Diluzio (Davidson), Stefan Gollisz (Bucknell), Ian Blugh (Iona College), Nyrik Antoine (Univ. of Hartford), Endy Butigian (Siena College), Christian Carucci (UMass)
+READ: Jefferson Cup 2017 Championship Division Preview – U-16 Boys
Capital Area Railhawks-CASL: Delasi Batse (Univ. of North Carolina at Charlotte), Joseph Buete (Univ. of Alabama at Birmingham), Jack Butterfield (Appalachian State), Witt Conger (Georgetown), Colin Daughtry (Univ. of North Carolina at Asheville), Lucas Del Rosario (North Carolina), Aidan Foster (Duke), Mac Gourlay (NC State), Max Groover (Univ. of North Carolina at Wilmington), Jose Morales Jr. (NC State), Manny Perez (NC State), Jeff Petroski (Univ. North Carolina at Charlotte), Drew Rabil (Univ. of North Carolina at Wilmington), Alex Rose (Stanford), Drew Walczyk (Pittsburgh)
Carolina Rapids: Hugh Chatham (Davidson), Will Kern (Air Force), Teveen Roux (San Diego State), Jake Mitchiner (US Military Academy), AJ Moyes (Wheaton), Erik So (NYU), Parker Hoffman (US Merchant Marine Academy)
Cedar Stars Academy-Monmouth: Conor Kelly (Duke), Andrew Venezia (Lafayette College), Joshua Schupak (Fairleigh Dickinson), Nicholas Lovoulos (Rutgers), Patrick Longo (La Salle), Anes Mrkulic (Monmouth College), Rayan O'Connor (Loyola Univ.), Kevin Brito (Stevens Institute of Technology)
Chargers SC: Alex Huddleston (Andrew College), Robert McCoy (Virginia Tech), Connor Nixon (Presbyterian College), Julian Hall (Eastern Florida State)
Charlotte Soccer Academy: Andrew Pannenburg (Wake Forest), Mason Marcey (Radford Univ.), John Ranshaw (Univ. of North Carolina at Charlotte), George Espina (Belmont Abby), Yonaton Spencer (Appalachian State), Damon Youmans (Univ. of North Carolina Greensboro), Taylor Suber (Univ. of North Carolina at Charlotte), Justin Pruitt (Appalachian State), Fernando Garcia (Univ. of North Carolina at Charlotte), Jensen Graham (Marshall), Brooks Stockley (Univ. of Alabama at Birmingham), Melvin Covert (Univ. of North Carolina Greensboro), Michael Lewis (Campbell Univ.), Zach Van Kampen (Guildford College)
Colorado Rapids: Evan Austin (Cornell), Desmond Cole (Manhattan College), Brooks Crawford (Univ. of Denver), Rhys DeSota (Stanford), Phil Gustafson (Navy), Bailey Heller (Univ. of Denver), Jack Parham (Washington and Lee Univ.), Tennyson Stevens (Santa Clara Univ.)
Colorado Rush: Cole Crossett (New Hampshire), Ryan Crowley (Univ. of Washington), Griffin Dorsey (Indiana Univ.), Foster GboGbo (Concordia-Portland), Matt Kintzle (Gonzaga), Tomas Nergaard (Gonzaga), Jack O'Brien (Stanford), Bailey Rouse (Kentucky), David Solis (Air Force), Ryan Wilson (Colorado School of Mines), Remy Marton (Air Force), Ares Marlonsson (Belmont Univ.)
Concorde Fire: Ryan Capo (SMU), Benjamin Agnew (Providence Univ.), Alec Supinski (Northeastern Univ), Jeremy Lewis (Campbell Univ.), Edward Raji (Georgia Southern Univ.), Libio Peralta (Wayland Baptist Univ.)
Continental FC Delco: Aaron Schwartz (Dartmouth College), Kevin Smolyn (St. Francis Univ. PA), Ronald Williams (Univ. of Pennsylvania), Gabe Ivins (Kenyon College), Juan Infante (Gettysburg College), Kexxer Camarco (Univ. of Delaware), Hudson Reid (Rider Univ.), Nicholas Kane (Messiah College), Alexander Hajj (Temple), Ryan Trapp (Delaware), Dontrim Namani (St. Joseph's Univ.)
Crew SC Academy: Devyn Etling (Ohio State), Luis Hernandez (Kentucky)
Crew SC Academy Wolves: Brandon Eklund (Western Michigan Univ.), Quinn Loosle (Calvin College), Brayden McNitt (Wright State Univ.), Hunter Morse (Michigan State), Napoleon Outlaw III (Oakland Univ.), Matthew Phillips (Lehigh Univ.), Jacob Poorman (Univ. of Detroit Mercy), Simon Roennecke (Notre Dame), Daniel Wright (Duke), Marc Ybarra (Michigan)
+READ: U.S. U-17 Men's National Team Spring Residency roster announced
Crossfire Premier: Caleb McAuslan (Cornell), Bailey Letherman (Univ. of New Mexico), Kameron Carey (UC Davis), Aran O'Brien (Santa Clara Univ.), Nikolas Reierson (Seattle Pacific Univ.), Lars Helleren (Seattle Pacific Univ.), Garrett Miyaoka (Air Force), Colman French (Whitworth Univ.), Colin Apel (Colgate Univ.)
D.C. United: Luke Campbell (Marshall), Derin Kokuuslu (College of William and Mary), Colin Brezniak (Pittsburgh), Andrew Nicholas (Radford Univ.), Max Edwards (Radford Univ.), Fola Adetola (Maryland), Taofik Lucas-Walker (Virginia Commonwealth Univ.), Lachlan Woolsey (Fordham Univ.), Edison Giron (Old Dominion Univ.), SahrFelix Sandy (Marshall), Prince Agyei (North Carolina), Eric Matzelevich (Maryland), Noah Lawrence (Undecided)
Dallas Texans: Carson Williams (Villanova), Tommy Nealon (Villanova), Dominick Hernandez (SMU), Devon Sutton (Tulsa), Rooks Hunter (Tulsa), Chris Toomey (Navy), Alex Egeonu (Campbell Univ.), Humberto Chavez (Campbell Univ.), Ervin Scarlett (Campbell Univ.), Patricio Garcia (Oral Roberts Univ.), Jorge Barrientos (Oral Roberts Univ.), Leo Hernandez (Tyler Junior College), Davis Smith (Univ. of Massachusetts)
De Anza Force: Woojin Shin (Swarthmore College), Danny Rohde (Harvey Mudd College), Bryan Diangson (Pomona College), Alex Gallo (Case Western Reserve Univ.), Josh Morgan (Florida Gulf Coast Univ.)
Empire United: Taner Bay (Rider Univ.), Mike D'Amico (Univ. of Rochester), David Grana (St. Joseph's Univ.), Jake Kohlbrenner (UPenn), Matt Pickard (Syracuse), Lukas Rubio (Syracuse), Brett Stern (Duquesne Univ.), Nicholas Szabo (Canisius College)
Everton FC Westchester: Lucas Arzan (SUNY Binghamton), Daniel Domiclo (St. John's Univ. at Queens), Aidan Loten (Bowdoin), Jarred Mazzola (Virginia Commonwealth Univ.), Stefan Mirkovic (UMass), Cameron Okoro (Northeastern), Murray Riach (Cornell), Kristian Shkreli (Clemson), Christopher Stamper (SUNY Binghamton), Marco Torino (Hartwick), Matteo Russo (NYU Stern's School of Business), Hugo Guerra (SUNY Buffalo)
FC Dallas: Shaft Brewer (Oregon State), Rafael Calderon (Holy Names Univ.), Luis Carrillo (Columbia), Jacob Goyen (Ohio State), Carlos Mercado (Univ. of Texas at Rio Grande Valley), Aldo Quevedo (Yale), Mark Salas (North Carolina), Brandon Servania (Wake Forest), Brandon Terwege (Cal Polytechnic State Univ.), Blake Willis (Columbia)
+READ: U.S. U-20 MNT roster named for camp ahead of CONCACAF Championship
FC United Soccer Club: Kyle McCurley (Wake Forest), Sean Gavin (Tulsa), Alex Reneau (Northwestern), Andrew Van Nispen (St. Louis Univ.)
Houston Dynamo: Gianluca Natera (Houston Baptist Univ.), Alejandro Saez (Univ. of North Carolina at Wilmington), Alex Acton (Seattle Univ.), Gabriel Ruiz (Seattle Univ.), Luis Garza (Univ. of Incarnate Word), Andrew Morrison (Washington)
Indiana Fire Academy: Hunter Bartholomew (College of Holy Cross), Brady Bell (Valparaiso Univ.), Taylor Crull (Xavier), Tyler Gainer (IUPUI), Jacob Gruber (Indiana), Will Harrison (Western Michigan Univ.), Joel Harvey (Butler), Thompson Hall (Univ. of Indianapolis), Will Hirschman (Ohio State), Khalid Hunter (Xavier), Justin Ingram (Virginia), Brad Kurtz (Virginia), Brendan Stangel (IPFW), Thomas Warr (Indiana), Parker Washburn (Appalachian State), Ben Weber (Xavier)
Internationals: John Nelson (North Carolina), Daniel Strachan (Univ. of Akron), Joseph Schmidt (Indiana Univ.), Kyle Winquist (Marshall Univ.), Colin Kane (Cleveland State Univ.), Braden Petno (Univ. of Akron)
Lonestar SC Academy: Adrian Jaimes (St. Edwards Univ.), Antonio Lopez (North Carolina), Camron Lennon (Virginia Tech), Christian Soto-Mendez (University of Mary Hardin – Baylor), Daniel Gomez (Gonzaga Univ.), Jessie Zavala (Virginia Military Institute), Jon-Talen Maples (Southern Methodist Univ.), Kyle Marcotte (University of California Davis), Luke Thompson (Southern Methodist Univ.), Marcus Collins (St. Edwards Univ.)
Minnesota Thunder Academy: Luke Anderson (Drake Univ.), Tom Katisyiannis (Northwestern), Jake Meier (Indiana Univ.), Edwin Perry (DePaul Univ.), Mike Riley (Loyola Univ. Chicago), Ben Vukovich (Drake Univ.)
Nomads DC: Maxi Rodriguez (NYU)
North Carolina Fusion: Emmanuel Apau (Univ. of North Carolina at Greensboro), Hunter Omli (North Carolina), Alec Smir (North Carolina), Nick Phipps (High Point Univ.), Brady Gunter (Appalachian State Univ.), Prince Titus (Appalachian State Univ.), Will Mims (Brown)
Oakwood Soccer Club: Lucas Lilley (Claremont McKenna College), Bruno Aguillon (Quinnipiac Univ.), Derick Arhin (Rhode Island), Ben Barton (Williams College), Josh Plimpton (Iona College)
Orlando City SC: Raul Aguilera (North Carolina), Landon Haig (Wake Forest), Juan Hernandez (Appalachian State Univ.), Jack McCloskey (Ohio State), David Norris (North Carolina State Univ.), Alejandro Pereira (Duke)
Players Development Academy: Mason Toye (Indiana Univ.), Ethan Koehler (Georgetown), Zeno Mazzacuto (Rutgers), Justin Jennings (La Salle Univ.), Michael Saks (Amherst College), D'Shon DeGannes (Univ. of Albany), Joshua Burnett (UConn), Nick Kozdron (Univ. of Rochester), Sean Murray (Monmouth Univ.), Andrew Murray (Duquesne Univ.), Chris Pansuwan (Fordham Univ.), Aaron Acloque (Rutgers), Hans Kroschwitz (Old Dominion Univ.)
Real Colorado: Davis Auth (Vermont), Noah Breslaw (West Point), Tajon Buchanan (Syracuse), Dominic Gibson (Oklahoma Baptist Univ.), Kobe Gray (Univ. of Denver), Noah Hilt (Southern Methodist Univ.), Jared Jungjohann (Univ. of Denver), Caleb Larson (Regis University), Ryan Lee (Fort Lewis College), Destan Norman (Univ. of Denver), Theodore O'Malley (Gonzaga Univ.), Ethan Weslar (Colorado College), AJ Haskell (Fort Lewis College), Diego Ferradas (Univ. of Colorado – Colorado Springs)
Real So Cal: Richie Hrncir (Cornell), Freddy Kleeman (Washington), Khalid Hunter (Xavier Univ.), Jack Parks (California State Univ. Northridge), Harper Rubin (Claremont McKenna College), Jake Kemhadjian (Univ. of Portland),
Richmond United: Brandon Perdue (Old Dominion Univ.), Simon Fitch (George Washington)
San Diego Surf: Nick Lagotta (Univ. of California Irvine), Jose Valenzuela (Univ. of California Irvine), Nick Rhodes (College of the Holy Cross), Connor Robinson (Univ. of San Diego), James Ryan (Univ. of San Diego), Sam Turner (Gonzaga Univ.)
San Jose Earthquakes: Andrew Paoli (UCLA), Dominic Peters (Wake Forest), Kaleo Fernandez (Cal Berkeley), Christopher Grey (Cal Berkeley), Alonzo Del Mundo (Cal Berkeley), Arda Bulut (Stanford), Jonah Lytle (Princeton), Amado Lozano (UPenn), Mario Larios (San Jose State Univ.), Kaya Fabbretti (Univ. of California Santa Barbara)
Seacoast United: Peter Gross (Brown), Eli Cronin (UMass), Jason Meuth (Swarthmore College), Sebastian Lindner-Liaw (Harvard), Sebastian Jaramillo (Assumption College), Garrett Lillie (Coastal Carolina Univ.), Andriy Proctor (Middlebury College), Marvyn Dorchin (Springfield College), Jacob Gould (New Hampshire), Walter Thilly (Colby College), Chris Pinkham (New Hampshire)
Seattle Sounders FC: Alex Bradbury (Gardner Webb Univ.), Joseph Hafferty (Oregon State), Lucas Meek (Washington), Jackson Ragen (Michigan), Sam Rogers (Villanova), Paul Rothrock (Notre Dame), Jeremy Stirling Russell II (Washington), Kei Tomozawa (Stanford)
Shattuck-Saint Mary's: Jaylen Davila-Smith (Loyola Univ. Chicago), Taylor Durall (Univ. of North Carolina at Asheville), Jacob Gutierrez (Vermont), Mitch Hammer (Oregon State), Kyle Robbins (Lafayette Univ.), Istvan Wilhelms (DePaul Univ.)
Solar Chelsea SC: David Abonce (Ohio State), Chase Carraher (Ohio State), Jon Curnutt (Harding Univ.), Austin Vincent (Southern Methodist Univ.), Pierce Williams (George Washington Univ.)
St. Louis Scott Gallagher Metro: Gage Steiner (Missouri State Univ.), Reed Hawkins (Saint Louis Univ.), Kyle Swanner (Southern Illinois Univ. – Edwardsville), Orlando Arreola (Southern Illinois Univ. – Edwardsville)
Strikers FC: Tyler Bagley (Cornell), Marc Bermudez (Seattle Univ.), Charles Wehan (Stanford), Matthew Wiher (Univ. of San Diego), Thomas Williamson (Cal Berkeley)
Vardar: Sebastian Grillo (Northwood Univ.), Vincent Manzo (Villanova), Mitchell MacDonald (Notre Dame), Joseph Nunner (Michigan), Boris Ilic (Concordia Univ.), Philip Vrzovski (Concordia Univ.)
Weston FC: Henry Mashburn (Michigan), Matias Barraza (Florida International Univ.), Luca Defreitas-Hansen (Univ. of Portland), Carlos Tellez (Michigan), Santiago Huertas (NYU), Pedro Goldberg (NYU), Alberto Luna (Boston College)