U.S. Soccer Development Academy East Conference Recap: Week 4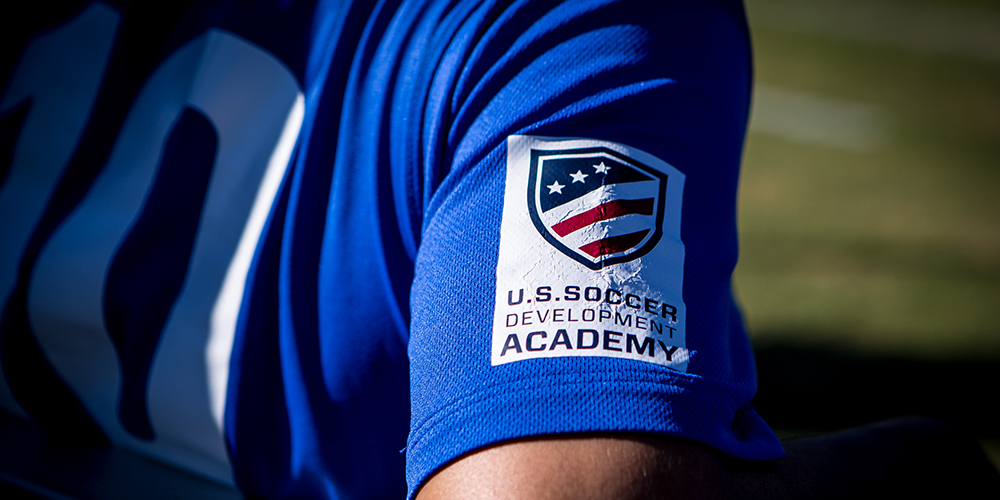 U.S. Soccer Development Academy East Conference clubs continued early season action over the weekend.
Continue reading for a recap of some of the most notable performances in the U-14, U-15/16 and U-17/18 age groups.
U-14
FC Boston Bolts earned its third victory of the season on Saturday, improving their record to 3-1-1 with a 3-1 defeat of New England Revolution. Steven Lopez put his scoring abilities on full display by recording a hat trick in the match, including two goals in an eight-minute span early in the second half.
Met Oval came out on top in a defense battle against World Class FC on Saturday, as a penalty kick converted in the 56th minute by Jack Wagner was all the home side needed to beat its in-state opponent 1-0. Met Oval earned another one-score victory on Sunday, as Marco Cottone and Santiago Campo Prado netted first half goals to lead their team over a tough New York City FC squad 2-1.
Prior to Sunday's narrow loss, NYCFC routed Everton FC Westchester 6-1 on Saturday afternoon, with all six goals coming during a second half explosion. Balthazar Saunders came off the bench in the second half and promptly netted three goals, sparking the team's attack along with additional scores from Ryan Kipness, Joe Suchecki and Nicholas Kapanadze.
Three different players – Daniel Ramm, Jake Novoshelski and Justin Weiss – found the net for the New York Red Bulls in a decisive 3-0 shutout of PA Classics on Saturday in Pennsylvania. U.S. Youth National Team goalkeeper Alex Bobocea and the Red Bulls' back line notched their third consecutive clean sheet win to open the season.
The Orlando City SC attack continued its early season surge, scoring four goals for a third straight match on Saturday against Armada FC Pro Academy. Nico Diaz and Wasswa Robbins each recorded a brace as Orlando found the net four times in the first half, cruising to a 4-1 win. Orlando is still unbeaten at 3-0-1, with 14 goals scored and only three given up so far this season.
Alexander Krause buried two goals in the final two minutes of the first half to spot Baltimore Armour a 2-0 lead heading into the intermission against Philadelphia Union on Saturday. Baltimore only added to that lead in the second half, as Diego Lopez-Ramos scored an insurance goal in the 76th minute. Meanwhile, the Armour defense remained dominant throughout the contest, holding the Union scoreless for their second clean sheet of the season. Goalkeeper Joshua Wendel recorded the shutout in net, while defenders Kevin Rodriguez and Jovani Aparicio each played the full 80 minutes. Baltimore remains perfect at 4-0-0 on the young season.
D.C. United received a first half brace from Samuel Thomson, and only continued to roll offensively in the second half as three different players found the net against Lehigh Valley United. Kevin Paredes, Augustus Sam and Maxwel De-Bodene padded D.C. United's lead with goals of their own, running the final scoreline to 5-1. D.C. has outscored opponents by a total of 20-3 through five games, compiling a 4-1-0 record.
Beachside SC continued its positive momentum with a second straight win, overpowering New York SC 4-2 behind a second half burst. Oskar Ekeberg recorded a hat trick and Patricio Perez Elorza scored as well, with all four goals coming in just an 18-minute span.
Cedar Stars Academy – Monmouth overcame a 3-1 deficit with a pair of second half goals to earn a 3-3 draw against Arlington Soccer Association in New York on Saturday afternoon. Lucas Ross netted both goals in the comeback effort, finding the net in the 68th minute before putting away the equalizer in the 76th.
Boca United FC edged out Tampa Bay United 2-1 with a late rally, in a game where all three goals came in the second half. After Ore Deen put Tampa on top in the 58th minute, Boca United's Mitchell Monteiro pulled off the improbable, scoring an equalizer in the 74th minute before connecting on the game-winner in the final minute. The thriller marked Boca's first victory of the young season.
Georgia United remains unbeaten through four games following a win and a tie on the weekend, following up a 5-3 win over Carolina Rapids on Saturday before playing Charlotte Soccer Academy to a scoreless draw on Sunday. Colin Thomas led the attack in the victory over Carolina with two goals, while goalkeeper Daniel Guzman-Mendez and the Georgia United back line earned the clean sheet in Sunday's draw against Charlotte.
A first half hat trick by David Hughes set the tone for a dominant effort by Richmond United in a match that ended 6-2 on Saturday afternoon at the team's home field at Ukrop Park against Loudoun Soccer. Gerard Broussard also had a brace for Richmond in the win, and Lance Christmas found the net as well for United in the 10th minute.
Bethesda's Eduardo Ruiz-Garay and Continental FC DELCO's Ethan Emery swapped goals late in the first half en route to a 1-1 stalemate between the two sides on Saturday.
Evan Schweickert and John Rossetti provided the scoring for Oakwood SC in a 2-1 win against Seacoast United. After Schweickert spotted Oakwood with a first half lead, Seacoast responded with an equalizer at the beginning of the second half on a strike from Samuel Latona. Rossetti put the game away in the 55th minute, as Oakwood's defense held strong the rest of the way to preserve the lead.
+Read: U.S. Soccer Development Academy East Conference Recap – Week 3
All Results
Saturday, September 24
FC Boston Bolts 3, New England Revolution 1
Met Oval 1, World Class FC 0
New York Red Bulls 3, PA Classics 0
Orlando City SC 4, Armada FC Pro Academy 1
Baltimore Armour 3, Philadelphia Union 0
D.C. United 5, Lehigh Valley United 1
Beachside SC 4, New York SC 2
Cedar Stars Academy – Monmouth 3, Arlington Soccer Association 3
Boca United FC 2, Tampa Bay United 1
Georgia United 5, Carolina Rapids 3
Richmond United 6, Loudoun Soccer 2
Bethesda SC 1, Continental FC DELCO 1
Oakwood SC 2, Seacoast United 1
New York City FC 6, Everton FC Westchester 1
Sunday, September 25
Cedar Stars Academy – Bergen 3, BW Gottschee Academy 0
Charlotte Soccer Academy 0, Georgia United 0
Met Oval 2, New York City FC 1
U-15/16
Atlanta United was one of the big winners of the weekend, earning a pair of decisive victories against Florida sides Chargers SC and IMG Academy. James Brighton had a five-goal weekend, including four in Sunday's 7-1 rout of IMG. Saul Tinoco racked up three goals, highlighted by a brace in Saturday's 3-0 shutout of Chargers SC. Goalkeeper Sai Brown and the Atlanta back line earned the clean sheet on Saturday, and Tyler Hogan held IMG to a single goal on Sunday. Atlanta is a perfect 4-0-0 at the top of the Southeast Division with 15 goals scored and only three given up.
Chargers SC bounced back on Sunday with a 2-0 road win over Concorde Fire, behind a first half brace from Luis Diaz.
Concorde won its opening match of the weekend 4-1 over IMG, highlighted by a first half hat trick from Langston Blackstock.
The Atlantic Division-leading New York Red Bulls picked up another shutout win, blanking PA Classics 1-0. Aziel Jackson's 76th minute game-winner was the only score of the game, while goalkeeper Matthew Goodman recorded the clean sheet between the posts.
PDA traveled to Virginia and racked up six goals to earn its second win of the season, 6-3 over Richmond United. Nigel Griffith netted three goals in the first 34 minutes of play, and Zach Riviere scored two of his own by the 48th minute. Nelson Capela capped off the scoring in the 77th minute for PDA.
New York City FC holds the top spot in the Northeast Division following a 4-1 rout of Everton FC Westchester. Jose Flores netted a pair of goals to lead the attack, as NYCFC got back on the winning side.
Oakwood SC's well-rounded squad had a strong outing on both ends of the pitch, shutting down Seacoast United 3-0. Goalkeeper Mitchell Kastilahn and the Oakwood back line stymied the Seacoast attack throughout the contest, and have allowed only one goal in three matches. Oakwood remains unbeaten on the season at 2-0-1.
Orlando City SC picked up four of six available points on the weekend, playing CASL to a 2-2 draw on Saturday before overpowering NC Fusion 8-1 on Sunday. Paolo Alcocer, Daniel Miranda, Jordan Bender and Andres Ojeda had two goals each for Orlando City over the course of the matches.
After the draw against Orlando on Saturday, CASL picked up three points on Sunday with a 1-0 win over Boca United FC. Cameron Abernethy's 22nd minute strike was all the host side needed to earn the victory, as the back line earned its first shutout the season.
Kendall SC's Alessandro Corghi needed just 13 minutes to record a hat trick coming off the bench against Charlotte Soccer Academy, propelling his team to a narrow 3-2 win. With Kendall trailing 1-0, Corghi netted a 67th minute equalizer and a go-ahead goal in the 74th. However, Charlotte's Isaiah Reid promptly evened the score at 2-2 in the 77th minute, which again didn't last long as Corghi answered back with a last minute game-winner.
Another Florida side, Weston FC also earned four of six possible points, defeating Carolina Rapids 2-0 and playing Charlotte Soccer Academy to a 1-1 draw. Jose Rivas netted a goal in each game for Weston.
After going down 3-1 early in the second half, FC Boston Bolts stormed back to defeat the New England Revolution 4-3 on Saturday evening. Jaren Suttles cut the New England lead to 3-2 in the 51st minute, before Vittorio Luzio scored the equalizer in the 76th. In the final minute of the match, Suttles struck again with the game-winner, helping Boston post its second win of the season.
+Read: USSDA East Conference Recap – September 10-11, 2016
All Results
Saturday, September 24
NC Fusion 2, Boca United FC 2
PDA 6, Richmond United 3
Oakwood SC 3, Seacoast United 0
Capital Area Railhawks – CASL 2, Orlando City SC 2
New York City FC 4, Everton FC Westchester 1
Philadelphia Union 2, Baltimore Armour 1
Concorde Fire 4, IMG Academy 1
Atlanta United 3, Chargers SC 0
Weston FC 2, Carolina Rapids 0
Kendall SC 3, Charlotte Soccer Academy 2
New York Red Bulls 1, PA Classics 0
FC Boston Bolts 4, New England Revolution 3
Sunday, September 25
Charlotte Soccer Academy 1, Weston FC 1
Carolina Rapids 0, Kendall SC 0
Chargers SC 2, Concorde Fire 0
Orlando City SC 9, NC Fusion 1
Atlanta United FC 7, IMG Academy 1
Capital Area Railhawks – CASL 1, Boca United FC 0
U-17/18
Atlanta United FC piled up eight goals over the course of two home wins, defeating Chargers SC 5-1 and IMG Academy 3-2.  Patrick Okonkwo scored four of United's goals, including a hat trick effort on Saturday. Atlanta has opened the season with four straight wins, outscoring opponents 13-3.
Orlando City SC picked up a pair of wins, edging out CASL 4-3 before blanking NC Fusion 2-0 on a successful trip to North Carolina. Landen Haig and David Loera each recorded a brace against CASL, while Loera and Juan Esteban Carmona provided the scoring against Fusion. Goalkeeper Justin Bauer and the Orlando back line shut down the Fusion attack, as their team improved to a perfect 4-0-0 on the season.
CASL bounced back on Sunday with a 3-0 shutout of Boca United FC, behind a second half brace from Alex Rose, who scored two goals in a three-minute span.
A 58th minute goal by Omir Fernandez was all the New York Red Bulls needed to outlast PA Classics 1-0, as the team earned its fifth straight win to open the season. U.S. Youth National Team defenders Carlos Alvarado and Vincent Borden, and the rest of the Red Bulls back line helped lead the way in their second shutout of the season.
PDA picked up its first win of the season, defeating Richmond United 5-4 in stunning fashion. Richmond took a 4-3 lead by the 60th minute, and held strong for the next 30 minutes seemingly on its way to a win. However, PDA's Markez Zalla netted an equalizer in the 90th minute, and William Basanaga put home the game-winner in the 93rd.
Byron Josue Monge scored two goals in a nine-minute span to lead the Philadelphia Union to a 2-0 win over Baltimore Armour. Monge, who started the match and played 87 minutes, put the Union on the board in the 69th and 78th minutes, following a scoreless first half. Defenders Andrew Aprahamian, Freeman Dwamena and Matthew Real all played the full 90 minutes, and goalkeeper Tomas Romero recorded the clean sheet in net.
All Results
Saturday, September 24
NC Fusion 1, Boca United FC 0
Seacoast United 2, Oakwood SC 1
PDA 5, Richmond United 4
Orlando City SC 4, Capital Area Railhawks – CASL 3
Montreal Impact FC 1, BW Gottschee Academy 1
IMG Academy 2, Concorde Fire 1
Philadelphia Union 2, Baltimore Armour 0
Atlanta United FC 5, Chargers SC 1
Carolina Rapids 1, Weston FC 1
Charlotte Soccer Academy 3, Kendall SC 1
New York Red Bulls 1, PA Classics 0
New England Revolution 1, FC Boston Bolts 1
Sunday, September 25
Kendall SC 3, Carolina Rapids 1
Concorde Fire 4, Chargers SC 3
Atlanta United 3, IMG Academy 2
Capital Area Railhawks – CASL 3, Boca United FC 0
Orlando City SC 2, NC Fusion 0