San Jose Earthquakes Academy teams earn split results vs. LA Galaxy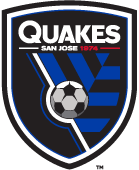 (Via SJEarthquakes.com / Paul Dewhurst) – In their first match-up of the young academy season, the San Jose Earthquakes U-18s (3-0-1, 10pts) defeated rival LA Galaxy (1-2-1, 4pts) 2-0, while the U-16s fell to the Galaxy 2-0 in Sunday's Cali Clasico doubleheader at Las Positas College.
The U-18s were led by two goals from standout forward and Stanford commit Arda Bulut. After the match, U-18 head coach Paul Holocher credited the player's ability to control the match on both sides of the ball in the Cali Clasico victory.
"The guys played a very good, complete game," Holocher said. "Their collective pressure gave a lot of problems to the Galaxy and we really controlled the majority of the game. We controlled it through possession and in chances. It was a great performance today by the boys."
The U-18s opened the scoring off of high defensive pressure, winning the ball in their half before building possession up through the right flank. Leo Barajas, who beat his defender en route to the endline, slipped a dangerous ball back to Bulut in the box. Bulut, with little room to operate, connected on a first-time volley to beat the Galaxy goalkeeper.
"It was a really great team goal for us," Holocher said. "We had a pretty long, extended build-up with a nice combination play. It was a quality assist from Leo [Barajas] and a good finish by Arda [Bulut]."
Holding a 1-0 lead heading into the second half, the Quakes continued to put on pressure through possession in the Galaxy's defensive half. The second goal came off a short corner kick that ultimately led to a penalty kick opportunity for the Quakes. Once again, it was Bulut who stepped up and beat the Galaxy goalkeeper to build a commanding 2-0 lead for San Jose.
The second match of Sunday's Cali Clasico doubleheader saw the U-16s fall 2-0 to the Galaxy.