U.S. Soccer Development Academy East Conference Recap: Week 19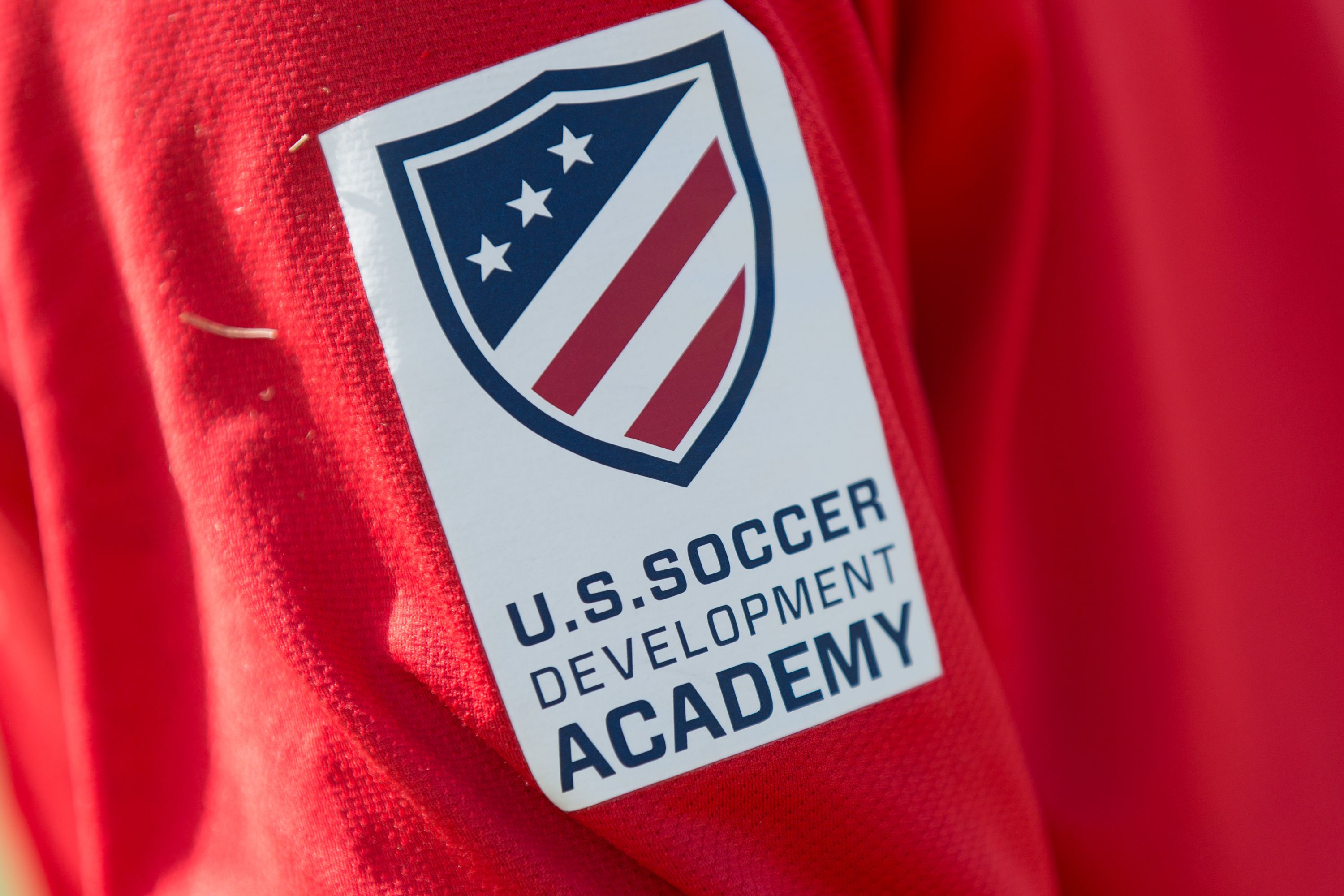 This weekend's slate of U.S. Soccer Development Academy games featured various upsets and nail biters, but one team's 11-goal performance might have been the highlight. The rest of the results from the weekend's best match-ups are below.
+Read: Around the U.S. Soccer Development Academy: Week 19
Match Recaps
U13/14
Players Development Academy 3, D.C. United 0
After its third loss of the season came against World Class FC on March 12, Players Development Academy returned to its winning ways the past two weekends. It beat NJCSA 4-1 last Saturday and followed up with a shutout win at D.C. United on Sunday. Randy Arronis, who leads the team with seven goals, found the back of the net, while Evan Chacon and Damian Searchwell rounded out the scoring. In net, goalkeeper Aurie Echevarria produced a shutout in his first start of the season, helping PDA earn its eighth win of the year.
Bethesda-Olney 2, PA Classics 0
[player_box id=54895 leftright=right]
Bethesda-Olney suffered a one-goal defeat to local rival D.C. United on April 3 but responded with a victory over PA Classics this weekend. Shai Neal, the team's leading scorer with seven goals, did not play, but his teammates on the attacking side stepped up in his absence. Tonny Villatoro scored his sixth goal of the year and Mukisa Kiingi, making his ninth start, scored for the first time this season. Goalkeeper Tyler Perrie earned the clean sheet in the victory.
+Read: Met Oval Academy adds U-12, U-13 Development Academy sides
U15/16
NJCSA 3, Philadelphia Union 3
Two of the top-four teams in the Atlantic Division went head-to-head Sunday afternoon, and the match showed the balance among this league's top tier. Six different players scored— Justin McMaster finished his team-leading 10th goal of the season for the Union — and the game ended in a draw. It marks the second tie for both teams. As for the playoff outlook, the Union sit in the No. 11 position. NJCSA, meanwhile, is in position to play its way into the postseason picture moving forward.
Charlotte Soccer Academy 2, Capital Area Railhawks 1
Capital Area Railhawks entered Saturday's match with Charlotte Soccer Academy on a six-game winning streak. The club was 15-7-3 on the year, a record that put it in second place in the Southeast Division and firmly in the playoff picture. Greg Shields' team could not continue its momentum Saturday, though, and Charlotte Soccer Academy (8-11-4), the league's ninth place squad, pulled the 2-1 upset behind goals from forward Preston Popp and defender Ifeanyi Anyafo. Gene Garrett-Peters scored the only goal for Capital Area Railhawks, which went on to defeat Carolina Rapids, 2-1, on Sunday.
U17/18
Kendall SC 3, Chargers Soccer Club 2
Kendall SC currently holds the fourth wild card berth for this year's Development Academy playoffs, but its game Saturday with Chargers Soccer Club wasn't necessarily about improving its position in the postseason picture.
Having not played since March 12, Kendall SC was just happy to be back on the pitch playing competitive soccer. After a back-and-fourth match, forward Jonathan Lewis' late goal put Kendall SC ahead for good.
"This game was just about getting back into game form," head coach John Ramos said. "We knew Chargers, obviously, is always going to put a good group of kids together to play, so we went into the game just sort of to get back onto our feet."
Kendall SC scored first before Chargers Soccer Club produced the next two goals. Kendall SC tied the game down the stretch, though, setting up Lewis for some late-game theatrics. Forward Travis Brumfield and Wilterlynd Inalien scored the other two goals for Kendall SC.
After another extended period with a match, Kendall SC will host Orlando City SC (14-2-7) on April 30.
+Read: Sporting KC Academy sweeps Colorado Rapids on the road
Beachside SC 11, Albertson SC 1
[player_box id=53873 leftright=right]
Beachside SC's John Denis entered Saturday's game with five goals. He matched that scoring production against Albertson SC, and his monumental offensive performance helped Beachside SC blow out Albertson SC, 11-1. Caner Snover and Max Sanderson, Nicholas Petridis, Frederick Henry Kessler and Aidan Haas as Beachside SC put up by far its highest-scoring game this season. Its previous high came in a 5-2 win against Portland Timbers on Dec. 6. Beachside SC (10-7-2) sits in third place in the Northeast Division and would earn a playoff berth if the Development Academy season ended this week.
Other Match-Ups
U13/14
North Atlantic Division
Richmond United 1, Baltimore Armour 1
Northeast Division
New York Soccer Club 0, BW Gottschee Academy 0
New England Revolution 1, Met Oval 0
Everton FC Westchester 2, Seacoast United 0
Oakwood Soccer Club 2, Cedar Starts Academy 0
FC Boston Bolts 2, World Class FC 0
Albertson SC 0, Beachside SC 0
FC Boston Bolts, Oakwood Soccer Club
South Atlantic Division
Charlotte Soccer Academy 0, Capital Area Railhawks 0
Carolina Fusion 3, North Carolina Fusion 0
Capital Area Railhawks, Carolina Rapids
Charlotte Soccer Academy 1, North Carolina Fusion 0
Georgia United 2, Concorde Fire 0
Sunshine Division
Weston FC 2, IMG Academy 0
Tampa Bay United 3, Boca United Football 1
Orlando City SC 3, Jacksonville FC 0
Chargers Soccer Club, Kendall SC
U15/16
Atlantic Division
Baltimore Armour 3, Richmond United 2
New England Revolution, New York Red Bulls
PA Classics 3, Bethesda-Olney 1
Northeast Division
Beachside SC, Albertson SC
BW Gottschee Academy 2, Empire United 0
Seacoast United 1, Everton FC Westchester 0
FC Boston Bolts, Oakwood Soccer Club
Southeast Division
North Carolina Fusion 1, Carolina Rapids 0
Chargers Soccer Club 1, Kendall SC 1
Weston FC 4, IMG Academy 2
Capital Area Railhawks 2, Carolina Rapids 1
Charlotte Soccer Academy, North Carolina Fusion
Georgia United 2, Concorde Fire 0
U17/18
Atlantic Division
Richmond United, 0, Baltimore Armour 0
Philadelphia Union 1, NJCSA 0
New York Red Bulls 0, New England Revolution 0
PA Classics, Bethesda-Olney
Northeast Division
Everton FC Westchester 1, Seacoast United 0
BW Gottschee Academy 5, Empire United 0
FC Boston Bolts 2, Oakwood Soccer Club 1
Southeast Division
Capital Area Railhawks 3, Charlotte Soccer Academy 0
North Carolina Fusion 3, Carolina Rapids 1
Weston FC 2, IMG Academy 0
Capital Area Railhawks 2, Carolina Rapids 1
North Carolina Fusion 1, Charlotte Soccer Academy 0
Georgia United, Concorde Fire