Sporting KC Academy sweeps Colorado Rapids on the road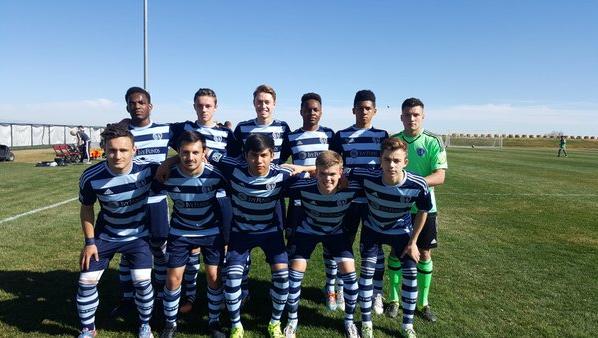 On a day Sporting Kansas City and the Swope Park Rangers resumed their impressive starts to the 2016 season away from home, the Sporting Kansas City Academy enjoyed a successful road trip of their own.
The U-18s, U-16s and U-14s combined for a clean sweep of the Colorado Rapids on Saturday at Dick's Sporting Goods Park. All three teams secured one-goal wins as the 2015-16 U.S. Soccer Development Academy season hits the final stretch before playoffs commence in June. The results were particularly crucial for the U-18s and U-16s, who continue to jockey for a postseason spot in the Central Conference's Frontier Division.
Saturday's action kicked off with the U-18s, who entered halftime tied goalless with their MLS counterparts. Istvan Urbanyi's side made the breakthrough in the 73rd minute when defender Levente Illes scored his first goal of the USSDA season. The Rapids created a few opportunities themselves, but Steve Tekesky was up to the task in posting the shutout.
+Read: Around the U.S. Soccer Development Academy – Week 19
With the victory, the U-18s (11-7-3, 36 points) maintain their fourth-place spot in the Frontier Division standings. The top three teams will qualify automatically for the USSDA playoffs, while the fourth-place finisher will enter a wildcard pool with academy teams from across the nation. Currently seventh in the wildcard pool, Sporting KC must finish among the top 11 wildcard teams to clinch a playoff berth.
The U-16s extended their unbeaten run to five league games with a dramatic 2-1 comeback win. Colorado drew first blood, but goals in the 84th and 87th minutes from Grayson Barber gave Jon Parry's team an all-important victory. Currently third in the Frontier Division, the U-16s (11-7-3) now have an eight-point cushion on fourth-place Texas Rush. Should Sporting KC retain their top-thee spot to the end of the season, the club will advance to the USSDA playoffs.
The U-14s capped the perfect afternoon with a 1-0 triumph thanks to a late goal from Aidan Bates. Alexander Glynn and Gabe Ramos were involved in a well-worked build-up before Bates finished off the move with the match-winner.
With three big road points in the bag, the U-18s and U-16s return to Swope Soccer Village next Sunday to host the Colorado Rush at 10 a.m. and 12:30 p.m. CT, respectively.
When the dust settled on a busy day for Sporting Kansas City at the professional and youth levels, all teams combined to go 4-0-1 on the road.