U.S. Soccer Development Academy East Conference Recap: Week 16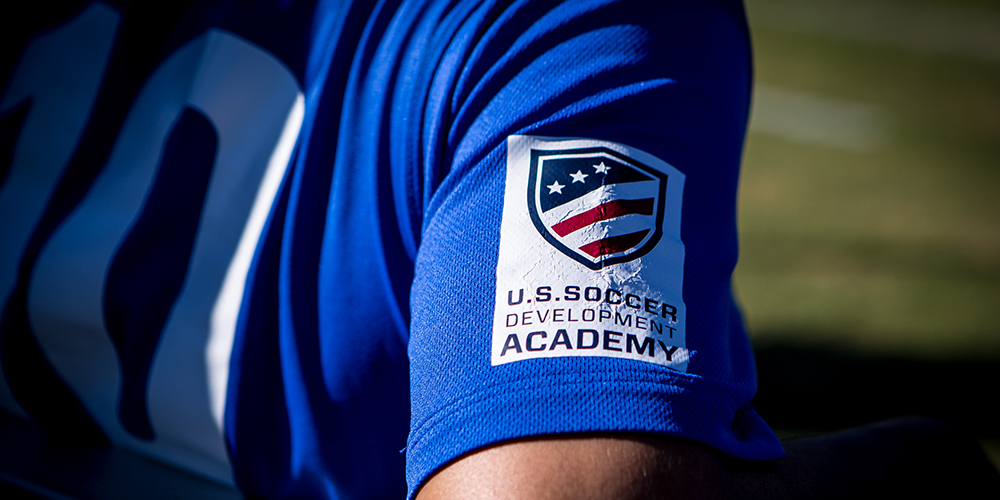 There were plenty of intriguing match-ups across the U.S. Development Academy's Eastern Conference over the weekend, but one game stood out in particular. BW Gottschee U17/18 is unbeaten no more, as the team's amazing 16-game winning streak to start the season was snapped by PA Classics.
+Read: Dallas Cup Day 1 U13-U16 Recap
Match Recaps
U13/14
NYCFC 4, World Class FC 1
With a record of 10-0-4, NYCFC continues to dominate the U13/14 Eastern Conference landscape. Its latest win came Saturday against World Class FC, as three different players scored in the victory. This match accurately represented the team's balanced scoring attack, which features five players who have netted five or more goals. Two of the three goals came from that contingency — both Alexsi Morel and Sal Rasizzi found the back of the net — while Colman Kim had the third score. It marked the fifth straight game in which NYCFC scored four goals or more.
Baltimore Armour 3, PA Classics 1
After it was shut out the past two weekends, Baltimore Armour bounced back by picking up a two-goal win over PA Classics on Saturday afternoon. Alex Stevenson, who leads the team in goals, picked up another score along with Sahil Raina and Lucas Teshome. PA Classics was only able to find the back of the net once thanks to Michael Bulzoni.
+Read: Dallas Cup kicks off with three marquee match-ups at the Cotton Bowl
U15/16
Players Development Academy 3, NJCSA 1
Players Development Academy, despite struggling in recent weeks in the Atlantic Division, picked up a quality win against NJCSA, which currently holds the fourth position in the league. The scoring punch for PDA came from Valentino Ambrosio and Nicholas Kozdron, who each netted their first goals of the season. Jawon Daniels tacked on his third score in the victory, while Conor Kelly, who leads the team with four goals, netted the only score for NJCSA, which followed this performance with a scoreless draw Sunday against PA Classics.
BW Gottschee Academy 2, PA Classics 1
In a crossover match-up, BW Gottschee Academy got the best of PA Classics behind goals from Daquan Brown and Arben Lekperic. Now winners of three straight, BW Gottschee holds the fourth position in the Northeast Division and the first wild card spot. Gottschee will have a chance to jump Oakwood Soccer Club, the third place team, two weekends from now. PA Classics, meanwhile, saw their three-game winning streak come to an end. It followed this performance up with a 0-0 tie against NJCSA, which still sits below them in the Atlantic Division standings.
+Read: Undefeated BW Gottschee U-17/18 side eyes redemption, not perfection
U17/18
PA Classics 1, BW Gottschee 0
For the first time this season, BW Gottschee tasted defeat.
After 16 straight wins, BW Gottschee allowed a goal in the final 10 minutes to Robert Miller, far and away PA Classics' leading scorer with 12 goals on the season, and couldn't net the equalizer before the final whistle. Miller's strike came shortly after goalkeeper Trevor Clemens saved a penalty to keep the match scoreless.
"We feel like we have a good team, so obviously our guys were excited for the game to try to put a blemish on their record," head coach Stephen Klein said. "Our guys felt confident that we could do so."
Klein's team finished the first half of the season, 5-6-1, but currently sits in the ninth wildcard position. PA Classics picked up a draw against Players Development Academy and beat Richmond United to start the spring, two of the top five squads in the Atlantic Division.
Then came the victory against BW Gottschee, which has been dominant all season. Entering Saturday's match, it had outscored its opponents, 38-4. It still holds the top seed for the USSDA U17/18 playoffs at the moment.
"Gottschee is an excellent team," Klein said. "It was a game that could have gone either way."
PA Classics pulled out the upset victory, though, and followed it up with a 2-0 win over NJCSA a day later. While NJCSA is 2-16-2 on the year, Klein made sure his team did not overlook its opponent after arguably its biggest win of the season.
"NJCSA doesn't have the results to show, but they play hard," Klein said. "They have some good players. We knew it wasn't going to be an easy game traveling up there, and it wasn't easy at all."
Neither team scored before halftime, but Braden Kline scored twice after the break in the eventual victory. PA Classics will return to facing the top of the Atlantic Division on April 2 when it hosts Philadelphia Union (10-3-4).
North Carolina Fusion 3, Capital Area Railhawks 2
The second-place team in the Southeast Division put together a dominating performance last weekend in its 7-0 win over Boca United Football. Jeremy Kelly provided a hat trick, and four other players found the back of the net in the blowout.
Saturday's game was a different story, as Capital Area Railhawks scored twice in a 3-2 loss to North Carolina Fusion, which has won four of its past five games and holds the fourth position in the league. The Fusion held Kelly scoreless, and Faisal Almubaslat, Nicholas Graves and Jaime Vasconcellos provided the scoring punch in the victory.
Other Matches
U13/14
Metro Division
Cedar Stars Academy 0, Continental FC DELCO 0
Players Development Academy 4, NJCSA 1
North Atlantic Division
Bethesda-Olney 2, Lehigh Valley United 1
Richmond United 1, Prince William Courage 0
Northeast Division
Beachside SC 2, Met Oval 0
Oakwood Soccer Club 1, Seacoast United 0
Everton FC Westchester 1, Albertson SC 1
South Atlantic Division
Georgia United 3, Capital City Railhawks 2
North Carolina Fusion 2, Triangle Futbol Club Alliance 0
Carolina Rapids 2, Concorde Fire 0
South Carolina Battery Academy 1, Charlotte Soccer Academy 0
Georgia United 2, North Carolina Fusion 2
Sunshine Division
Chargers Soccer Club 3, Boca United Football 1
Jacksonville FC 2, Kendall SC 1
U15/16
Atlantic Division
PA Classics 0, NJCSA 0
Northeast Division
Continental FC Delco 2, Empire United 1
Everton FC Westchester 3, Albertson SC 2
Oakwood Soccer Club 2, Seacoast United 0
Southeast Division
Carolina Rapids 1, Concorde Fire 0
Capital Area Railhawks 2, North Carolina Fusion 0
Boca United Football 4, Chargers Soccer Club 4
U17/18
Atlantic Division
Players Development Academy 3, NJCSA 0
PA Classics 2, NJCSA 0
Northeast Division
Continental FC Delco 1, Empire United 1
Oakwood Soccer Club 1, Seacoast United 0
Southeast Division
Carolina Rapids 2, Concorde Fire 0
Chargers Soccer Club 5, Boca United Football 0
South Carolina Battery Academy 0, Charlotte Soccer Academy 0