U.S. Soccer Development Academy East Conference Recap: Week 14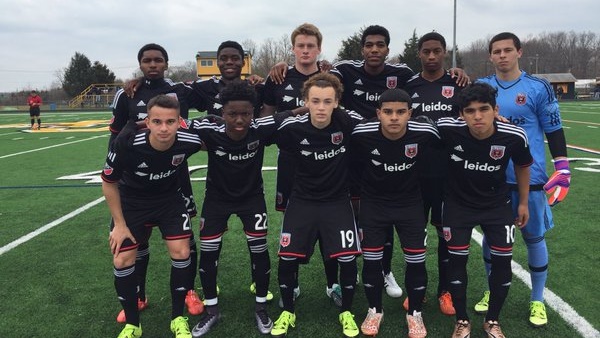 Many teams started the spring season over the weekend with hopes of gaining momentum toward the Development Academy playoffs. New York Red Bulls U-15/16 continued their stellar campaign, while D.C. United and Philadelphia Union picked up key wins in the U-17/18 division.
Match Recaps
U13/14
D.C. United 4, Richmond United 4
D.C. United has played well since its six-game losing streak earlier in the fall, and entered this weekend riding a three-game winning streak. On Saturday, United couldn't pick up its fourth straight win, but did scored four goals in a tie with Richmond United. D.C. United's Kyle Davis continued his suburb season by scoring his 12th and 13th goals, while Jacob Greene and Nelson Martinez each added a goal as well. Jacob Thomas led Richmond United, putting home two goals in the draw.
New York Soccer Club 4, Albertson SC 1
It's been an up-and-down season for New York SC thus far, but it began the second half of the 2015-2016 campaign on the right foot with a dominating win on Saturday afternoon. Scoring production came from more than just Jalen Anderson, who leads the team in goals by a wide margin and scored for the 14th time against Albertson SC. Starters Amar Sumra and Triston Sandy each added a goal, and Jafi Alexis found the net coming off the bench after entering in the 51st minute. Kendrick Rivera scored for Albertson SC in the loss.
+Read: Toronto FC enters player development partnership with Ontario SA
U15/16
New York Red Bulls 4, D.C. United 1
Two of the top teams in the Atlantic Division went in opposite directions this weekend, starting with Saturday's game at Evergreen SportsPlex in Leesburg, Virginia. Benjamin Mines, who scored once entering this match, notched a hat trick that proved to be much more than New York Red Bulls needed. Colin Brezniak scored the only goal for D.C. United, which lost, 2-1, to NJCSA a day later. The Red Bulls followed this result with a 4-0 victory against Richmond United on Sunday.
Kendall SC 2, Orlando City SC 1
Kendall SC moved closer to the top of the Southeast Division with a tight win over Orlando City, which sits second in the league with 39 points. It marks the second straight loss for Orlando City over which it has been outscored, 7-2. For Kendall SC, Truman Gelnovatch scored for a team-leading 14th time. Juan Galdames, meanwhile, put one past the keeper for the second time this year in the victory.
U17/18
D.C. United 2, New York Red Bulls 0
About 30 minutes into D.C. United's match with New York Red Bulls on Saturday, Grant Robinson received a red card for challenging a Red Bulls defender. He was sent off, forcing D.C. United to play the rest of the game with 10 men.
Playing short handed didn't phase head coach Tom Torres' team, though, as it still was able to put home a few goals and shut out the top team in the Atlantic Division.
+Read: Youth Soccer Top 25 Twitter Rankings entering March 2016
"It showed a tremendous amount of character," Torres said about his team playing down a man. "So we were really proud of the guys efforts."
Despite being at a disadvantage, D.C. United received goals from Raheem Lawal and Avionne Flanagan and did not allow a goal to a team that entered the match scoring 2.86 goals per game.
Torres said his team experienced some fatigue a day later, but D.C. United was still able to hold off NJCSA, 3-2.
"It started out really slow on Sunday," Torres said. "Then finally we put some good combination together, and every player contributed in a great way."
Philadelphia Union 8, Baltimore Armour 0
After scoring eight goals in eight games before the break, Philadelphia Union reached that total Saturday afternoon in its first game of the season's second half. Yosef Samuel and Raheem Taylor-Parkes paced the team with two goals each, while Abu Winter, Anthony Fontana, Jerren Nixon and Dawson McCartney got in on the scoring as well. Baltimore Armour dropped to 3-14 on the season and next weekend will go up against NJCSA, which has one victory in 15 matches.
+Read: U.S. U-18 MNT heading to Argentina for international camp
Other Match-Ups
U13/14
Metro Division
Philadelphia Union 4, Baltimore Armour 0
North Atlantic Division
Players Development Academy 1, PA Classics 0
Northeast Division
New England Revolution 6, Seacoast United 0
Everton FC 2, Beachside SC 0
South Atlantic Division
Georgia United 2, Charlotte Soccer Academy 2
Triangle Futbol Club Alliance 2, Carolina Rapids 1
North Carolina Fusion 3, South Carolina Battery Academy 1
Sunshine Division
IMG Academy 2, Chargers Soccer Club 1
Jacksonville FC @ Tampa Bay United (Saturday at 1 p.m.)
Orlando City SC 3, Kendall SC 0
U15/16
Atlantic Division
Baltimore Armour @ Philadelphia Union (Saturday at 1 p.m.)
NJCSA 3, Richmond United 1
NJCSA 2, D.C United 1
New York Red Bulls 4, Richmond United 0
PA Classics 1, Players Development Academy 0
Northeast Division
Montreal Impact FC 0, Albertson SC 0
Oakwood Soccer Club 1, Empire United 1
New England Revolution 0, Seacoast United 0
Beachside SC 3, Everton FC Westchester 0
Southeast Division
Georgia United @ Charlotte Soccer Academy (Saturday at 5:30 p.m.)
South Carolina Battery Academy @ North Carolina Fusion (Sunday at 3:30 p.m.)
U17/18
Atlantic Division
Richmond United 1, NJCSA 0
D.C. United 3, NJCSA 0
Players Development Academy 1, PA Classics 1
New York Red Bulls 1, Richmond United 1
Northeast Division
Montreal Impact FC 1, Albertson SC 1
Oakwood Soccer Club 1, Empire United 0
New England Revolution 2, Seacoast United 0
Everton FC Westchester @ Beachside SC (Sunday at 10 a.m.)
Southeast Division
Chargers Soccer Club 2, IMG Academy 1
Orlando City SC 1, Kendall SC 0
Georgia United 3, Charlotte Soccer Academy 2
North Carolina Fusion 1, South Carolina Battery Academy 0