U.S. Soccer awards $2.4 million in grants for Innovate to Grow initiative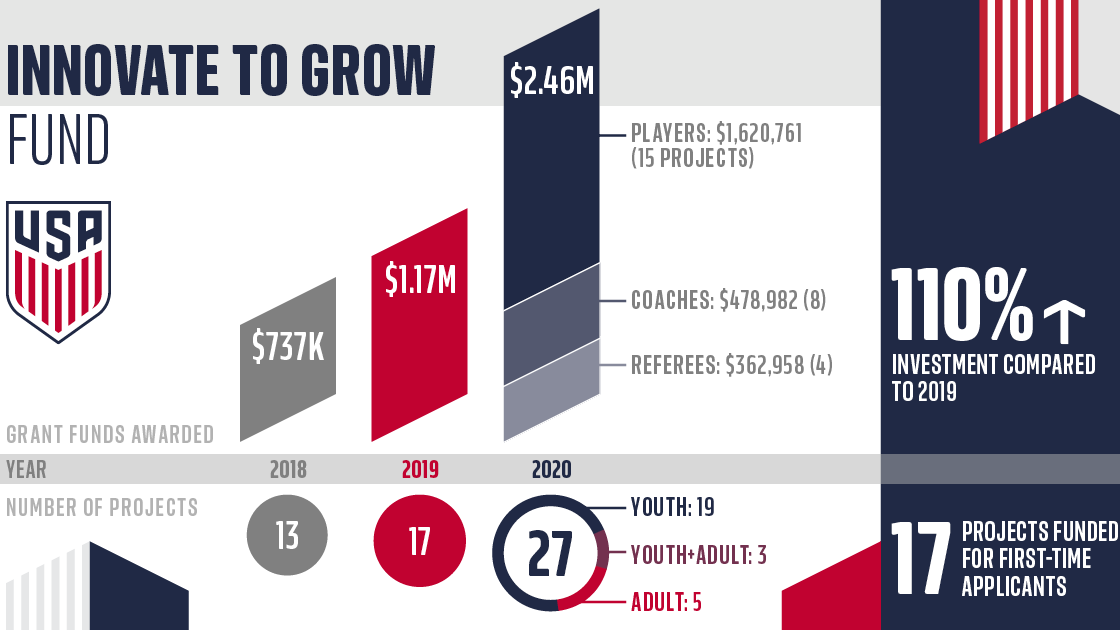 CHICAGO – In pursuit of the U.S. Soccer Federation's mission to make soccer the preeminent sport in the United States, U.S. Soccer's Board of Directors approved $2.4 million in 2020 Innovate to Grow Fund grants to 27 Federation Members whose innovative programs show promise in building the sport of soccer at the grassroots level.
The amount of funding awarded for 2020 is more than double the amount awarded for 2019.
Total grant applications also hit a record high in the program's third year. U.S. Soccer received 53 applications from 38 Federation Members, totaling $6.7 million in funding requests.
U.S. Soccer approved $2,462,701 in the 2020 application cycle to support 27 projects, 17 of which will be implemented by first-time Innovate to Grow Fund recipients. By comparison, last year the Federation supported 17 projects and awarded $1,173,311 to member organizations. In its inaugural year, the Fund awarded $737,969 to 13 Member organizations.
Overall, 15 player programs were awarded $1.6 million in addition to eight coaching programs and four referee programs that received $478,982 and $362,958, respectively. The majority of 2020 grants (19) will invest in youth programs, while five adult programs and three programs affecting both adult and youth will also be supported by the Innovate to Grow Fund.
"The expansion of the Innovate to Grow program in its third year demonstrates the deep commitment of our member organizations to making our sport more accessible," said U.S. Soccer President Carlos Cordeiro. "We couldn't be prouder to partner with them to help grow the game in their communities."
"In addition to the significant increase in applicants and awards granted, it's important to highlight the diverse pool of winners, which include national organizations as well as youth, adult, and joint state associations," Cordeiro added.
Recognizing the vital role that Federation Members play in the growth of soccer in the U.S., the Innovate to Grow Fund was established in 2017 to help U.S. Soccer member organizations launch new and innovative programs designed to grow participation in their markets. To be considered for grant funding, Members' proposed programs must meet certain criteria as part of a comprehensive application process, including:
The program must be new and different from current efforts.
The program must demonstrate capability to grow participation.
The program must demonstrate potential to scale in other markets.
The program must align with U.S. Soccer Player Development Initiatives.
The member must also be financially invested in the program.
Members interested in learning more about Innovate to Grow grant funding can learn more by emailing [email protected].
Following is a full list of the organizations and state associations were awarded 2019-2020 Innovate to Grow Fund grants:
Alabama Soccer Association ("Across Borders Recreation League")
Cross-border U-9 to U-12 league with matches within 60 mi of member clubs.
Alaska State Youth Soccer Association ("Passing the Ball Program")
Pop-up outreach program to remote areas including life lessons, and coaching and referee education and other support for communities wanting to start soccer programs.
Arizona Soccer Association ("ASA/Boys & Girls Club Phoenix Futsal")
Establish futsal program with 13 Boys & Girls Clubs in Phoenix.
California State Soccer Association – South ("Cal South Referee Participation Initiative")
Affiliate members refer a minimum of three new referees per year and Cal South provides all tools, education, and Grassroots certification.
California Youth Soccer Association – North / Connecticut Junior Soccer Association ("Get on the Bus")
After-school program including a rec soccer league, tutoring, personal development, and free participation and transportation.
Florida State Soccer Association ("Soccer After Youth")
Create new U-20 or U-23 divisions for players aging out of youth program as well as those who play in unaffiliated leagues.
Georgia State Soccer Association ("Community Clinics")
Deliver monthly community clinics (through Atlanta United) in low-income Hispanic communities to connect them with high-level coaching, scouting, and integration with Georgia South.
Idaho Youth Soccer Association ("IYSA Referee Retention and Recruitment Initiative")
Develop a Referee Advocate Program to improve retention of first- and second-year referees and improve recruitment of referees aged 19-40.
Illinois Youth Soccer Association ("College Women's Coaching Initiative")
Increase the number of female coaches by offering free coaching education on college campuses.
Iowa Soccer Association ("Coaching Education: Coaching for All Project")
Target coaches from non-member programs and underserved populations for free Grassroots coaching education.
Massachusetts Adult State Soccer Association ("Lusa American-Cape Verdean Tournament")
Host a Portuguese-Cape Verdean tournament with teams from MA and RI to showcase the benefits of affiliation and develop a cross-border league.
Minnesota Youth Soccer Association ("Referee-Coach Relationship")
Provide training, equipment, and mentoring to youth soccer players and their parents to become referees.
New Mexico Youth Soccer Association ("ITG Non-traditional Soccer Growth Plan")
Procure equipment to host community registration events and regional futsal tournaments.
North Carolina Youth Soccer Association ("Coaching Education Outreach Grow Program")
Provide coaching education for unaffiliated organizations.
Oklahoma Soccer Association ("Life Changes and Wellness Soccer Outreach Program")
Work with an after-school youth organization to introduce soccer to at-risk youth, with ultimate goal of establishing member club in community.
Oregon Youth Soccer Association ("Bridge the Gap")
Outreach and support to underserved Latino communities with the goal of integrating Hispanic clubs and leagues into OYSA.
SAY Soccer ("Training Confident and Competent Youth Referees")
Camp-based program to train teenage referees, held with player camps to give immediate practice.
South Texas Youth Soccer Association ("South Texas Club Accreditation")
Provide organizational development support to member clubs, including resources and tools to improve club environments.
US Adult Soccer ("Building a Bridge")
Partner with state associations to facilitate the transition from youth to adult soccer by providing three years of cost-free play and assistance in finding adult playing opportunities.
US Association of Blind Athletes ("Blind Soccer")
Develop recreational 5-a-side soccer for youth and young adults, develop skilled coaches and provide infrastructure to build interest and participation in the sport.
US Club Soccer ("Coach Education Initiative for Current Players")
Launch an accessible, comprehensive program to encourage and guide high school and college players into the coaching education pathway.
US Power Soccer ("Coaches Certification")
Institute a training curriculum and annual training sessions for coaches.
Virginia/DC Youth Soccer Association ("Accelerating the Participation of Women in Coaching")
Deliver Grassroots, D, and C courses for women and girls aged 16-plus at no cost to participants.
Washington Youth Soccer Association ("Atletico")
Implement a competitive soccer program enabling underserved Latino youth players to participate in a high-level player development program.
Washington Youth Soccer Association ("Let Her Coach")
Deliver Grassroots and D courses to women on college campuses.
Wisconsin Youth Soccer Association ("Female Coaching Education")
Facilitate female-only coaching education (Grassroots and D) at no cost to participants.
Wyoming Soccer Association ("SOW Soccer")
Outreach to the Wind River Indian Reservation, with the goal of lasting competitive programming and club membership.