U.S. Soccer announces head coach changes for U-15 and U-17 Women's Youth National Teams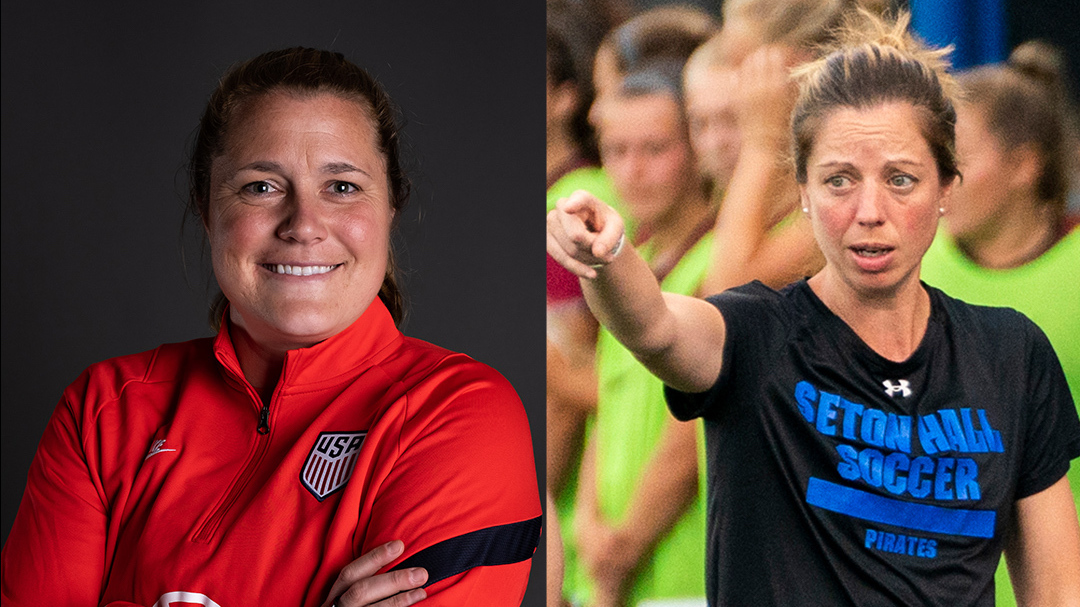 CHICAGO – Katie Schoepfer will transition to become the new head coach of the U.S. Under-17 Women's Youth National Team as serving in the same position with the U.S. U-15 WYNT since Nov. 2021. In addition, U.S. Soccer has appointed Ciara Crinion as the new full-time head coach of the U.S. Under-15 WYNT, replacing Schoepfer.
"We're excited to see Katie build on her success with the U-15s as she moves up to the U-17 age group and to welcome Ciara to the Women's Youth National Team coaching staff," said USWNT General Manager Kate Markgraf. "We've been impressed by Katie's growth as a coach since joining the Federation, and she's ready to continue guiding players through our pipeline and to the next U-17 Women's World Cup. Ciara has been rising through the ranks of the college game and we know she will contribute greatly to the players' experiences in this important age group at the start of our National Team pathway."
As part of an integrated WYNT coaching staff Crinion and Schoepfer will work across age groups with a focus on their respective teams.
Schoepfer takes over as U-17 WYNT head coach after leading the USA to the title in dominant fashion at the 2022 Concacaf Girls' U-15 Championship. She replaces Natalia Astrain, who has moved on from U.S. Soccer, and will coach many of the same players from her previous U-15 WYNT pool as the team attempts to qualify for the 2024 FIFA U-17 Women's World Cup.
"I'm excited to take on this new challenge with the U-17 WYNT," said Schoepfer. "I've truly enjoyed my time leading the U-15 age group and I'm very proud of what we've accomplished in identifying and developing players for their first steps on their Youth National Team pathway. I'm thankful for the support from Kate and from Barry Pauwels (Senior Director of Technical Development) and I look forward to this opportunity to help grow and develop our future USWNT players."
Schoepfer also served as a U-20 WYNT assistant coach during the team's 2021-22 cycle and holds a U.S. Soccer "A" Coaching License. She has been a coach educator for the Talent Scout License since completing the pilot course in spring 2019. Prior to joining U.S. Soccer, she spent six years as an assistant in the college game with Boston University and College of the Holy Cross, winning two conference championships with the Terriers.
As a player, Schoepfer was in the U.S. Youth National Team player pools from the U-17 to U-23 levels and started all four years for Penn State University, twice earning All-American honors. In her pro career, the forward made 100 appearances with the Boston Breakers across Women's Professional Soccer and the NWSL, the third-most games in club history. The Connecticut native was inducted into the Connecticut Soccer Hall of Fame in 2019.
Crinion comes to U.S. Soccer after more than 10 years coaching in the NCAA and holds a U.S. Soccer "A" Coaching License as well as a Talent Scout License. She was head coach at Seton Hall from 2019-22 and launched her college coaching career with eight years as an assistant at Hartford, helping lead the Hawks to five regular season conference championships.
Since 2017, Crinion has scouted and run Talent ID Centers for U.S. Soccer. She has also worked as an assistant coach with the U-20 WYNT. As a player, she was a part of the Ireland U-17 and U-19 Women's National Teams and spent four years playing at Central Connecticut State, twice earning all-conference honors.
"It's an honor and privilege to join U.S. Soccer and lead the U-15 Women's Youth National Team," Crinion said. "I'm excited to play a part in continuing the growth and development of our youth within the player pathway. I'm extremely thankful for my experiences as a Youth National Team scout and in previous YNT camps. Now, I look forward to working with the country's best young players and being a part of U.S. Soccer."