U.S. Men's Olympic Soccer Team opens November window with 1-1 draw against Iraq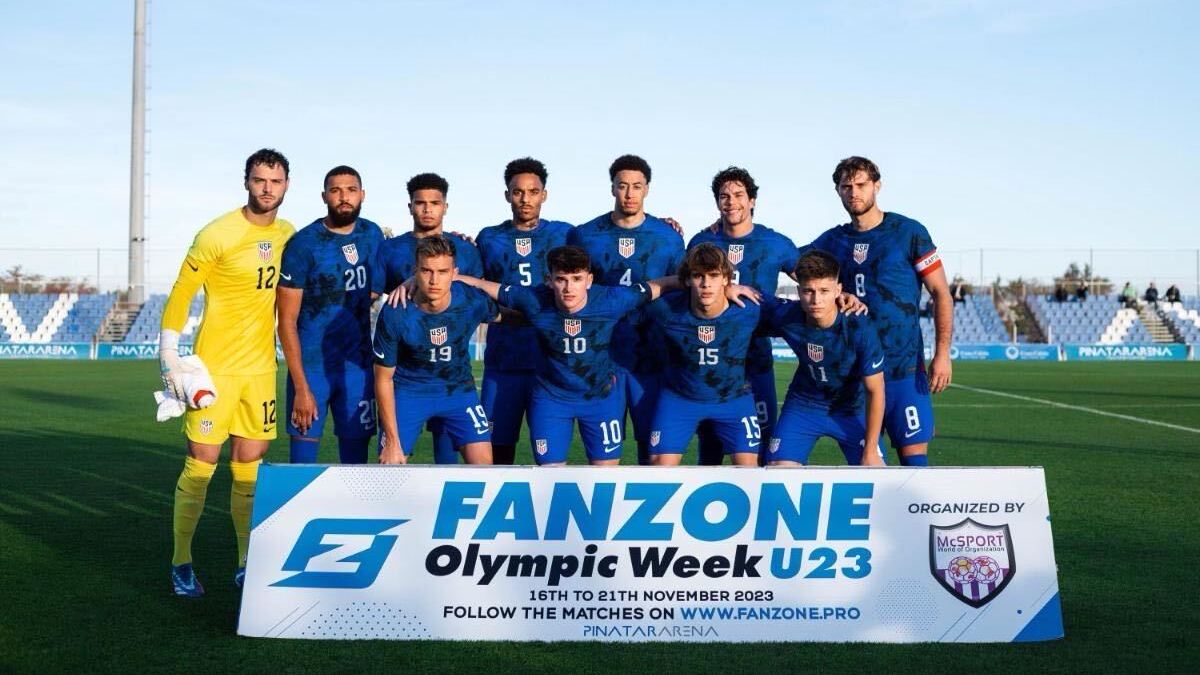 SAN PEDRO DEL PINATAR, Spain – The U.S. Men's Olympic Soccer Team drew Iraq 1-1 in its first match of the November international window. Midfielder Cole Bassett teed up Benja Cremaschi, one of the roster's youngest players, for a header goal in the 30th minute, but a relentless effort from Iraq saw the Lions of Babylon equalize in the 85th minute on a set piece.
The USA returns to action on Tuesday, Nov. 21 against African Under-23 champion Morocco (9 a.m. ET; ussoccer.com and U.S. Soccer App).
The disciplined Iraq side proved difficult to break down on the afternoon, but the U.S. got on the board in the 30th minute. After a nice exchange on the right wing, forward Esmir Bajraktarevic played it up past two Iraqi defenders for Bassett. The midfielder sent in a booming cross from the top right corner of the box for the onrushing Cremaschi on the left side of the six. The Inter Miami midfielder headed it to the near post past goalkeeper Kumail Saddy to put the U.S. ahead.
Bajraktarevic and Cremaschi are the two 2005-birth year players on the U.S. roster. The duo is also age-eligible for the 2028 Olympics in Los Angeles.
📹 Here's another angle of Benja Cremaschi's goal v Iraq yesterday

Match Report » https://t.co/FXedTUvajC pic.twitter.com/dGLOMUApaW

— U.S. Soccer YNT (@USYNT) November 20, 2023
Iraq pushed hard to level the score and hit the post a few times before finding an equalizer in the game's closing minutes. A U.S. foul on Ridha Fadhil set Iraq up for a free kick about 25 yards out and Bland Azad lined up to take it, swinging the ball past the U.S. defense before it bounced past diving goalkeeper John Pulskamp.
The Men's Olympic Soccer Tournament is restricted to players under the age of 23 with an allowance for three overage players. The team serves as an important part of the Federation's mission to develop winning teams as it will provide some of the nation's top young talent the opportunity to face elite opposition on the world stage next summer.
The USA qualified for its first Olympic Men's Football Tournament in 16 years with a dominant performance at the 2022 Concacaf U-20 Championship. There, the U.S. topped host Honduras 3-0 before a raucous crowd in San Pedro Sula to secure its Olympic berth.
-U.S. MEN'S OLYMPIC SOCCER TEAM MATCH REPORT-
Match: United States Men's Olympic Soccer Team vs. Iraq
Date: November 18, 2023
Competition: International Friendly
Venue: Pinatar Arena; San Pedro del Pinatar, Spain
Kickoff: 11 a.m. ET (5 p.m. local)
Weather: 68 degrees, clear
Scoring Summary:      1          2          F
USA                                1          0          1
IRQ                                 0          1          1
USA – Benjamin Cremaschi (Cole Bassett)           30th minute
IRQ – Bland Azad                                                         85
Lineups:
USA: 12-John Pulskamp; 5-Bryan Reynolds, 4-Jonathan Tomkinson, 20-George Campbell (14-Jack McGlynn, 61), 2-Nathan Harriel (3-John Tolkin, 46); 8-Tanner Tessmann (Capt.)  6-Gianluca Busio, 46), 19-Cole Bassett (13-Maximilian Dietz, 61), 15-Benjamin Cremaschi; 11-Esmir Bajraktarevic (18-Agustin Anello, 77), 10-Taylor Booth (7-Johan Gomez, 61), 9-Cade Cowell (17-Bernard Kamungo, 76)
Substitutes not used: 1-Chris Brady
Head coach: Marko Mitrović
IRQ: 1-Kumail Saddy; 2-Kadhim Raad (3-Ahmed Makanzi, 61), 4-Zaid Tahseen, 5-Hussein Amer, 9-Amen Alhamawi (18-Ridha Fadhil, 67), 11-Muntadher Mohammed (Capt.) (17-Alexander Oraha, 82), 14-Karrar Mohammed (6-Zaid Ismaeel, 82), 15-Siyaband Ageed, 16-Muntadher Abdulameer (8-Nihad Mohammed, 61), 21-Ali Almusawi (19-Marco Faraj, 67), 23-Karrar Saad (13-Mujtaba Salih, 82)
Substitutes not used: 12-Hasan Abbas, 22-Mohammad Hasan, 7-Dhulfiqar Younus, 10-Bland Azad, 17-Alexander Oraha, 20-Mustafa Waleed
Head coach: Radhi Shenaishil
Stats Summary: USA / IRQ
Shots: 5 / 5
Shots on Goal: 4 / 5
Saves: 3 / 4
Corner Kicks: 4 / 7
Fouls: 6 / 9
Offside: 0 / 2
Misconduct Summary:
USA – Cole Bassett (Caution)                          5th minute
IRQ – Muntadher Mohammed (Caution)       47
IRQ – (Caution)                                                  64