U-23 MNT coach Andi Herzog names 19 players to roster for 2015 Toulon Tournament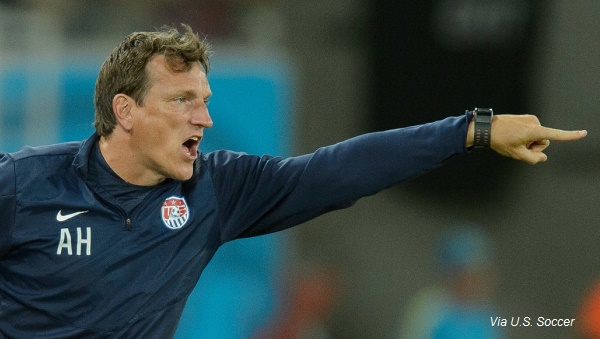 CHICAGO (Via U.S. Soccer) – U.S. Under-23 Men's National Team head coach Andi Herzog has named 19 players to the roster for the 2015 Toulon Tournament, which runs from May 27-June 7 in the south of France.
Herzog will make one addition to complete the 20-player roster, which will officially be submitted on Tuesday evening.
"Toulon is one of the most prestigious tournaments in the world at this age level, and we're fortunate to have the opportunity to compete against some of the top teams in the world," said Herzog. "Having seen matches here many times before, I know the type of talent we will face. This is huge for us as we get ready for qualification this October, and is another step in the development of our players in international competition."
Roster By Position:
GOALKEEPERS (3): Cody Cropper (Southampton; Maple Grove, Minn.), Charlie Horton (Cardiff City; Cleveland, Ohio), Tyler Miller (Zweibrücken; Woodbury, N.J.)
DEFENDERS (7): Juan Pablo Ocegueda (Alebrijes de Oaxaca; Riverside, Calif.), Boyd Okwuonu (Real Salt Lake; Edmund, Okla.), Shane O'Neill (Colorado Rapids; Boulder, Colo.), William Packwood (Unattached; Concord, Mass.), Jalen Robinson (D.C. United; Catonsville, Md.), Dillon Serna (Colorado Rapids; Brighton, Colo.), Sam Strong (Santa Barbara; Santa Barbara, Calif.)
MIDFIELDERS (4): Fatai Alashe (San Jose Earthquakes; Northville, Mich.), Benji Joya (Santos Laguna; San Jose, Calif.), Daniel Metzger (Unattached; Holmdel, N.J.), Marc Pelosi (Liverpool; Sunnyvale, Calif.)
FORWARDS (5): Julian Green (Bayern Munich; Tampa, Fla.); Alonso Hernandez (C.F. Monterrey; El Paso, Tex.), Jerome Kiesewetter (Stuttgart; Berlin, Germany), Alfred Koroma Shams (Southlake Carol, Texas), Jordan Morris (Stanford; Mercer Island, Wash.).
The last time the U.S. competed in the Toulon Tournament came in 2013 when they sent the U-20 MNT. Seven players from that roster return for this edition of the tournament.
The tournament comprises two five-team groups. The United States is with Costa Rica, France, Netherlands and Qatar in Group A. Group B consists of China PR, England, Ivory Coast, Mexico and Morocco. The top teams from each group will meet in the final onJune 7, and the second-place teams from each group will play for third place that day.
The U-23s have logged three matches in 2015 (2-1-0), opening with a5-2 win over Bosnia and falling 0-1 to Denmark in March before bouncing back with a 3-0 win against Mexico on April 22 at the StubHub Center in Carson, Calif. The Toulon event will play a part in the team's continued preparations for the 2015 CONCACAF Men's Olympic Qualifying Championship , which will be played in theUnited States from Oct. 1-13.
Roster Notes:
· Seven players from this roster were a part of the U-20 MNT which competed in the 2013 Toulon Tournament.
· Eleven players from this roster were a part of the group that most recently defeated Mexico 3-0 in Carson. Cody Cropper made seven saves to earn the shutout in the game, while Jordan Morris scored a goal, and Dillon Serna and Shane O'Neill both recorded assists.
· Five players were a part of the USA's 2013 FIFA U-20 World Cup team: Cody Cropper, Alonso Hernandez, Benji Joya, Juan Pablo Ocegueda, Shane O'Neill.
· Jordan Morris made his first start and scored his first international goal with the senior MNT during the U.S. Men's National Team's 2-0 win against Mexico on April 15.
· Morris is the leading goalscorer on this roster. In two matches in 2015 he has scored two goals, and overall in his four-game career with the U-23's he has scored three times.
· Juan Pablo Ocegueda, Alonso Hernandez, and Benji Joya are the most experienced players at the U-23 level, having each earned five caps.
· Six players on this roster come from European clubs, five from MLS, three are from Mexico-based clubs, three are unattached and two compete at the collegiate level.
· Cropper, Green, Morris, O'Neill and Serna have all been part of a U.S. MNT senior camp this year.
· Julian Green played in the U.S. MNT's Round of 16 match against Belgium in the 2014 FIFA World Cup and scored a goal, becoming the youngest player to score in a World Cup game since 2006.