U-17/18 Development Academy Playoff Quarterfinals set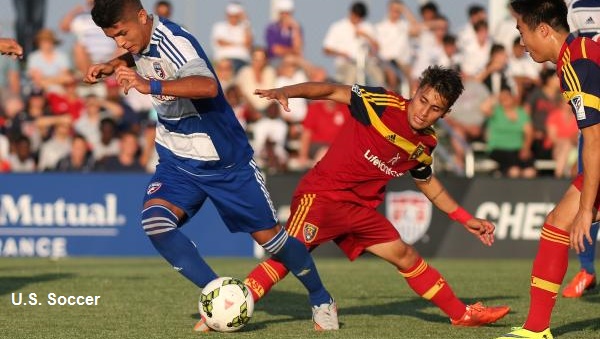 (Via U.S. Soccer) – The group stage of the 2014-15 Development Academy Playoffs came to a dramatic end on Friday morning at Grand Park in Westfield, Indiana with eight U-17/18 teams winning their respective groups to advance to knockout rounds.
The matchups for the Quarterfinals, which will take place on July 7 at the home site of the top four seeds, are as follows:
The most dramatic ending came in Group C, where Colorado Rush and Players Development Academy went to penalty kicks to decide the group winner. After Rush defeated Sockers FC and PDA defeated Pateadores on matchday three, both Rush and PDA finished tied on points, goal differential, goals scored, and had previously tied their matchup, 2-2. Rush and PDA then stepped onto Field #11 for a penalty shootout, which PDA won 4-1 to claim the group.
The Montreal Impact Academy finished  as the top seed and won Group E with seven points.
Real Salt Lake AZ and Houston Dynamo were the only teams to sweep all three of their matches, with RSL claiming Group F and Houston finishing atop Group H on nine points each.
The San Jose Earthquakes won Group G with seven points after defeating Texas Rush 1-0 in their third game.
Real So Cal and Capital Area RailHawks-CASL finished with seven points each in Group D, with Real So Cal winning the group with a +6 goal differential to CASL's +5. On matchday three, Real So Cal defeated Solar Chelsea SC 5-1 while the RailHawks defeated the Seattle Sounders 4-3.
Shattuck-St. Mary's won Group A on seven points while the Chicago Fire Academy took Group F, also with seven points.
As group winners, the eight teams advance to a single-game knockout round played at the higher seed's home facility on July 7. The four winners from the quarterfinals will advance to the Academy Championships, the semifinals will take place on July 16 in Carson, California. The Championship games for each age group will be played on July 18.
END OF YEAR AWARDS: The following players were recognized as the 2014-15 U.S. Soccer Development Academy Conference XI for each U-17/18 conference:
Eastern Conference:
Goalkeeper: Mason Stadjuhar (Orlando City SC)
Defenders: Kyle Duncan (New York Red Bulls), Nicholas Hinds (Kendall SC), Andrew Lombard (New York Red Bulls), DJ Mason (Capital Area RailHawks Academy-CASL)
Midfielders: Zach Herivaux (New England Revolution), James Murphy (Players Development Academy), Jorge Calix (D.C. United)
Forwards: Juan Sanchez (New York Red Bulls), McKinley Curran (PA Classics), Lucas Mendes (D.C. United)
Central Conference:
Goalkeeper: Marcel DaSilva (Shattuck-St. Mary's)
Defenders: Akeem Ward (Shattuck-St. Mary's), Mauricio Pineda (Chicago Fire), Jeremy Colvin (Texas Rush), Jeremiah Gutjahr (Indiana Fire)
Midfielders: Cameron Lindley (Chicago Fire), Jackson Yueill (Minnesota Thunder Academy), Christian Lucatero (Houston Dynamo)
Forwards: Brandon Guhl (Texas Rush), Nash Popovic (Vardar), Emmanuel Sabbi (Chicago Fire)
West Conference:
Goalkeeper: J.T. Marcinkowski (San Jose Earthquakes)
Defenders: Danilo Acosta (Real Salt Lake AZ), Diego Silva (Real Salt Lake AZ), David Burns (San Juan Soccer Club), Michael Lopez (LA Galaxy)
Midfielders: Amir Bashti (San Jose Earthquakes), Jose Hernandez (Real Salt Lake AZ), Adrian Vera (LA Galaxy)
Forwards: Victor Mansaray (Seattle Sounders), Rey Ortiz (LA Galaxy), Spencer Held (Real So Cal)