Tri-State area USSDA Playoffs recap: Red Bulls, Beachside SC, PDA advance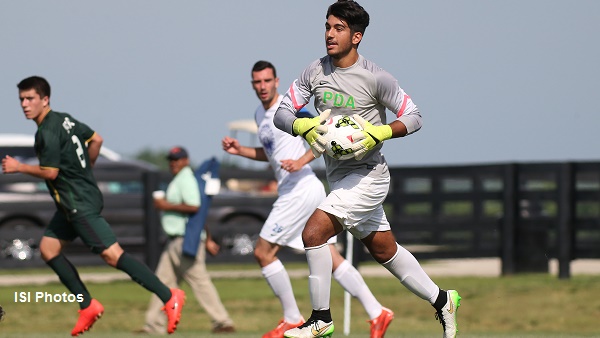 Two of the five Tri-State area teams in the U-15/16 age group advanced to the quarterfinals at the U.S. Soccer Development Academy (USSDA) Playoffs held June 23 – 26 in Westfield, Indiana. In the U-17/18 age group, Players Development Academy (PDA) was the only one of four Tri-State teams to move on.
[player_box id=45516 leftright=right]New York Red Bulls, which entered the U-15/16 playoffs as the top seed, easily won Group G, finishing with a 3-0-0 record and outscored opponents 15-4. While Red Bulls scored four second-half goals to cruise past IMG Academy 5-1 on June 23, they relied on early scoring production against Solar Chelsea FC a day later.
[player_box id=43174 leftright=right]Behind two goals from Brian Saramago, the Red Bulls closed out pool play with a 4-2 win over the Portland Timbers and [player_box id=47517 leftright=right]secured their place in the knockout round. Saramago netted a total of five goals in the team's three group matches. Leading scorer Omir Fernandez, who entered the postseason with 17 goals, scored three times in three games and Kyle Casey netted two.
+Read: U-15/16 Development Academy Playoff Quarterfinals set
[player_box id=45771 leftright=right]As the winner of Group A, Red Bulls host No. 8 seed Chivas USA on July 8. Despite scoring six goals in three games, Chivas USA went undefeated in Group C thanks to a relentless defensive effort.
[player_box id=53085 leftright=right]Beachside SC, meanwhile, came in as the No. 6 seed and competed in Group E. In the opener, Joao Avila's 26th-minute strike was the game's lone goal in a 1-0 win over Dallas Texans, as goalkeeper Noah Lawrence earned the clean sheet in net. Beachside played a high-scoring game June 24 against Bethesda-Olney in its second game and trailed 2-1 with less than 30 minutes to play.
But after playmaker Nicholas Petridis, who already scored early in the first half, netted the equalizer in the 66th minute, Altin Celaj scored the go-ahead goal five minutes later to put Beachside ahead for good.
Beachside tied Orlando City SC to pick up another point in its final game of pool play, which was enough to win the group and advance to the quarterfinals, where they will travel to No. 3 FC Dallas on July 8.
+Read: U-17/18 Development Academy Playoff Quarterfinals set
[player_box id=44576 leftright=right]Thirteenth-seeded BW Gottschee Academy, No. 20 PDA, and Everton FC Westchester, which captured the eighth wild-card spot, also earned spots in the playoffs but were unable to advance. BW Gottschee and PDA finished second and third, respectively, in Group D, while Everton FC Westchester went winless in Group F.
[player_box id=46702 leftright=right]In the U-17/18 playoffs, No. 5 PDA overcame a 2-2 tie to Colorado Rush in its opening bout and narrowly won Group C. PDA [player_box id=56129 leftright=right]followed up with back-to-back 4-2 victories against Sockers FC and Pateadores. Isaiah Young scored once in each game for PDA's balanced attack in Indiana, Jack Casey scored two and five others – including leading regular season scorer Chaz Burnett (17 goals) – netted one each.
PDA's performance sets up a quarterfinal battle with No. 4 San Jose Earthquakes on July 7. The Earthquakes went undefeated in three games — two wins and one draw — and scored eight goals en route to winning Group G.
Aside from PDA, the other Tri-State squads in the U-17/18 age group – fourth-seeded New York Red Bulls, No. 20 BW Gottschee Academy and No. 21. Oakwood SC – combined for one win.