U-17 World Cup: Can U.S. wunderkind Haji Wright finally tap his massive potential?
In December 2013, 15 year-old Haji Wright bagged two goals in a 4-1 victory over Brazil's U-17s in the 2013 Nike International Friendlies tournament. Those goals made Wright the tournament's top scorer and appeared to signal the arrival of the next great American striker.
Wright has all the intangibles: size (6'2" and nearly 180 pounds), speed, and the ability to finish chances.
But these past two years have seen more setbacks than successes for Wright, still just 17 years old and primed to play a key role in the U-17 World Cup, which kicks off with a match between the U.S. and Nigeria on Saturday (4 p.m. ET, broadcast on Telemundo).
+READ: Red Bulls Academy product Tyler Adams ready to lead U.S. U-17s on rugged World Cup mission
Wright, a Los Angeles native who played for the LA Galaxy's academy between 2012 and 2014, seemed primed for a move to German Bundesliga club FC Schalke 04. However, when his European dreams never panned out – perhaps because he had trouble signing a contract ahead of his 18th birthday – Wright furtively searched for his next option.
So it came as a surprise to many in the American soccer community when Wright spurned the Galaxy and signed with the NASL's New York Cosmos earlier this year.
"Getting the chance to train with and learn from world-class players such as Raúl and Marcos Senna is any player's dream,'' Wright said in a statement at the time of the signing. "It's little things like timing, technique, how I hit the ball [that Raúl] can teach me. I can definitely use some of [Senna's] professionalism, on and around the training ground. And on the field, his touch, I could learn a lot from that.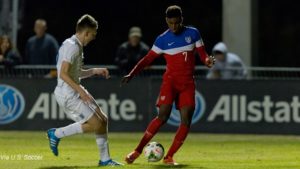 "It's the perfect environment for the next stage of my development.''
So far, however, Wright has only featured sparingly for the second-division club. He made his debut for the Cosmos in U.S. Open Cup play in May and only made his regular-season debut as a second-half substitute in a 1-1 draw with Indy Eleven in July.
+READ: U.S. U-17 Men's National Team roster named for World Cup in Chile
"The level of play is stronger and quicker than anything I've experienced, and it was a welcome challenge to get 20-plus minutes of match time out there," Wright said after the match against Indy. "There were things I could've done better, but overall I thought it was a decent performance."
Since then, though, Wright has only played in three other matches for the Cosmos, tallying an assist in a scant 80 minutes of professional play. Most of Wright's other minutes have come with the Cosmos' second team, Cosmos B, which plays in the National Premier Soccer League and which finished its most recent season with a record of 11 wins, no losses, and one draw.
The jury is still very much out on Wright, but his coaches at both the club and national team level sound optimistic about the 17 year-old's future as a professional.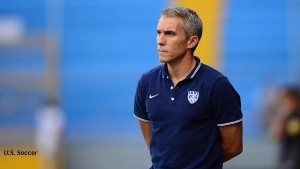 "He's very quick," Cosmos head coach Giovanni Savarese told the Guardian. "He has great ability with his feet. He has a great shot when he doesn't rush. He is able to connect with players. He's dangerous on balls in the air. But he's also a guy who can cause a lot of danger going forward, finding space, because of his pace and speed."
"He's tall," U-17 National Team coach Richie Williams told Grantland. "He's athletic. He can run. He's strong on the ball. He can use both feet. Technically, he's very good. He has a great ability to run at players. He can score goals or set up goals."
But with Wright, the discussion has always been about potential, about combining his considerable athletic gifts with a more comprehensive soccer brain.
+READ: U.S. U-17 MNT falls to Jamaica 1-0, must win playoff match to qualify for U-17 World Cup
"I think he needs to be a more steady player," noted Savarese. "He needs to be a player where you send him the ball, he's able to hold it, he's making good decisions, how to pressure players, to be part of a unit. All of that is from the mental side."
American youth soccer is littered with players like Wright: physically gifted young players who lack the technical and tactical savvy to take their game to another level. Even Jozy Altidore, a starter with the Men's National Team and a veteran of La Liga and the English Premier League, has never quite reconciled his athletic ability with his reading of the game.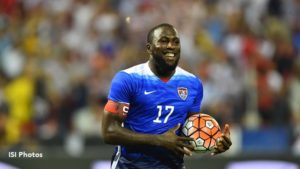 But Wright is young.
Even though the odds seem stacked against his success, he still has the opportunity to develop into something more than just another solid professional. That can all start with a breakout performance in Chile.
This time, the world will be watching.