Lucas del Rosario, Andrew Carleton lift U.S. U-15 BNT in 4-1 win over Costa Rica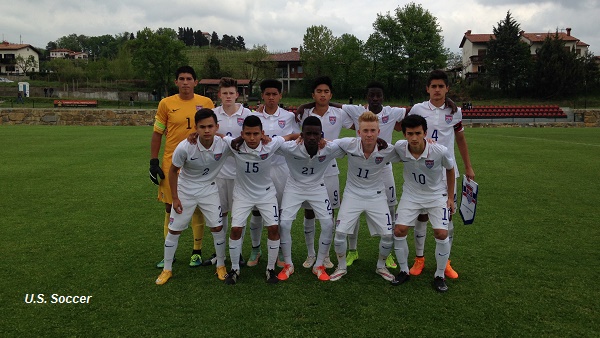 VIPOLZE, Slovenia (Via U.S. Soccer) – The U.S. Under-15 Boys' National Team opened up group play at the 12th Tournament Delle Nazioni with a 4-1 victory over Costa Rica on Saturday, April 25 in Vipolze, Slovenia.
Lucas del Rosario and Andrew Carleton each scored a brace for the U-15 BNT to lift the team past its Group C opponent. In addition, Tim Weath recorded two assists for the U.S., and del Rosario added one more.
Costa Rica struck early in the match with a tally in the second minute, but the USA stormed back to score four unanswered goals and take a comfortable lead into the half that they would maintain the remainder of the game.
Next, the USA takes on Croatia on April 26 and concludes the group stage against Slovenia on April 27.
Scoring Summary:
CRC – Josue Valverde, 2 minute: Throw-infor Costa Rica in USA's defensive third. Ball is thrown-in and Jake Arteaga from the USA steps out, but is beat on the run and Valverde finds a way to finish on the far post. USA 0, CRC 1

USA – Andrew Carleton, 10 minute: The U.S. began pressing inside Costa Rica's defensive half. That's where Carleton picked off a ball that Costa Rica tried to play wide to the outside back and finished from 20 yards out. USA 1, CRC 1
USA – Lucas del Rosario (Tim Weath), 17 minute: The USA was once again pressing Costa Rica, this time in its defensive third, when Weath picked off the pass wide and played it back across to del Rosario who finished finding the back of the net. USA 2, CRC 1
USA – Lucas del Rosario (Tim Weath), 23 minute: The USA won the ball at midfield, where Weath played a deep ball in behind to del Rosario, who was running off the ball and created a 1v1 with the goalkeeper. Del Rosario was able to beat the goalkeeper and score his second goal of the match. USA 3, CRC 1
USA – Andrew Carleton (Lucas del Rosario), 28 minute: The U.S. was combining through the middle third into the final third, when del Rosario found a gap between the Costa Rican defense to pass it to Carleton, who ran with the ball, beat the goalkeeper and sent one to the near post to finish for the USA's final goal. USA 4, CRC 1. FINAL
– U.S. U-15 Boys' National Team Match Report –
Match: U.S. U-15 BNT v. Costa Rica
Date: Saturday, April 25, 2015
Competition: Tournament Delle Nazioni, Group Play
Venue: Vipolze, Slovenia
Kickoff: 5 p.m. local
Attendance: 55
Weather: 60 degrees
Scoring Summary:       1 2 F
USA                             4 0 4
CRC                            1 0 1
CRC – Josue Valverde                                       2 minute
USA – Andrew Carleton                                     10
USA– Lucas de Rosario (Tim Weah)                   17
USA – Lucas del Rosario (Tim Weath)                23
USA – Andrew Carleton (Lucas del Rosario)       28
Lineups:
USA: 1-Eric Lopez, 2-Bryan Perez, 4-Jake Arteaga, 19-Jaylin Lindsey, 21-Chandler Vaughn (3-Kelee Cornfield-Saunders, 56), 8-Chris Durkin, 15-Carlos Anguiano Diaz (6-Blaine Ferri, 56), 10-Nicholas Taitague (13-George Acosta, 28), 7-Tim Weah (20-Adrian Villegas, 50), 9-Lucas Del Rosario (16-Ayo Akinola, 50), 11-Andrew Carleton (17-Zico Bailey, 50)
Subs not used: 22-Alex Budnik
Not dressed: 5-Rayshaun McGann, 18-Chris Goslin
Head Coach: John Hackworth
CRC: 1-Patrick Mejas, 2-Dennis Loasiga, 5-Kaylor Morales, 6-JurgenGuzman, 19-Danny Bolivar Garcia, 12-Christian Salazar (8-Emmanuel Quesada, 43rd), 7-Johan Bustamante (13-Daniel Fonseca, 36), 15-Ronnier Guiles (16-Jose Vargas, 36), 11-Daniel Roldan (17-Jose Guzman, 54), 9-Andy Vado (4-Fernan Tristan, 66), 10-Josue Valverde
Subs not used: 18-Kevin Rodriguez, 14-Estaban Sanchez, 3-Pablo Badilla
Not dressed: None
Head Coach: Cristian Salomon
Stats Summary: USA / CRC
Shots: 10 / 4
Shots on Goal: 6 / 2
Saves: 4 / 2
Corner Kicks: 4 / 1
Fouls: 11 / 5
Offside: 2 / 3
Misconduct Summary:
USA – Ayo Akinola (caution)      58 minute
Officials:
Referee – Hajdic Osman
Referee Assistant No. 1 – Bozie Alen
Referee Assistant No. 2 – Rustja Matej