Twelve teams earn US Club Soccer Hawaii State Cup titles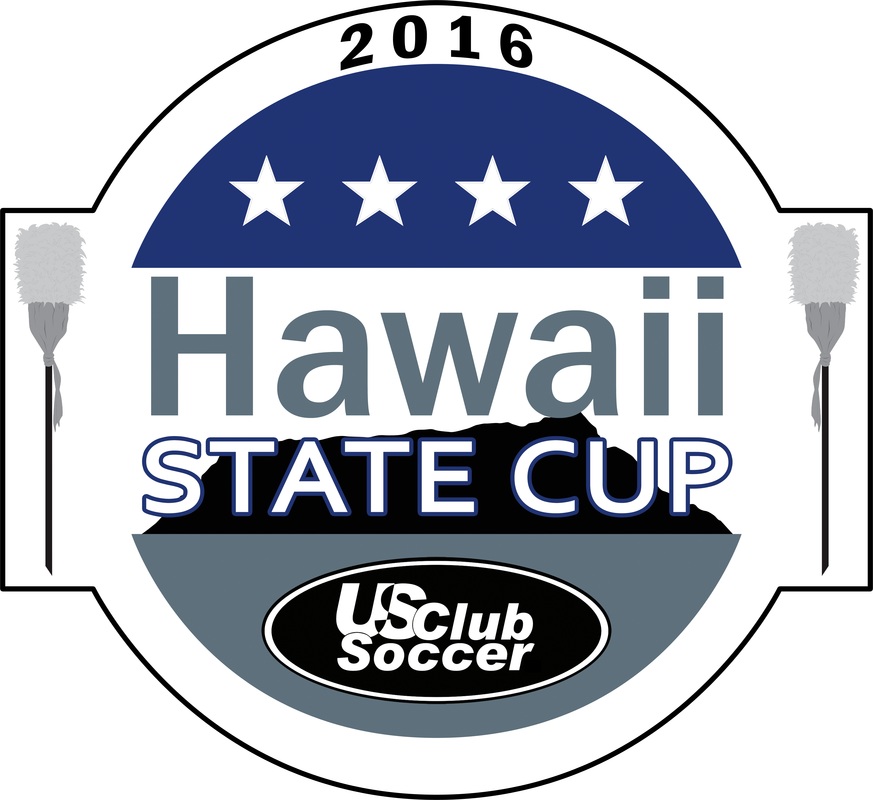 (Via Hawaii Soccer Federation) – Twelve teams from five clubs claimed state titles this past weekend, at US Club Soccer's third annual Hawaii State Cup, held May 31-April 3 at the Waipi'o Peninsula Soccer Complex, on the island of O'ahu.
In the U-13 to U-17 divisions, the Hawaii State Cup serves as a qualifying event, to secure slots in US Club Soccer's national finals. This year's National Cup XV Finals are slated to be held in late July in Aurora, Colorado. The finals are the culminating event of US Club Soccer's cup-based national championship series, which includes six regional events and numerous state cups—including the Hawaii State Cup.
The Hawaii State Cup also serves as an official PDP event. Throughout the tournament, US Club Soccer's Western Region Representative, Gabe Rood, scouted players within the '03/'04 (boys) and '02/'03 (girls) birth years, for potential invites to participate in Hawai'i's Player Development Program (PDP) Camp, to be held on Maui and O'ahu this fall. US Club Soccer's PDP/id2 Program was formed in coalition with the U.S. Soccer Federation and the U.S. Olympic Committee; and is an approved Olympic Development Program.
+Read: Southern Regional Premier League teams reach Region III Championships
"We have the unique role of going into the depths of communities, to find talent that otherwise would be unseen," said Rood.
The PDP/id2 program was created to not only develop players, but also to form a player pool within the Federation's targeted age group—to be trained by their academy for potential national team inclusion. To date, Maui player, Chai Cortez (Hawaii Surf), and O'ahu player, Kylie Minamishin (HSC Bulls), have earned spots on U.S. Soccer's national U-14 team rosters, after being scouted during participation in PDP/id2 events.
MISO Junior League President, Sergio Bolioli — who partnered with HSF to bring US Club Soccer events to Hawai'i — said the 2016 State Cup was an overall success.
"57 teams from 16 clubs participated in this year's championships, with new clubs earning spots to compete in the finals," said Bolioli. "That is really something to be proud of."
+Read: U.S. Soccer releases FAQs list, timeline for Girls Development Academy
In 2015, six teams represented Hawai'i at US Club Soccer's National Cup XIV Finals, and two of those teams advanced to the championship round. While Maui United SC's '01 boys were edged out in the U-14 Super Group, Hawaii Rush's '02 girls captured the U-13 Premier Group championship. Of the 2015 National Cup Finals, Hawaii Rush '02 Girls Coach, Justin Fajota, called the US Club Soccer event a "great competition."
"We played against teams from California, Ohio, as well as Washington — so all over the nation," Fajota said.
At the State Cup, Rood explained, "a few years ago, we at US Club Soccer—in talking with Sergio and Vern—wanted to know what we could do to bring more opportunities to Hawai'i."
HSF President, Vernon Kapua'ala, added, "The success of Hawai'i teams and players in US Club Soccer's programs confirms what we as coaches and directors already knew: that Hawai'i's got talent, and we too have the potential for high level achievement, if just given the opportunity. We are extremely grateful for Gabe and US Club Soccer, for giving Sergio and I the privilege to foster the growth and development of youth soccer in Hawai'i. True to 'Hawaiian Style', success for one, is success for all."
FINAL RESULTS
GIRLS
U-12: Shockers '04
Shockers '04 (1), Hawaii Rush '04 Nero (0)
U-13: Leahi '03 Premier
Hawaii Rush '04 (1), Leahi '03 Premier (4)
U-14: Hawaii Rush '02
HSC Bulls '02 (0), Hawaii Rush '02 (1)
U-15: Surf Hawaii White '01
Surf Hawaii White '01 (1st), Hawaii Rush '01 (2nd)
U-16: Hawaii Rush '00
Hawaii Rush '00 (1), Surf Hawaii White '00 (0)
U-17: Surf Hawaii White '99
Surf Hawaii White '99 (4), HSC Bulls '99 (3)
BOYS
U-12: Surf Hawaii White '04
Surf Hawaii White '04 (2), FC Hawaii '04 Red (1)
U-13: Surf Hawaii Black '03
Surf Hawaii Black '03 (3), HSC Bulls '03 (0)
U-14: Maui United SC '02
Maui United SC '02 (1st), Hawaii Rush '02 (2nd)
U-15: Hawaii Rush '01
Hawaii Rush '01 (1), Abunai '01 (0)
U-16: Hawaii Rush '00
Hawaii Rush '00 (1st), Kona Crush '00 (2nd)
U-17: Hawaii Rush '99
Hawaii Rush '99 (2), Kona Crush '99 (0)