TurfGate part 2: Lingering questions link U.S. Women, Aloha Stadium and Aerosmith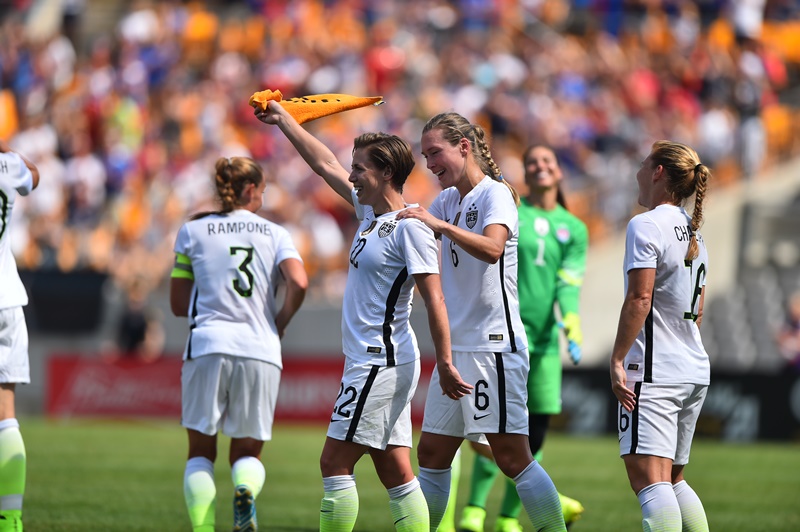 After the cancellation of Sunday's U.S. Women's National Team soccer game in Honolulu, a friendly vs. Trinidad & Tobago called off after the USWNT took serious issue with the playing surface, a couple of questions remain.
How did this happen?
How could this be prevented in the future?
Answering the first question might help us answer the second. Unfortunately, it's not a simple question to answer. There are questions that go beyond the women's soccer team — maybe even beyond soccer, into larger questions of whether other sports are doing all they can to protect players.
Aloha Stadium is not a new venue in sports or even in soccer. The LA Galaxy and Houston Dynamo played there against teams from Japan and Australia in the 2008 Pan Pacific Championship, which made news not for the field conditions but for a legal battle over David Beckham's jersey.
So was the turf good enough for Beckham in 2008 but simply aging? The players thought it looked that way, saying it "looked like it hadn't been replaced in years." But Aloha Stadium changed the turf in 2011, replacing FieldTurf with UBU Sports Speed S5-M turf. A local contractor is on the hook for maintenance and two inspections a year, stadium officials told Hawaii News Now.
UBU has a long list of successful installations — Oregon's soccer field, college and high school facilities, NFL practice fields and NFL stadiums in New Orleans, Cincinnati and New Jersey (MetLife Stadium, home of the Jets and Giants).
And the NFL (via its annual Pro Bowl all-star game), along with the University of Hawaii college football team, plays at Aloha Stadium. How did this stadium host high school football championship games and seven college football games, most recently Nov. 28, without anyone noticing the "sharp rocks ingrained all over the field" that the U.S. women reported? Football players hit the ground more often than soccer players do — sharp objects on the field would surely result in a lot of bloody arms.
+READ: USWNT midfielder Megan Rapinoe tears ACL
The UBU "Speed Series" uses a mix of sand and rubber infill — 30% sand for the Speed S5-M.
The open seam made famous by Hope Solo's picture on Twitter is in front of goal in what would be the football end zone. Other trouble spots appeared along the sides of the field, which would be the bench area for a football game but part of the playing surface for soccer.
Our loyal fans: Thanks for standing with us against unsafe field conditions & standing tall for #equal treatment pic.twitter.com/abn560Kitw

— Hope Solo (@hopesolo) December 6, 2015
SoccerWire reached out to several college and high school football programs. Only two have responded — one high school in Honolulu (Saint Louis) and one college (Colorado). Neither reported any issue with the field.
San Diego State played at Aloha Stadium on Oct. 10 and will return there for the Hawaii Bowl on Christmas Eve. A player and coach told the San Diego Union-Tribune they noticed no issues with the turf.
(For the record, Aloha Stadium is run by the state, not the University of Hawaii.)
Given the stadium's constant use and lack of complaints, U.S. Soccer thought the field would be serviceable. Narrow, yes, and it's strange that coach Jill Ellis raised the width of the field as a concern for a game so ceremonial in nature when we've seen meaningful men's games (and a lot of NWSL games) played on fields that seem more suitable for 9v9 Under-12 games. But U.S. Soccer had "every reason" to think the field itself would work, USSF spokesman Neil Buethe told The Guardian.
The Guardian piece also casts doubt on the notion that the men's venues are inspected months ahead of time while women's venues aren't. The assumption — and perhaps now we know it's not a safe one — is that if other sports are using the turf, it should be OK for soccer.
+READ: Artificial turf and cancer: ESPN digs into crumb rubber risks with troubling E:60 report by Julie Foudy
That's also what U.S. Soccer President Sunil Gulati told The New York Times, and Gulati says the Aloha Stadium turf was the only stadium on the women's Victory Tour that was not inspected ahead of time. He has profusely apologized, calling the cancellation "a black eye for this organization."
Inspecting the stadium months ago might not have done any good. Were those "sharp rocks" there in August, even though college football players didn't seem to notice in seven games? Nor did high school teams that played more than 30 games at the stadium. And how much wear and tear did the football seasons put on the field?
Nine U.S. Soccer officials visited Aloha Stadium on Thursday, three days before the scheduled game. Whether that qualifies as "inspection" is anybody's guess. In hindsight, that might have been a good time to see how the turf was holding up after it was converted from football to soccer. But sooner — perhaps a couple of days after the last college game Nov. 28 would be sensible — perhaps everyone could've been saved some travel costs.
A U.S. Soccer letter obtained by KHON cites the agreement between the federation and the stadium: "U.S. Soccer will have the right to inspect the field seven (7) days prior to the Event and again 48 hours before the Event." There's no evidence that the seven-day inspection was done.
The incident has raised gender equity issues, following on the heels of spirited debate over the artificial turf used at the Women's World Cup this summer. The men's national team games incur a different set of problems, in part because they're sometimes on grass that has been laid down over artificial turf or concrete. A USA-Mexico friendly before 65,000 fans in San Antonio's Alamodome drew plenty of complaints about the surface. Inspecting the stadium months in advance wouldn't help — the problems appeared when the grass was laid down.
+READ: Natural, or AstroTurf? How Abby Wambach gave Scotts Lawn Care publicity both paid and priceless
The women will play in the Alamodome this week on the artificial surface. That field has seen unsettling injuries in recent years — Kyah Simon's knee in 2013, Alex Morgan's ankle in 2014 — but reports from San Antonio say the turf appears to be in good shape.
So it's different for men and women, at least in some ways. Men's opponents are less likely to agree to play on artificial turf in the first place. The solution may not be much better.
Another curious question: Why were the women training on a substandard (grass) field, where Megan Rapinoe was injured, instead of the University of Hawaii soccer stadium, where the team showed up and merrily held an unscheduled training session on Sunday?
Getting answers to these questions is going to be difficult in the short term. Lawyers are involved now — U.S. Soccer's general counsel has weighed in, and now fans have filed a class-action suit to reclaim travel costs.
One of the lawyers filing that suit also sued Aerosmith over a canceled concert in 2007. Aerosmith settled the case by giving a free concert in Maui. (The "sueaerosmith.com" URL mentioned in that story no longer exists, and the Wayback Machine shows little more than a broken law firm site.)
+READ: Dure: USWNT boss Jill Ellis gets a contract into the unforeseeable future
Cue a renewed search for a suitable stadium in Hawaii?
But this fight may be going beyond Aloha Stadium and soccer. If something happened to the turf between the end of football season and Sunday, the Hawaii Bowl and the Pro Bowl might raise some questions.
And this field might just be where the U.S. women finally decided to say "enough." Players association general counsel Rich Nichols, speaking to The New York Times, cast the Aloha situation in the larger context of artificial turf.
This turf battle isn't going away any time soon.