Trinidad & Tobago overmatched as USWNT play Goliath role again with Olympic ticket at hand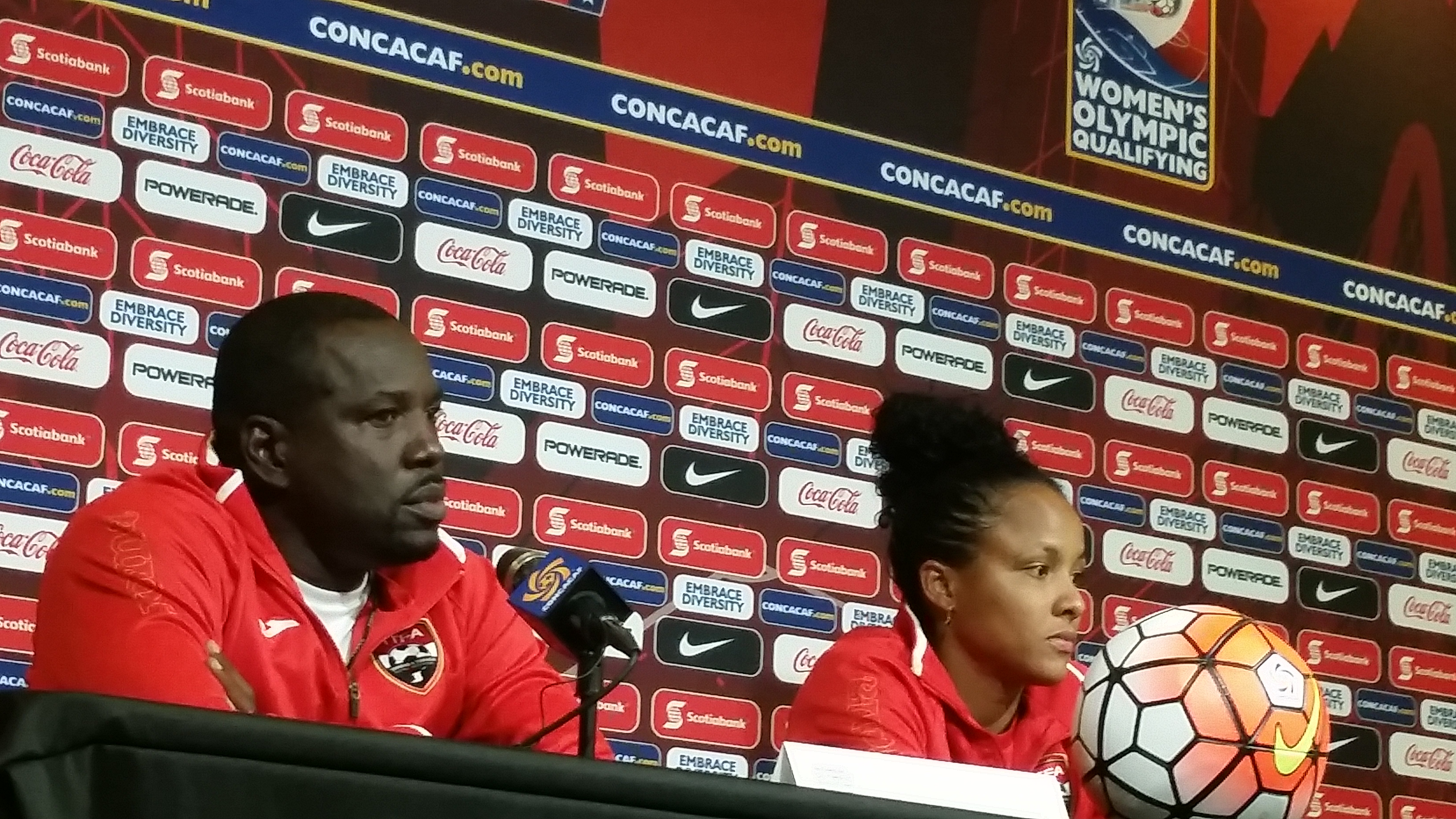 HOUSTON – The coach and star player from the U.S. Women's National Team said all the right things, the sporting things, at Thursday's official press conference, one day before their CONCACAF Olympic qualifying semifinal vs. Trinidad & Tobago.
"I think they pose a lot of different challenges for us," said head coach Jill Ellis, "and we certainly have to be prepared and ready to go. I think the players understand what's at stake and we're full throttle tomorrow."
"They pose some threats, have some fast-paced players, break on transition," said Carli Lloyd.
+READ: USWNT faces Trinidad & Tobago for 2016 Olympic berth
The USWNT are a seasoned, steely group who know that Friday's game is part of their job, a job that won't culminate until they defend their title in Rio de Janeiro this summer and are draped with gold medals yet again. But in truth, no one really has any illusions about Friday, where only a shocking failure of titanic proportions would give their Caribbean opponents a ghost of a chance.
Goliath is going to batter David to a pulp.
"We know the magnitude of the battle that we will be facing tomorrow in the United States," said Trinidad & Tobago midfielder Maylee Attin-Johnson. "We have to be able to be disciplined throughout the entire game and execute what the coach has planned for us. … We will leave everything out there on the field. We are going to go out there and leave our hearts out there, play to the best of our ability and hope it's good enough."
The "Soca Princesses" battled bravely against the U.S. back in 2014, when they frustrated the favorites doggedly and impressively in a 1-0 loss in Women's World Cup qualifying. At the time, it looked like a potential watershed in the history of their program and Caribbean women's soccer at large – a jumping-off point for growth and improvement.
+READ: Trinidad & Tobago WNT overcoming major hardship on WWC quest: 'When our feet give out, we are going to play with our hearts'
But the squad fell agonizingly short of the 2015 Women's World Cup, losing out to Ecuador in the playoff for one of the tournament's final berths. The Trinidad & Tobago Football Federation's poor planning and scant investment has endured, leaving their women's team treading water more than a year later. American coach Randy Waldrum was replaced – amid some acrimony – by Trinidadian Richard Hood, and still nothing has changed.
Back in 2014, Waldrum turned heads, and in some eyes, embarrassed the TTFF, with a public cry for help, taking to Twitter to request assistance as his team arrived in the U.S. for qualifying with little to no funding or even proper gear. And Hood seemed issue his own cri de cœur on Thursday as he explained the massive gulf between his team and the USWNT – a gulf that makes this Olympic qualifying little more than a formality for Canada and the U.S., CONCACAF's entrenched elite duo.
"Their physicality, their speed, their speed of play, their athleticism – they are the world champions, and they are world champions for a reason," said Hood of the USWNT. "I know they have a few new players in the squad, but they play to a particular system and they are well-trained, they are well-prepared at the system they play. Their organization, the way they play, they try to get behind the backs as quickly as possible. 
"We have to try and match it. And we have to try and match it from a system of not-great preparation. So that's a big concern for me," he continued. "This program, for me, started on the 16th of last month. It started with not [having] the entire team – we only had the team when we got out here [to Texas]. We had the full roster, what, three days before the first game. So it was a difficult period. The preparation really was not what we wanted – we had no international games coming into the tournament as well. So these things put together, it was a poor preparation."
Hood was asked, is this a question of funding?
"It's always about funding," he said with a resigned chuckle.
+READ: Loudoun, VCU alum Lauryn Hutchinson stars for upstart Trinidad & Tobago WNT
Hood later lamented the state of his country's domestic scene, which was home to competing leagues last year and now is beset by uncertainty, impacted by politics in more ways than one.
"I would love to see our top players stay at home rather than have to come to the USA to attend college. It would be great if we could keep our players at home and have them in a program where they are training continuously and playing international games," he said. "A league of that nature, a tournament of that nature would certainly help to elevate the standard of play in the country.
"The domestic league is poor," he added, referring to the federation-run Womens League Football (WoLF), which was challenged by the Women's Premier League in 2015. Asked about the WPL, a controversial initiative of the Ministry of Sport, Hood said, "The intent was for it to continue, but there was a change in governments and we don't know."
The big losers in all this, of course, are the players, who have inspired spectators across the region with their bravery and resilience. That resilience remains, and helped them qualify for this month's tournament, then advance out of group play to reach this point. But there's a fatalistic air to it now. T&T lost 6-0 to the USWNT in a December friendly and Friday could well unfold in similar fashion.
"For us, the preparation is not what we wanted it to be at this point," said Attin-Johnson, who played college soccer at Kennesaw State in Georgia. "But we're not going to allow it to jeopardize the way that we compete."