Tri-State ECNL review: PDA impress in away doubleheader, while others forced to postpone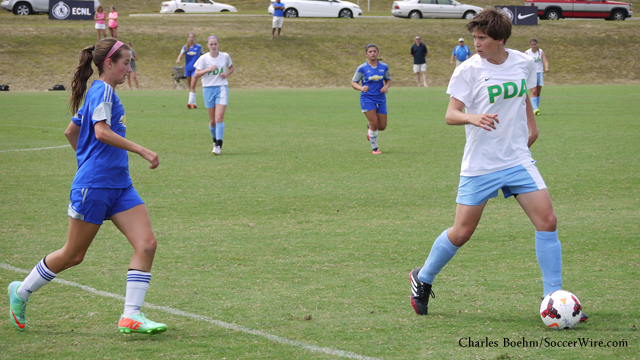 A few teams in the Tri-State region returned to action in the Elite Clubs National League, with several clubs having packed weekends of fixtures. But a long list of matches had to be pushed back once again as the lingering effects of a nasty winter continue to wreak havoc on the season.
Let's take a look at what happened, with help from Report-a-Score.
Albertson SC **Weekend's matches postponed**
Under-15s vs. Continental FC DELCO (3/14)
Score prediction: Albertson SC 1-0 Continental FC DELCO
Under-16s vs. Continental FC DELCO (3/14)
Score prediction: Albertson SC 1-0 Continental FC DELCO
Under-17s vs. Continental FC DELCO (3/14)
Score prediction: Albertson SC 2-2 Continental FC DELCO
Under-18s vs. Continental FC DELCO (3/14)
Score prediction: Albertson SC 2-1 Continental FC DELCO
Albertson SC and Match Fit **Weekend's matches postponed**
Albertson SC Under-15s vs. Match Fit (3/15)
Score prediction: N/A
Albertson SC Under-16s vs. Match Fit (3/15)
Score prediction: Albertson SC 2-2 Match Fit
Albertson SC Under-17s vs. Match Fit (3/15)
Score prediction: Albertson SC 1-2 Match Fit
Albertson SC Under-18s vs. Match Fit (3/15)
Score prediction: Albertson SC 1-3 Match Fit
East Meadow **Weekend's matches rescheduled**
Under-15s vs. Continental FC DELCO (3/15)
Score prediction: N/A
Under-16s vs. Continental FC DELCO (3/15)
Score prediction: N/A
Under-17s vs. Continental FC DELCO (3/15)
Score prediction: East Meadow 3-2 Continental FC DELCO
Under-18s vs. Continental FC DELCO (3/15)
Score prediction: East Meadow 3-2 Continental FC DELCO
East Meadow and Match Fit **Weekend's matches rescheduled**
East Meadow Under-15s vs. Match Fit (3/14)
Score prediction: N/A
East Meadow Under-16s vs. Match Fit (3/14)
Score prediction: East Meadow 2-2 Match Fit
East Meadow Under-17s vs. Match Fit (3/14, 6:30 p.m. KO)
Score prediction: East Meadow 1-3 Match Fit
East Meadow Under-18s vs. Match Fit (3/14)
Score prediction: East Meadow 1-2 Match Fit
PDA
Under-15s 4-0 FC Bucks (3/14)
Score prediction: FC Bucks 0-3 PDA
Under-16s 1-0 FC Bucks (3/14)
Score prediction: FC Bucks 0-3 PDA
Under-18s 1-4 FC Bucks (3/14)
Score prediction: FC Bucks 2-2 PDA
Under-15s 2-0 Penn Fusion (3/15)
Score prediction: Penn Fusion 0-3 PDA
Under-16s 1-1 Penn Fusion (3/15)
Score prediction: Penn Fusion 1-2 PDA
Under-17s 1-0 Penn Fusion (3/15)
Score prediction: Penn Fusion 1-3 PDA
Under-18s 3-0 Penn Fusion (3/15)
Score prediction: Penn Fusion 2-2 PDA