Tri-State area clubs thrive at Potomac Memorial Tournament with stifling defense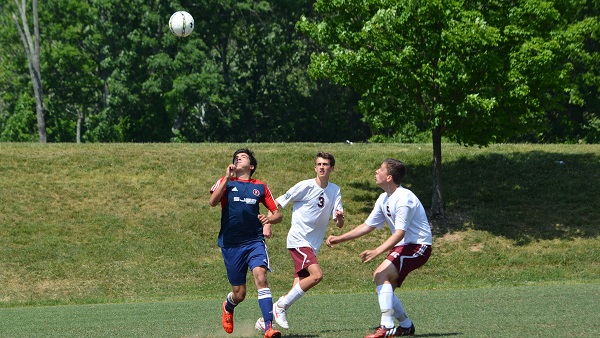 While many of the Tri-State region's top girls teams competed in the prestigious PDA Girls Showcase over Memorial Day Weekend, some of the area's elite boys squads made a major splash at the Potomac Memorial Tournament in Maryland.
New York and New Jersey sides captured a total of 10 division titles at the tournament, one of the highest level boys showcase events in the country. White Plains Youth Soccer, Intense Soccer Academy, New York SC, Massapequa SC, New Jersey Force Soccer Academy, Manhattan SC, Dix Hills SC, TSF Academy, Excel FC and Jersey United Soccer each had teams win championships in the tournament held outside Washington, D.C.
The U-16 Chesapeake West Division came down to two local sides meeting in the final, as Massapequa SC Mavericks outlasted South Jersey Elite Barons 1-0 in a tough defensive battle. After the teams allowed a combined 4 goals in 6 matches during group play, a Matt Vowinkel goal and another brilliant defensive effort by the back line lifted Massapequa over South Jersey, one of the top U-16 teams in the nation.
Dan Alibrandi, Nick Giovino, Alessandro Sambone and Trevor Sheridan were among the top contributors defensively for Massapequa, while Jake Camarillo was stellar in net earning the clean sheet.
"We had a game plan, we watched a lot of what they like to do and it worked out for us," said Massapequa manager Peter Annarumma. "We don't get to play against South Jersey very often but we like to play against teams like that and that's why we come to this event, there are a lot of quality sides."
Eastern New York foes Manhattan SC Cruzeiro and South Huntington SC Lightning met in the U-17 Potomac East Division final, with Manhattan emerging as 1-0 winners in another defensive war. South Huntington allowed only its second goal of the weekend in the loss, while Manhattan finished the event having only given up two in four matches as well.
New York SC 98 emerged from Bracket A in the U-16 Chesapeake East Division, finishing ahead of two other elite level Tri-State area teams, NPL side Everton America CT 99 and Stronghold SC Falcons. New York SC went on to beat Maryland side Bethesda Blue 98 1-0 in the final after earning a 3-1 victory over Everton in their final group match, a de facto semifinal with the winner moving on.
Keeping with the trend of defense dominating the weekend, New York SC was the only team that managed to score on either Stronghold or Everton. The teams played to a scoreless draw in their head-to-head match on Saturday, and each earned clean sheets in wins over Baltimore Bays.
Everton coach Russell Stirling was pleased with his team's effort in the group, placing second despite having a roster primarily composed of U-15 eligible players. With Everton compiling rosters based on birth year rather than by eligibility, many of the 1999-born players were giving up age and size on their competitors. However, Everton earned to shutouts thanks to a gritty back line anchored and organized by center backs Adam Gallagher and Edwin Hastentine.
"I'm Irish, so our teams plays with a tough and strong mentality first and foremost," said Stirling, whose teams have attended the Potomac Memorial Tournament for the past several years. "Defense is the first thing we work on and our players have to earn the right to play."
Along with Massapequa SC Mavericks, Manhattan SC Cruzeiro and New York SC 98, each of the 10 Tri-State area teams to win division titles came from 10 different clubs. See below for a full list of Tri-State area champions from the Potomac Memorial Tournament.
White Plains Youth Soccer – U-14 Patriot Division
ISA Hurricanes U-15 Chesapeake Division
New York SC 98 – U-16 Chesapeake East Division
Massapequa SC Mavericks – U-16 Chesapeake West Division
New Jersey Force United – U-16 Capitol East Division
Manhattan SC Cruzeiro – U-17 Potomac East Division
Dix Hills Elite – U-17 Potomac West Division
TSF Academy X – U-17 Chesapeake West Division
Excel FC Thunder – U-17 Patriot West Division
Jersey United Spartans 97/98 – Capital East Division