D.C. United Academy update: U-16 team, down a man, fights back twice to beat PDA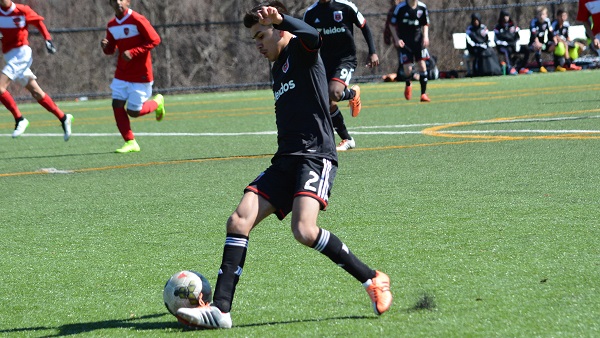 Washington, D.C. (Via D.C. United) – The D.C. United Academy had mixed results last weekend in road games against the Players Development Academy (PDA). The highlight was a hard-fought 3-2 victory by the Under-16 squad as United academy teams combined to go 1-3-1 overall. In addition, the D.C. United Under-23 team made its home debut at the Evergreen Sportsplex with a 3-1 victory over Ocean City, and the D.C. United Academy Under-13 team played the New York Red Bulls to a scoreless stalemate at the RFK auxiliary field.
The D.C. United U-16s came from behind twice against PDA before SahrFelix Sandy scored in the 76th minute for the victory. The team was forced respond after conceding goals and coped with additional pressure after Brandon Williamson received a first-half red card. After a four-goal first half, D.C. United came out in the second half more defensively disciplined and were rewarded for their organization and collective effort.
The Under-13 and Under-15 groups return to action on Sunday, May 31, and the Under-23 squad will travel to Long Island on Saturday, May 30. The rest of the teams will get two weeks of rest and training before their games the following weekend.
Results
U-13s: 0-0 Draw against New York Red Bulls
"It was a super competitive contest and our boys were up for the challenge. All of our players displayed maximum effort and concentration throughout the entire match," said U-13 Head Coach John Bello.
U-14s: 4-1 Loss at PDA
Goals: Jordan Matamoro-Mejias
"This was a difficult match; the opponent was quite strong, and we were not at our best on the day," said U-14 Head Coach and Academy Director Nolan Sheldon.
U-15s: 2-1 Loss at PDA
Goals: Joshua Cruz
"After a strong and positive first half, the U-15 squad found themselves up 1-0 against a good PDA group," said D.C. United academy coach Jeff Carroll. "We were successful in the opening 45 minutes due to our ability to spread the field quickly, movement off the ball and finding good vertical passes that broke down PDA's high pressure. In the second half we got away from the things we were doing well, and we lost our concentration in defense where a high-pressing PDA team was able to get back-to-back goals in a three-minute window. Moving forward as we prepare for the last two games of the season, we will gear the players to having a more focused and concentrated mind frame while continuing to improve in possession to get in dangerous areas of the field to score."
U-16s: 3-2 Win at PDA
Goals: Carson Jeffris, Collin Jouan, SahrFelix Sandy
"We were really proud of the group in a real team effort to get an important result against a strong opponent while playing down a man for almost the entire match," said U-16 Head Coach Jonathan Frias. "Although the group went down a goal twice, the boys really dug deep and put together some good spells of play to flip the score line and manage the last few minutes of play."
U-18s: 3-1 Loss at PDA
Goals: Jorge Calix
"It was a strong start with a wonderful long possession sequence that led to a well-earned goal in the 20th minute," said U-18 Head Coach Tom Torres. "Unfortunately, we got a little unraveled in the second half, and our heavy legs started to show and small uncharacteristic breakdowns led to chances, which versus a high intensity group like PDA, simply can't happen. Two weeks before the next match will give the boys in the defensive unit a chance to recover and learn from the match. We left a few opportunities unfinished, so we will certainly spend some time there as well."
U-23s: 3-1 Win against Ocean City
Goals: Tunji Osefeso, Jamie Luchini, Juan Amaya
"There were some outstanding performances from Carter Manley and Taylor Washington along with Cody Albrecht in the midfield," said U-23 Head Coach Richie Burke. "Luchini's goal was a highlight of the match, a shot from almost 25 yards out. We dominated possession and put in a strong overall performance."
Upcoming Fixtures
| | | | | | |
| --- | --- | --- | --- | --- | --- |
| Age Group: | Home/Away: | Opponent: | Location: | Date: | Time: |
| U-13 | Home | FC Bolts Celtic | RFK auxiliary field | Sunday, May 31 | 2:30 PM |
|   | Away | Met Oval | Met Oval #1 | Saturday, June 6 | 1:00 PM |
|   | Away | NJCSA | St. John Vianney HS | Sunday, June 7 | 5:00 PM |
| U-14 | Home | LeHigh Valley United | RFK auxiliary field | Sunday, June 7 | 12:00 PM |
| U-15 | Home | FC Bolts Celtic | RFK auxiliary field | Sunday, May 31 | 12:30 PM |
|   | Away | Met Oval | Met Oval #1 | Saturday, May 6 | 3:00 PM |
| U-16 | Away | Philadelphia Union | YSC Turf | Saturday, June 6 | 1:00 PM |
|   | Away | NJCSA | St. John Vianney HS | Sunday, June 7 | 3:00 PM |
| U-18 | Away | Philadelphia Union | YSC Turf | Saturday, June 6 | 11:00 AM |