Thirty-six players called to U.S. U-15 Boys National Team camp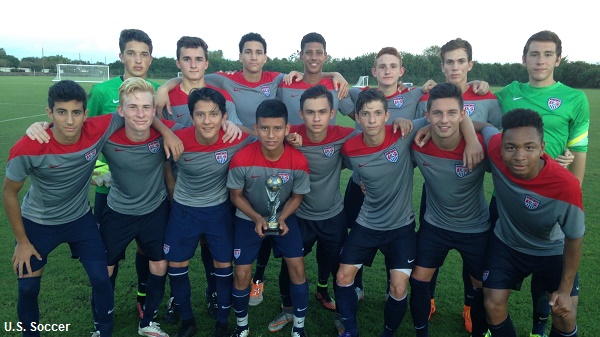 CHICAGO (Via U.S. Soccer) – A 36-player roster was selected to round out the year for the final 2015 camp for the Under-15 Boys' National Team '02. This will be the second camp for players in the 2002 birth cycle for 2015 and will take place on Dec. 13-20 in Sunrise, Florida.
The player pool includes 32 U.S. Soccer Development Academy players in the U-14 level and four non-Development Academy players.
+Read: U.S. U-17 MNT falls to Brazil 3-0 at Nike International Friendlies
U-15 BNT coach, John Hackworth, who recently coached the U-17 MNT '00 at the 2015 Nike International Friendlies held in Lakewood Ranch, Fla., will lead the camp. During the camp, the intra-squad match will take place on Dec. 16 at 4 p.m. ET. On Dec. 19, the U-15 BNT '02 will take on Kendall FC, kicking off at 2 p.m. ET followed by a match against Weston FC starting at 4 p.m. ET.
Roster by Position
GOALKEEPERS (4): Alex Bobocea (NYRB; Glenn Oaks, N.Y.), Aaron Cervantes (LA Gaxay; Chino Hills, Calif.), Damian Las (Chicago Magic; Norridge, Ill.), Kashope Oladapo (Portland Timbers; Happy Valley, Ore.)
DEFENDERS (13): Axel Alejandre (Chicago Fire North; Chicago, Ill.), Sebastian Anderson (Real Colorado; Highlands Ranch, Colo.), Noah Atanda (Bethesda-Olney; Olney, Md.), George Bello (Ambush; Douglasville, Ga.), James Crath (Houston Dynamo; Houston, Texas), Agustin Giangaspero (Weston FC; Coral Springs, Fla.), Maximilian Goeggel (Ballistic United; San Francisco, Calif.), Tayvon Gray (Cedar Stars; Bronx, N.Y.), Mukisa Kiingi (Bethesda-Olney; Bethesda, Md.), Carl Hartman (Richmond United; Richmond, Va.), Connor Maurer (NYRB; Levittown, Pa.), Peter Stroud (NYRB; Chester, N.J.), Juan Zungia (Storm; Bluffton, S.C.)
MIDFIELDERS (10): Masango Akale (Minnesota Thunder; Minneapolis, Minn.), Efrain Alvarez (LA Galxay; Los Angeles, Calif.), Julian Anderson (PDA; Ocean, N.J.), Gianluca Busio (North Carolina Fusion; Greensboro, N.C.), Gilbert Fuentes Perez (Ballistic United; Tracy, Calif), Takumi Ikeda (Chicago Fire; Madison, Wis.), Jack Imperato (De Anza Force; San Jose, Calif.), Bryang Kayo (Bethesda-Olney; Montgomery Village, Md.), Mikey Maunsell (Oakwood; Osford, Conn.), Beni Redzic (FC Dallas; Carrollton, Texas)
FORWARDS (9): Jason Bucknor (Weston FC; Weston, Fla.), William Burnett (CASL; Fayetteville, N.C.), Marco Ceja (Central CA Aztecs; Bakersfield, Calif.), Jack de Vries (Philadelphia Union; Wayne, Pa.), Julian Gaines (Lonestar; Austin, Texas), Kayvon Gray (Cedar Stars; Bronx, N.Y.), Cade Hagan (LA Galxay; Naperville, Ill.), Kawika Kelii (Maui United; Waianae, Hawaii), Giovanni Reyna (NYCFC; Bedford, N.Y.)