Thirty-six players called to U.S. U-15 Boys National Team camp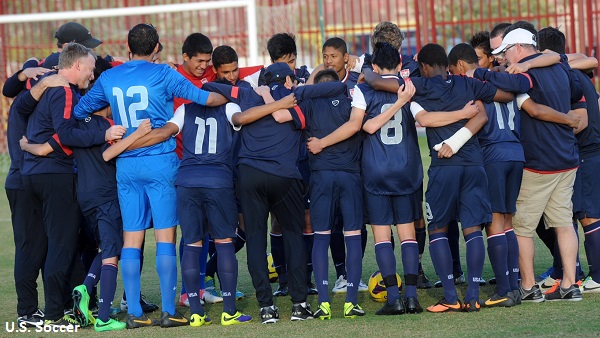 BRADENTON, Fla. (Via U.S. Soccer) – U.S. Under-15 Boys' National Team head coach Dave van den Bergh called up 36 players to take part in the team's second and final domestic training camp of the year, set to take place from Nov. 5-12 in Bradenton, Fla.
During the training camp, the U-15 BNT will face U.S. Soccer Development Academy clubs Chargers Soccer Club and Weston FC on Nov. 8 at 4 p.m. and 6 p.m. ET, respectively. The BNT will also play an intra-squad match on Nov. 11 at 4 p.m. ET.
Out of the 36 players called up, all but one currently play for Development Academy clubs and all 36 have DA ties.
+Read: U.S. U-14 Girls National Team roster named for ODP Interregional
Roster by Position

GOALKEEPERS (4): Aaron Cervantes (LA Galaxy; Chino Hills, Calif.), Damian Las (Chicago Fire; Norridge, Ill.), Kashope Oladapo (Portland Timbers; Happy Valley, Ore.), Jakob Stone (Cook Inlet Soccer Club; Anchorage, Alaska)
DEFENDERS (12): Axel Alejandre (FC United; Chicago, Ill.), Anthony Alvites (Cedar Stars Bergen; Kearny, N.J.), Sebastian Anderson (Real Colorado; Highlands Ranch, Colo.), Noah Atanda (Bethesda Olney; Olney, Md.), George Bello (Atlanta United FC; Douglasville, Ga.), Nicholas Douglas (Santa Cruz Breakers; Los Gatos, Calif.), Mason Judge (Tampa Bay United; Tampa, Fla.), Rayvon McGann (Boca United; Royal Palm Beach, Fla.), Joshua Negrete (Cedar Stars Bergen; Bergen, N.J.), Kenny Nielsen (Pateadores; Irvine, Calif.), Joseph Scally (NYC FC; Lake Grove, N.Y.), Skyler Smith (Pateadores; Lake Forest, Calif.)
MIDFIELDERS (10): Nick Andersen (D.C. United; Washington, D.C.), Josh Atencio (Seattle Sounders; Seattle, Wash.), Gavin Brose (Vardar; Detroit, Mich.), James Dunning (FC Dallas; Dallas, Texas), Gilbert Fuentes (San Jose Earthquakes; Tracy, Calif.), Kaya Ignacio (Lonestar Soccer Club; Georgetown, Texas), Jorge Lopez (Lonestar Soccer Club; Austin, Texas), Harrison Robledo (NYC FC; Greenwich, Conn.), Daniel Robles (Seattle Sounders; Burien, Wash.), Peter Stroud (NY Red Bulls; Chester, N.J.)
FORWARDS (10): Gianluca Busio (Sporting KC; Greensboro, N.C.), Victor Cano (LA Galaxy; Santa Monica, Calif.), Jackson Castro (Solar Chelsea SC; Dallas, Texas), Jack De Vries (Philadelphia Union; Wayne, Pa.), Julian Gaines (Lonestar Soccer Club; Austin, Texas), Jack Imperato (De Anza Force; San Jose, Calif.), Andres Jasson (NYC FC; Greenwich, Conn.), Daniel Mangarov (Georgia United; Duluth, Ga.), Alfonso Ocampo Chavez (Seattle Sounders; Fresno, Calif.), Giovanni Reyna (NYC FC; Bedford, N.Y.)