Thirty-seven teams earn girls division titles at Disney Soccer Showcase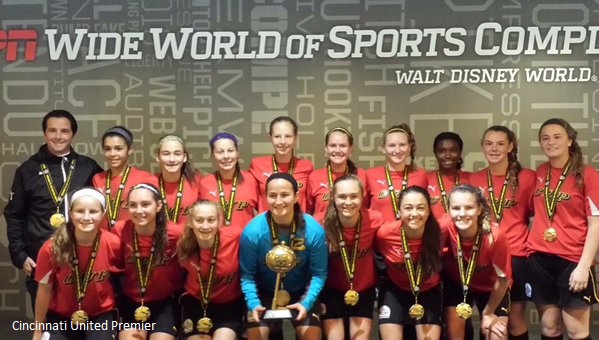 The Disney Soccer Showcase girls event was played over the holidays in Orlando, Fla. where over 300 of the top U-15 to U-19 teams in the United States and Canada competed for division titles at one of the most challenging showcase events of the year.
Teams representing clubs from 17 U.S. states captured division championships, including California (1), Colorado (1), Florida (10), Illinois (1), Maryland (2), Michigan (2), New Jersey (3), New York (3), North Carolina (2), Ohio (3), Oklahoma (1), Pennsylvania (1), Rhode Island (2), South Carolina (1), Tennessee (1), Texas (2) and Virginia (1).
+Click here to nominate 'Players That Impressed' from the Disney Soccer Showcase!
Florida's Sunrise Sting led all clubs with three division titles, claiming the U-15 Showcase Red Division, U-16 Showcase Gray Division and the U-17 Showcase Black Division. The Sunrise 00/01 squad earned four straight clean sheets, going 3-0-1 while outscoring their competition 7-0. U-16 Sting 99/00 Black netted 12 goals in their four matches and shut down in-state foe Florida Kraze Krush 2-0 in the title match. U-17 squad Sting 98/99 racked up 13 goals throughout the event, narrowly defeating New Jersey side FC Copa Academy 3-2 in the championship.
New Jersey Stallions, Florida's Boca United and Rhode Island's Bayside FC Bolts each had two girls teams capture division championships at Disney.
Stallions teams took the U-15 Premier Black Division as well as the U-18/19 Showcase Red Division. The U-15 Stallions Academy Freedom NPL side went a perfect 4-0-0, scoring 17 goals and not allowing a single one throughout the event. US Youth Soccer National League squad NJ Stallions Dynamite shut out three of its four opponents, including a 3-0 blanking of fellow Tri-State area squad ISA 97 Fire in the final.
+Read: Thirty-nine teams earn boys division titles at Disney Soccer Showcase
Boca United ECNL teams won the U-17 Championship White Division and the U-18/19 Showcase Black Division. The Boca U-17s went 2-1-0 in group play before edging out Dallas Texans 99 with a 1-0 clean sheet victory in the final. The Boca U-18s tore through their bracket by outscoring their competition 14-0 in group play before allowing their only goal of the tournament in a 3-1 win over Syracuse Development Academy in the final.
Rhode Island's Bayside FC Bolts claimed the U-17 Premier Black and U-18/19 Premier Red Divisions. The U-17s earned three clean sheets in four games and conceded just one goal overall, capping off an undefeated event with a 3-0 win over Pinecrest Premier 98/99 Blue. The Bayside U-18s also gave up just one goal in their four matches, shutting out two of their three group opponents before blanking Space Coast United 97/98 1-0 in the final.
+Read: Youth Soccer Top 25 Twitter Rankings for January 2016
Once again, the Disney Soccer Showcase was played in conjunction with the US Youth Soccer National League, providing a two-in-one showcase event for attending college coaches. National League squads conducted league play in their own bracket within the top two divisions of each Disney age group, with the top finisher meeting the winner from the opposite bracket in the division final.
+US Youth Soccer National League Disney Recaps: Day 1 | Day 2 | Day 3
The eight championship matches in the Showcase Red and Showcase Black Divisions ended up split down the middle, with National League squads winning four and non-National League squads also winning four.
Full Results | College Coaches
U-15
Showcase – Red
Champion: Sunrise Sting 00/01 (FL) | Finalist: Greater Binghampton United FC Select Riley (NY)
Showcase – Black
Champion: Midwest United FC 01 Royal (MI) | Finalist: HBC Impact 00 (NY)
Showcase – Gray
Champion: Cincinnati United Premier Gold 00-01 (OH) | Finalist: Princeton SA 00-01 NPL (NJ)
Premier – Red
Champion: Rush Select 00/01 Blue (CO) | Finalist: Team Boca 00/01 White (FL)
Premier – Black
Champion: NJ Stallions Academy Freedom NPL (NJ) | Finalist: Premier Strikers (MD)
Premier – Gray
Champion: ISA Mia 00 NPL (NY) | Finalist: Southern SA Chelsea 01 Elite (GA)
Championship – Red
Champion: Cape Coral SA 00/01 Cyclone Black (FL) | Finalist: Maplebrook Fury PR (MN)
Championship – Black
Champion: North Fort Myers SC Lady Knights 00/01 Red (FL) | Finalist: Lower Merion SC Storm (PA)
Championship – Gray
Champion: Empire United Buffalo (NY) | Finalist: Davie United SC Sharks 00/01 Blue (FL)
U-16
Showcase – Red
Champion: South Carolina United FC 99 Elite (SC) | Finalist: FCKC Pink Panthers Elite 99/00 (MO)
Showcase – Black
Champion: Kings Hammer Academy Red (OH) | Finalist: Midwest United FC 00 Royal (MI)
Showcase – Gray
Champion: Sunrise Sting 99/00 Black (FL) | Finalist: Florida Krush 99/00 Black (FL)
Premier – Red
Champion: FC Alliance 00 NPL (TN) | Finalist: South Jersey Elite Barons 99 (NJ)
Premier – Black
Champion: Florida Elite 99/00 (FL) | Finalist: Patriot FC Premier 99 (PA)
Premier – Gray
Champion: Premier Soccer Group Gators 00 Orange (MI) | Finalist: Collierville SA 00 Lady Lobos Rush Premier (TN)
Premier – White
Champion: IE Surf 99 Premier (CA) | Finalist: Pride SC Predators 00 (CO)
Championship – Red
Champion: Challenger Crew Jrs 99 Black (OH) | Finalist: Clay County SC 99 Sol Black (FL)
Championship – Black
Champion: West Florida Flames 99 Elite Pinellas (FL) | Finalist: Boca United ECNL (FL)
Championship – Gray
Champion: IMG Academy (FL) | Finalist: Herndon United 99 (VA)
Championship – White
Champion: HMMS Eagle FC Villa 99 (PA) | Finalist: Concorde Fire Central Elite (GA)
U-17
Showcase – Red
Champion: Fredericksburg FC 98 Gold (VA) | Finalist: FCKC Forte Elite 98/99 (MO)
Showcase – Black
Champion: Sunrise Sting 98/99 (FL) | Finalist: FC Copa Academy 98 NPL (NJ)
Showcase – Gray
Champion: Bethesda SC ECNL Impact 98 (MD) | Finalist: Kings Hammer Academy Red (OH)
Premier – Red
Champion: NJ Crush FC Charge 98 NPL (NJ) | Finalist: ASA Azzurri (MD)
Premier – Black
Champion: Bayside FC Bolts NPL 98/99 (RI) | Finalist: Pinecrest Premier 98/99 Blue (FL)
Premier – Gray
Champion: Dallas Texans 99 Red (TX) | Finalist: Space Coast United 98/99 (FL)
Premier – White
Champion: NSA Rockets (IL) | Finalist: Vienna Youth Soccer Thunder Black (VA)
Championship – Red
Champion: Pitt Greenville SA 98 Stars (NC) | Finalist: FCX Black (IL)
Championship – Black
Champion: Lake Norman SC 98 Eclipse (NC) | Finalist: FC Alliance 99 (TN)
Championship – Gray
Champion: Sting Austin 99 Premier (TX) | Finalist: SJA FC Crew (NJ)
Championship – White
Champion: Boca United ECNL (FL) | Finalist: Dallas Texans 99 (TX)
Championship – Blue
Champion: SAC Premier Blue (MD) | Finalist: CL Force Elite (IL)
U-18/19
Showcase – Red
Champion: NJ Stallions Dynamite (NJ) | Finalist: ISA 97 Fire (NY)
Showcase – Black
Champion: Boca United ECNL (FL) | Finalist: Syracuse Development Academy (NY)
Showcase – Gray
Champion: New York SC 97 (NY) | Finalist: Florida Fire Juniors 97/98 (FL)
Premier – Red
Champion: Bayside FC Bolts NPL Red 97/98 (RI) | Finalist: Space Coast United 97/98 (FL)
Premier – Black
Champion: Northeast Oklahoma FC 98 (OK) | Finalist: Jacksonville Area SA 97 Coastal Surge (FL)