Thirty-nine teams earn boys division titles at Disney Soccer Showcase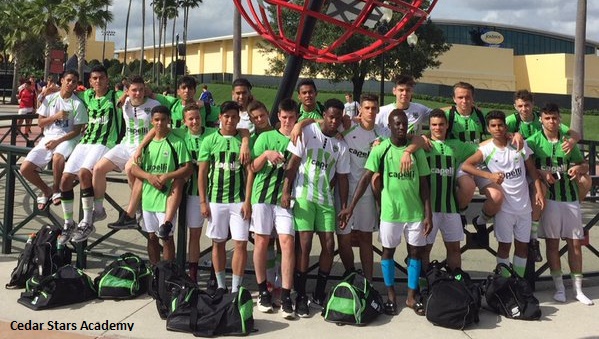 The Disney Soccer Showcase boys event was played over the holidays in Orlando, Fla. where over 300 of the top U-15 to U-19 teams in the United States and around the world competed for division titles at one of the most challenging showcase events of the year.
Teams representing clubs from 19 U.S. states, Canada and Brazil captured division championships. Teams from California (1), Colorado (1), Connecticut (2), Florida (3), Georgia (2), Illinois (1), Kansas (1), Kentucky (1), Maryland (1), Massachusetts (1), Michigan (2), New Jersey (3), New York (2), North Carolina (1), Ohio (2), Pennsylvania (1), Texas (5), Virginia (2) and Wisconsin (1) went home with trophies.
Michigan Wolves, Connecticut's FSA FC, Florida's Chargers SC and Dallas Texans SC were the only clubs to claim multiple division titles, each capturing two, with the exception of Texans which won four.
+Click here to nominate 'Players That Impressed' from the Disney Soccer Showcase!
Michigan Wolves 00 took the U-16 Premier Red Division, outscoring opponents 8-2 and compiling a 3-0-1 record, culminating with a 3-0 shutout of FC Dallas 00 East in the final. Wolves 98 won the U-18/19 Premier Gray trophy, posting an unblemished 4-0-0 clip with 11 goals scored and just three given up.
FSA FC Elite 99 and Elite 98 claimed the U-16 Premier Black and U-17 Premier White Divisions respectively, each posting 2-0-2 records including multi-goal victories in the finals. The U-16s topped Match Fit Academy 3-1 in the final while the U-17s defeated Triangle FCA 5-3.
Chargers SC 99-00 Select won the U-16 Championship Gray Division, finishing the event with three straight victories after starting the event with a 2-2 draw against in-state foe Miramar United FC. They closed the event with back-to-back shutouts, edging out New York's Yonkers United 1-0 in the final. The Chargers U-13/14 Development Academy side swept their competition in the 01/02 Academy Open Division, topping Charlotte SA, Baltimore Armour and Triangle FCA by a combined total of 8-2.
+Read: Youth Soccer Top 25 Twitter Rankings for January 2016
Dallas Texans squads took home the U-16 Championship Black Division and U-18/19 Showcase Black Division trophies, while also finishing at the top of the table in the 01/02 and 99/00 Divisions at the Academy level. The U-16 Texans posted a perfect 4-0-0 record while outscoring opponents 8-2, capping off their run by edging out Alabama's Birmingham United SA 00 Elite 2-1 in the final. Texans 98 White grinded out two wins and a draw in group play before blanking National League U-18 Blue Division leader Lehigh Valley United 2-0 in the championship match.
On the Academy side, the U-13/14 Texans earned three straight clean sheet wins over Tampa Bay United (1-0), Concorde Fire (4-0) and Kendall SC (4-0), while the U-15/16 squad blanked Kendall SC 1-0, tied Concorde Fire 2-2 and defeated Weston FC 2-1 to lead the field with seven points overall.
Once again, the Disney Soccer Showcase was played in conjunction with the US Youth Soccer National League, providing a two-in-one showcase event for attending college coaches. National League squads conducted league play in their own bracket within the top two divisions of each Disney age group, with the top finisher meeting the winner from the opposite bracket in the division final.
+US Youth Soccer National League Disney Recaps: Day 1 | Day 2 | Day 3
Non-National league teams prevailed over the National League squads in five out of the eight Showcase Red and Showcase Black Division championships. With both sides of the brackets loaded with State, Regional and even reigning National Champions, it was no surprise that six of the eight title matches were decided by just one goal or through penalty kicks.
Full Results | College Coaches
U-15
Showcase – Red
Champion: Epic FC Toronto 2001 Elite (Canada) | Finalist: Gol SA 01 Premier (GA)
Showcase – Black
Champion: United FA 01 Premier (GA) | Finalist: Ohio Premier Green (OH)
Premier – Red
Champion: North Atlanta SA 19 Elite (GA) | Finalist: Wilmington Hammerheads 00 White (NC)
Premier – Black
Champion: Rush Select 00/01 Blue (CO) | Finalist: Tampa Bay United Premier 00 (FL)
Championship – Red
Champion: Charlotte SA 00 Predator (NC) | Finalist: Concorde Fire Elite (GA)
Championship – Black
Champion: Houston Express 01 Navy (TX) | Finalist: ACYS Spirit United 00/01 Gold (FL)
U-16
Showcase – Red
Champion: Dix Hills Hurricane (NY) | Finalist: Loudoun 99 Red
Showcase – Black
Champion: LA Premier FC (CA) | Finalist: FC Dallas Youth 00 Premier (TX)
Premier – Red
Champion: Michigan Wolves 00 (MI) | Finalist: FC Dallas 00 East (TX)
Premier – Black
Champion: FSA FC Elite 99 (CT) | Finalist: Match Fit Academy 99/00 Black (NJ)
Premier – Gray
Champion: Andromeda FC 00 Red (TX) | Finalist: Manhattan SC Villa (NY)
Championship – Red
Champion: New York SC 99 (NY) | Finalist: Clay County SC 99 Rangers Black (FL)
Championship – Black
Champion: Dallas Texans (TX) | Finalist: Birmingham United SA 00 Elite (AL)
Championship – Gray
Champion: Chargers SC 99-00 Select (FL) | Finalist: Yonkers United Golden Touch (NY)
Championship – White
Champion: North Fort Myers SC Knights 99/00 Red (FL) | Finalist: Carolina Elite 99 Premier (SC)
U-17
Showcase – Red
Champion: Loudoun SC 98 Red (VA) | Finalist: Real Miami Madrid (FL)
Showcase – Black
Champion: Pipeline SC Black (MD) | Finalist: Baltimore Celtic SC 98/99
Showcase – Gray
Champion: Match Fit Academy 98/99 Black (NJ) | Finalist: FC Golden State East (CA)
Premier – Red
Champion: FC United 98/99 Select I (IL) | Finalist: OBGC Roadrunners Blue (MD)
Premier – Black
Champion: Challenger Crew Juniors 98 Gold (OH) | Finalist: FC Stars of Mass NPL (MA)
Premier – Gray
Champion: Sporting Blue Valley Pre-Academy 98-99 (KS) | Finalist: Midwest United FC 99 Royal (MI)
Premier – White
Champion: FSA FC Elite 98 (CT) | Finalist: Triangle FCA 98 (NC)
Championship – Red
Champion: GPS-MA NPL 98/99 (MA) | Finalist: Auburndale SC Bayside AV Junior (NY)
Championship – Black
Champion: Cincinnati United Premier Gold 98/99 (OH) | Finalist: FC Alliance 99 (TN)
Championship – Gray
Champion: STA Morris United NPL 98 (NJ) | Finalist: Marlboro SA Warriors Blue (NJ)
Championship – White
Champion: GSA Force FC 99 White (TX) | Finalist: FC Dallas Youth 99 Gold (TX)
U-18/19
Showcase – Red
Champion: Vaughan SC Azzurri (Canada) | Finalist: FC Alliance 98 Black (TN)
Showcase – Black
Champion: Dallas Texans 98 White (TX) | Finalist: Lehigh Valley United 97 (PA)
Showcase – Gray
Champion: Cedar Stars Academy Newark 97/98 (NJ) | Finalist: UFA-Norcross 98 Fury Premier (GA)
Premier- Red
Champion: FC Florida 96/97 Elite (FL) | Finalist: Chivas Florida Futbol Academy 97 (FL)
Premier – Black
Champion: Lower Merion SC Magic (PA) | Finalist: Ann Arbor United SC 98 Royal (MI)
Premier – Gray
Champion: Michigan Wolves 98 (MI) | Finalist: AFC Lightning 98 Elite (GA)
Championship – Red
Champion: FC Wisconsin Nationals (WI) | Finalist: 2SV Soccer Academy (Brazil)
Championship – Black
Champion: Virginia Rush Elite (VA) | Finalist: Annandale United FC 97 (VA)
Championship – Gray
Champion: Javanon 98 (KY) | Finalist: VHSC Steamers 98 Black (AL)
Academy Open Divisions
01/02
Champions: Dallas Texans U-13/14 (TX) and Chargers SC U-13/14 (FL)
99/00
Champion: Dallas Texans U-15/16 (TX)
97/98
Champion: 2SV Montverde Academy (Brazil)