Thirteen Embassy Cup champions qualify for Bethesda Premier Cup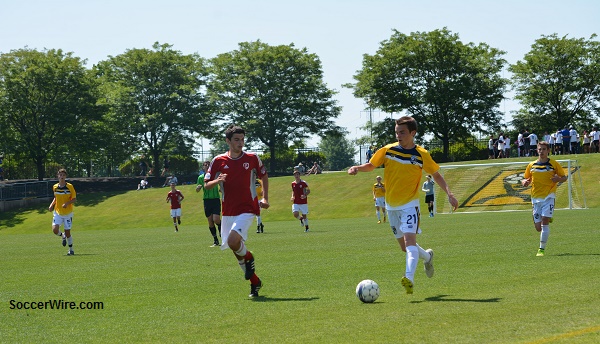 Thirteen teams from 12 clubs: GPS Carolina Elite, Washington Diplomats, Potomac Soccer, Bethesda SC, Southwestern Youth Association (SYA), DC Stoddert, Pachuca FC, Barca FC, Baltimore Bays, Beachside SC, Vincent United FC and Lee Mt. Vernon SC (LMVSC), earned spots in the 2015 Generation Adidas Bethesda Premier Cup over the weekend by winning division championships at the inaugural Embassy Cup.
The Embassy Cup, hosted by Bethesda SC and the Maryland SoccerPlex, is a new event which serves as a Bethesda Premier Cup Qualifier and in coming years is designed to evolve into a premier level international tournament with teams from around the world. The first edition featured teams representing 38 clubs from seven U.S. states and Washington, D.C. with 13 total boys and girl divisions.
Maryland teams won five of the 13 division titles, two of which were claimed by the host club as Bethesda SC South 02 won the U-12 Boys Division and Bethesda SC Academy 2001 Blue took the U-14 Girls Division. Another five divisions were won by Virginia teams, while others from South Carolina, Pennsylvania and Connecticut earned trips back to Maryland in November for the Bethesda Premier Cup, one of the top tournaments in the country which declines hundreds of teams annually due to limited capacity.
+Read: Baltimore Celtic builds on success, sends six teams to Region I Championships
Pachuca FC USA River Plate earned its place in the Thanksgiving tournament by sweeping the Embassy Cup U-16 Boys Division with a 4-0-0 record, beating PDA South Union 4-1, DC Stoddert Red Metros 99 6-0, Knights FC 2-1 and FSC Dragons 2-0.
BFC Barca 97 Elite went 3-0-1 to take the U-17 Boys Division, opening the weekend with a 2-2 draw against Delaware side Blue Monkeys before reeling off three straight wins over Stars United SC 97/98 White (6-2), A3 Elite (1-0) and Maryland Rush Montgomery 97 (2-1).
Pennsylvania side Vincent United FC Sirens went 3-1-0 to finish atop the U-15 Girls Division, splitting Saturday's results with a 2-1 win over Vienna Youth Soccer Patriots Red and 1-0 loss to Potomac Soccer Blue before earning 4-1 and 1-0 wins on Sunday over Calvert Sharks 99 and Potomac Blue, avenging their loss the day before.
LMVSC Patriots Red 97 took the U-16/17 Girls Division with an unblemished 4-0-0 clip, defeating Maryland Rush Montgomery Thunder 99 2-1, Arlington Rowdies White 4-0, Chantilly Magic 2-1 and Concord Fusion 1-0.
See below for a full list of champions.
Champions
Boys
U-9: GPS Carolina Elite Charlotte (SC)
U-10: Washington Diplomats White (VA)
U-11: Potomac Blue (MD)
U-12: Bethesda SC South 02 (MD)
U-13: SYA Cardinals Red 01 (VA)
U-14/15: DC Stoddert Blue Metros 00 (VA)
U-16: Pachuca FC USA River Plate (MD)
U-17: BFC Barca 97 Elite (VA)
Girls
U-11/12: Baltimore Bays Chelsea Lightning (MD)
U-13: Beachside SC (CT)
U-14: Bethesda SC Academy 2001 Blue (MD)
U-15: Vincent United FC Sirens (PA)
U-16/17: Lee Mt. Vernon SC (LMVSC) Patriots Red (VA)
2015 Embassy Cup Attending Clubs: Arlington Soccer, Arsenal FC, Baltimore Bays, Baltimore Celtic, Barca FC, Beachside SC, Bethesda SC, Calvert Soccer Association, Calverton SC,Chantilly SC,Concord Soccer, DC Stoddert, DFC Vasquez Academy, Freedom SC, Future SC, GPS Carolina, Hamilton Township SC (NJ), Lee Mt. Vernon SC (LMVSC), Maryland Rush Montgomery, Montgomery Soccer Club, Old Dominion FC, Olney Boys & Girls Club (OBGC), Potomac Soccer, South Central Premier (CT), Southwestern Youth Association (SYA), St. Mary's Soccer, Vienna Youth Soccer, Vincent United, Washington Diplomats, Laurel SC, Herndon Youth Soccer, STA Morris United, Western Lehigh United, Pachuca FC, Knights FC, LDC United, A3 Soccer, Stars United