ECNL providing live broadcasts of 26 National Playoff matches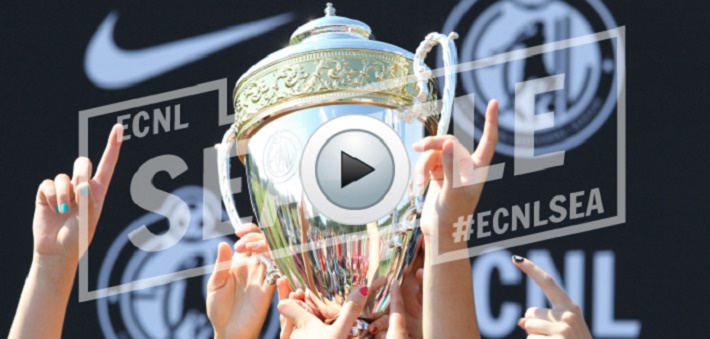 RICHMOND, VA (Via ECNL) –  The Elite Clubs National League (ECNL) is providing ongoing live coverage of the 2015 ECNL National Playoffs, with 26 live games available on the ECNL Network.  The ECNL National Playoffs began Thursday, June 25 and conclude on Tuesday, June 30.
The games can be viewed on the ECNL Youtube Channel, www.youtube.com/theECNL. To watch, click here.
| | | | | | | | | |
| --- | --- | --- | --- | --- | --- | --- | --- | --- |
| Game Number | Age | Date | Home Team | Away Team | Time | Field | Competition | Flight |
| 1410003 | U14 | 06/25/15 | San Diego Surf  ECNL U14 | Crossfire Premier  ECNL U14 | 9:00 AM | 60 Acres-North #14 | Champions League | Round Robin |
| 180002 | U18 | 06/25/15 | FC Stars of Massachusetts ECNL U18 | Crossfire Premier ECNL U18 | 11:00 AM | 60 Acres-North #15 | Champions League | Round Robin |
| | | | | | | | | |
| 1410012 | U14 | 06/26/15 | San Juan Soccer Club ECNL U14 | Dallas Texans  ECNL U14 | 9:00 AM | 60 Acres-North #14 | Champions League | Round Robin |
| 1410009 | U14 | 06/26/15 | Bethesda SC ECNL U14 | Slammers FC  ECNL U14 | 9:00 AM | 60 Acres-North #15 | Champions League | Round Robin |
| 162003 | U16 | 06/26/15 | Real So Cal ECNL U16 | FC Portland ECNL U16 | 11:00 AM | 60 Acres-North #15 | North American Cup | NAC B |
| 162007 | U16 | 06/26/15 | Dallas Sting ECNL U16 | FC Virginia ECNL U16 | 1:00 PM | 60 Acres-North #14 | North American Cup | NAC H |
| 1410015 | U14 | 06/26/15 | San Diego Surf  ECNL U14 | SLSG – MO  ECNL U14 | 3:00 PM | 60 Acres-North #15 | Champions League | Round Robin |
| | | | | | | | | |
| 151007 | U15 | 06/27/15 | Richmond United ECNL U15 | San Diego Surf ECNL U15 | 10:15 AM | 60 Acres-North #14 | Champions League | 15F |
| 171005 | U17 | 06/27/15 | Real Colorado ECNL U17 | Sporting Blue Valley ECNL U17 | 10:15 AM | 60 Acres-North #15 | Champions League | 17E |
| 161015 | U16 | 06/27/15 | FC Stars of Massachusetts ECNL U16 | Colorado Storm ECNL U16 | 2:15 PM | 60 Acres-North #14 | Champions League | 16D |
| | | | | | | | | |
| 171009 | U17 | 06/27/15 | FC Virginia ECNL U17 | Michigan Hawks ECNL U17 | 2:15 PM | 60 Acres-North #15 | Champions League | 17B |
| 151018 | U15 | 06/28/15 | Slammers FC ECNL U15 | Ohio Premier ECNL U15 | 8:15 AM | 60 Acres-North #15 | Champions League | 15B |
| 171025 | U17 | 06/28/15 | Real Colorado ECNL U17 | GSA ECNL U17 | 10:15 AM | 60 Acres-North #14 | Champions League | 17E |
| 171027 | U17 | 06/28/15 | Concorde Fire ECNL U17 | FC Stars of Massachusetts ECNL U17 | 10:15 AM | 60 Acres-North #15 | Champions League | 17F |
| 161030 | U16 | 06/28/15 | FC Stars of Massachusetts ECNL U16 | Eclipse Select Soccer Club ECNL U16 | 2:15 PM | 60 Acres-North #14 | Champions League | 16D |
| 171023 | U17 | 06/28/15 | Slammers FC ECNL U17 | Dallas Texans ECNL U17 | 4:15 PM | 60 Acres-North #14 | Champions League | 17D |
| | | | | | | | | |
| 1410025 | U14 | 06/29/15 | 1st Place Flight A | 1st Place Flight D | 9:30 AM | 60 Acres-North #14 | Champions League | Semi-Final #1 |
| 1410026 | U14 | 06/29/15 | 1st Place Flight B | 1st Place Flight C | 9:30 AM | 60 Acres-North #15 | Champions League | Semi-Final #2 |
| 180025 | U18 | 06/29/15 | 1st Place Flight A | 1st Place Flight D | 11:30 AM | 60 Acres-North #14 | Champions League | Semi-Final #1 |
| 180026 | U18 | 06/29/15 | 1st Place Flight B | 1st Place Flight C | 11:30 AM | 60 Acres-North #15 | Champions League | Semi-Final #2 |
| | | | | | | | | |
| 172032 | U17 | 06/30/15 | Semifinal 1 Winner (#172018) | Semifinal 2 Winner (#172019) | 8:15 AM | 60 Acres-North #14 | North American Cup | NAC-Final |
| 161033 | U16 | 06/30/15 | De Anza Force ECNL U16 | San Diego Surf ECNL U16 | 8:15 AM | 60 Acres-North #15 | Champions League | 16A |
| 180027 | U18 | 06/30/15 | Semi-Final #1 Winner | Semi-Final #2 Winner | 10:15 AM | 60 Acres-North #14 | Champions League | CL-Final |
| 171038 | U17 | 06/30/15 | Concorde Fire ECNL U17 | Crossfire Premier ECNL U17 | 10:15 AM | 60 Acres-North #15 | Champions League | 17F |
| 1410027 | U14 | 06/30/15 | Semi-Final #1 Winner | Semi-Final #2 Winner | 12:15 PM | 60 Acres-North #14 | Champions League | CL-Final |