The British wave: From England to NCAA…and on to the pros?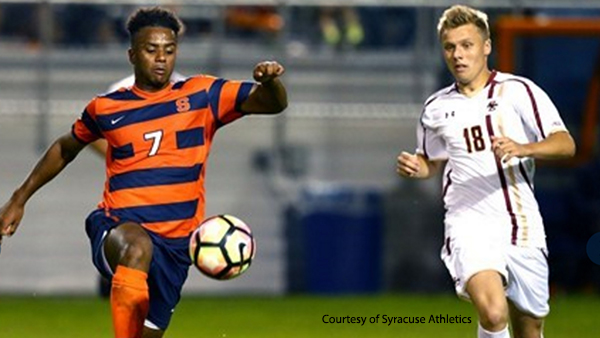 Mo Adams had a decision to make as he reached the end of his youth career in England.
After two years in the academy system of English Championship club Derby County, Adams was not offered a professional contract at the close of the 2014/15 season. The midfielder then performed well in a trial with Blackburn Rovers, only to have those hopes dashed by an ankle ligaments injury.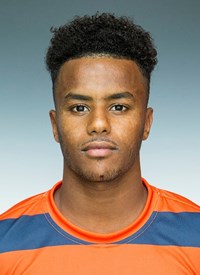 "From there it was a case of 'what next?'" recalled Adams as he related his tale in a recent conversation with SoccerWire.com. "I was in the position where I didn't know what do, and that's where a backup plan comes into account."
He figured he could catch on somewhere in the lower levels of his country's sprawling soccer pyramid eventually. But Adams paused before signing a pro deal.
"Some of the boys that I'd played with previously came to the [United] States," Adams said, "and I found out that if I do sign a professional contract in England, it would stop me from coming to the States. So that swung my mind."
Adams, you see, is one of the latest and most promising arrivals in a now-constant influx of international players to college soccer. The versatile center mid is one of five foreigners in the 10-man freshman class that Syracuse University's men's program hopes can take them back to the College Cup after falling one step short of the 2015 NCAA national championship game.
In that regard, the Orange are off to an ideal start. Coach Ian McIntyre's side are now 8-0-0 and this week vaulted into the No. 1 spot in the TopDrawerSoccer.com and College Soccer News national polls, while taking up residence at No. 2 in the NSCAA poll that is officially recognized by the NCAA.
+READ: NSCAA releases new NCAA Men's Division I National Rankings
Adams has started every match thus far in a deep midfield role. While it doesn't show up much on the scoresheet, his patrolling in the middle of the park is key to the Orange having allowed just four goals – and only 20 shots on goal – over eight games.
When he decided to make his move stateside, Adams caught the interest of several other blue-chip programs in the ACC, widely considered the toughest in the NCAA. He picked Syracuse even after making a February recruiting visit to frosty upstate New York.
"When I first came it was pretty different – all the snow and stuff in Syracuse, it takes some getting used to," he said with a chuckle. "Besides that, as long as I'm playing soccer I feel at home, always."
In recent years the college game has become one of American soccer's favorite scapegoats for the wider failings of the domestic player development system, and not without reason. Among other flaws, the NCAA schedule is overly frantic and physically challenging, much like the actual play on the field.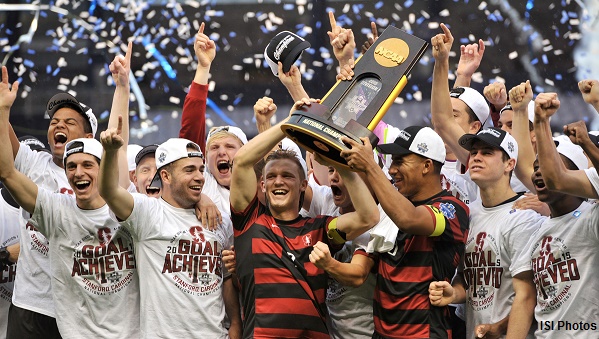 It's ironic, then, that college soccer has become such a tantalizing proposition for thousands of ambitious players from around the world – including and especially the sport's ancestral home in the British Isles.
While it's hardly a new trend, NCAA coaches' never-ending hunt for talent has taken a markedly global turn in recent years. Overseas recruits like Adams offer high levels of technical and tactical quality honed in pro-style academy environments, often with high levels of personal maturity to boot.
"It's difficult to quantify in percentage terms, but if you imagine an [English pro] club will release around six to seven Under-18s a season," said one agency insider with a high familiarity of the trans-Atlantic pipeline from Great Britain's academies to NCAA soccer.
"I'd say every single one at least considers or discusses the idea of going to America to play, and that isn't just with D1 [NCAA Division I] schools … As time progresses, significantly more players are considering this because it's a free education and it's a new culture."
The players themselves have often spent their entire adolescence preparing for a pro career, only to miss out on a contract offer and be cut loose from their clubs. Many find themselves at a personal crossroads, unsure whether their dreams of soccer stardom are still viable. That's when they look to the USA and its enormous college system. And they don't have to shelve those pro hopes, either.
"After doing some research and reading about the likes of Dom Dwyer – who actually had his path in the U.K. blocked due to injury too – and how successful he's become, that swayed my decision," said Adams. "I love the whole process of actually getting the education and then being a full-time soccer player as well.
"To be honest, the main reason I came here was to be a professional soccer player," he added. "That's my main goal – in the meantime I want to do well for my college team. I think I'm an integral part of this team and I just want to do well. We have a lot of expectations with what the team achieved last year. I just want to do well this season and hopefully catch a few eyes, and take it from there."
+READ: Unlikely introduction to American soccer leads Dom Dwyer to MLS Cup final
The made-for-Hollywood story of Dwyer, the Sporting Kansas City striker who rose from rejection in England to MLS stardom via stops at Tyler Junior College (Texas), the University of South Florida and the United Soccer League, is by now well-known to most U.S. soccer fans. Real Salt Lake's Luke Mulholland did much the same. The English midfielder left non-league club Lancaster City to study and play at NCAA Division II school Wingate University, eventually climbing from USL to NASL to MLS.
These tales are now also familiar to the many British players like Adams who exit their academies and confront an uncertain future both on and off the field.
MLS, NASL and USL may remain decidedly less sexy to U.S. viewers than the Premier League's bright lights. But for young players just hungry for any second chance at a career, it holds no shortage of allure.
"Coming to America's actually a really popular thing now," said Adams. "I mean, there's a lot of companies there that are trying to get players into the states, especially with Dom Dwyer and what he's achieved. And you see the players now like Frank Lampard, older legends that are headed into [MLS], and how much it's grown, actually makes up your mind for you."
Such cases have spawned something of a cottage industry. Adams' U.S. gambit was arranged by a company called Vertex Soccer, which boasts a "100% success rate" since 2012 in lining up "high percentage scholarship [offers] from a four-year American university" for clients. Dwyer worked with a similar outfit called Soccer Icon USA.
+READ: Is NCAA soccer a better route for aspiring British talent?
Every case is different. But in general terms, the brokers connect with players, evaluate their level of ability and set up showcase games that are watched by college recruiters. If a match is made, the companies assist with paperwork and logistics, usually charging modest fees.
"There was a company called Soccer Icon in England, and I just went for a trial there as kind of not really a serious thing, just kind of a kickabout. Someone saw me and a couple of my friends and said, 'I could get you guys to America in a month and a half, to Texas,'" Dwyer, who went on his Texas juco adventure with two friends in 2009, said three years ago. "It was kind of a leap of faith, and it seemed to work out pretty well."
SoccerWire spoke to a veteran player agent who insisted that the more obscure reaches of the college system are home to many talents like Dwyer, both domestic and international. But the convoluted nature of the pro pyramid throws up further hurdles to their progress.
"If you watched the juco final four when Dwyer was playing for [Tyler], there were about four other players there just as good," said the agent, who spoke on condition of anonymity due to the sensitive nature of the topic. "Those players are always there. But the byzantine path to an MLS contract has more stairways than an Escher painting."
Eleven of the 20 first-round picks in this year's MLS SuperDraft were foreign players who moved through the college system. And this would appear to be a matter not merely of ability, but attitude. Many players rejected in their own country arrive on these shores with a chip on their shoulders.
"Oh, absolutely," said Adams. "That's the main thing [McIntyre] said when he recruited me: 'I want someone who's a little bit pissed off, wants to prove people wrong, was probably unlucky at some point.' I think that's the nature of a competitor, and I'm a competitive player. I just want to do well for myself and my family, and just to prove people wrong most of all."
+READ: MLS Draft – does international-heavy 2016 crop hold any surprises in store?
Some would argue that these collegiate internationals are taking scholarships and opportunities away from domestic players. But the flip side of the coin is that they inject quality, diversity and hunger into the US system, all welcome and useful quantities for all involved. And in the process, we see a profoundly American story unfold, one of persistence, resilience and possibility.
Adams won't have the luxury of turning pro scouts' heads with eye-popping goal totals like Dwyer did. But with Orange teammates like Miles Robinson and Chris Nanco already on MLS radar screens, he should get a good look in the days ahead. And if they keep winning games as their demanding Atlantic Coast Conference slate unfolds in earnest over the next month, Syracuse can grab an even bigger share of the national spotlight.
Visits to Notre Dame, Louisville and Clemson and home clashes with North Carolina and Virginia Tech will test McIntyre's side before the regular season concludes vs. Wake Forest on Oct. 28. By then we'll probably know whether the Orange's foreign legion has a legit shot at capturing an NCAA national championship.