Tennessee introduces No. 17 ranked women's soccer recruiting class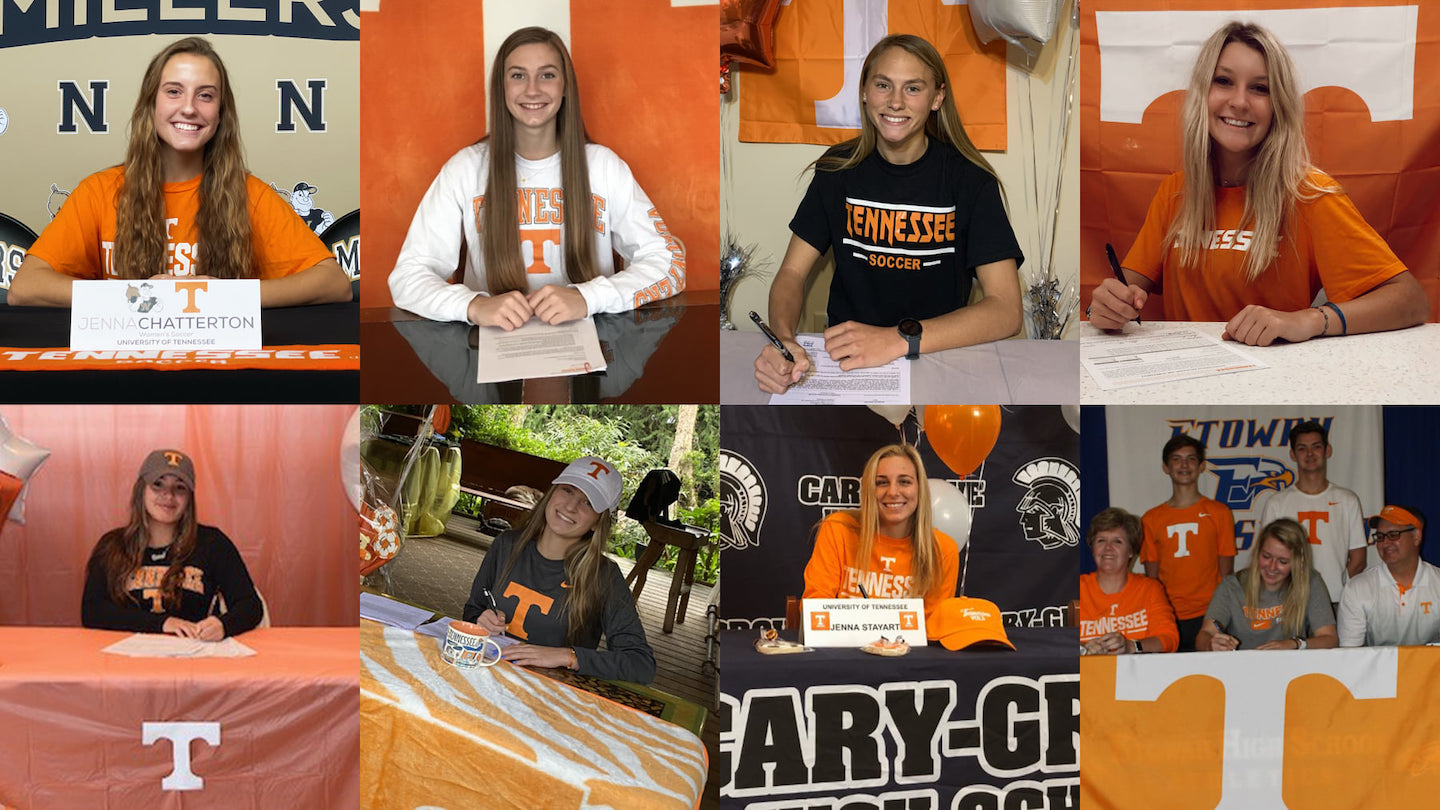 KNOXVILLE, Tenn. — Tennessee Soccer head coach Brian Pensky has announced the addition of eight signees for the program's 2021 recruiting class.
The group features seven versatile field players and one goalkeeper, as two signees will enroll in January and the remaining six will begin their freshman campaigns on Rocky Top next fall.
Tennessee's 2021 class was recently tabbed top-20 in the country by TopDrawerSoccer.com, ranking 17th overall and second among programs from the Southeastern Conference. The class includes four midfielders that are currently rated inside the IMG Academy Top-150 club player rankings, which ties with North Carolina for most in the country.
"We are excited about this class," Pensky said. "There is a lot of talent among the group, with a good deal of versatility as well. And we all know how important that is. I am excited to see them continue to work hard and develop prior to arriving on campus."
A detailed listing of Tennessee's 2021 signees, including high school honors and notable achievements, can be viewed below. For the most up-to-date information on Tennessee soccer, follow @Vol_Soccer on Twitter.

Jenna Chatterton
Noblesville, Ind.
Noblesville HS / Indiana Fire Juniors
Midfielder / 5-2
Notables:
Four-year standout for Noblesville High School under head coach Mike Brady, leading the Millers to back-to-back state IHSAA championships the past two years
Named 2020 Indiana Girls Player of the Year by the Indiana Soccer Coaches Association (ISCA)
Scored a goal in her high school career finale, a 3-0 win for Noblesville in the 3A state championship game to cap her 17-0-1 senior season
Led Noblesville to back-to-back undefeated seasons in 2019 and 2020, one of three programs in Indiana to ever accomplish that feat
Named a high school All-American by the United Soccer Coaches in the fall of 2019
Tabbed as the USA Today/IndyStar Women's Soccer Player of the Year for the 2019-20 campaign
Rated as a three-star prospect by TopDrawerSoccer.com, earning All-Mideast Region honors from the publication in 2019 alongside current Tennessee forward Maddie Eskin
Plays club soccer for Indiana Fire Juniors ECNL
Guided Indiana Fire Juniors to an Elite 8 appearance at the ECNL National Playoffs in 2019
Won the 2017 NPL Finals championship with Indiana Fire Juniors, as her team posted a 3-1 victory over VYS Phoenix
Earned invitations to several elite camps, including the 2019 ECNL Nike National Training Camp in Portland, Oregon and the Adidas Elite Soccer Program (ESP) in Lyon, France
Selected to participate in the 2019 ECNL National Selection Game in Greer, South Carolina
Chatterton: "I chose the University of Tennessee because I wanted to attend a school out-of-state, preferably towards the South. Academically and athletically, UT was a perfect fit for me."

Jordan Fusco
Olmsted Township, Ohio
Olmsted Falls HS / Internationals SC
Midfielder / 5-9
Notables:
Rated as the No. 101 overall prospect and No. 31 midfielder by IMG Academy / TopDrawerSoccer for the class of 2021
Named a 2019 Youth Girls All-American by the United Soccer Coaches
Plays club soccer for Internationals SC alongside fellow 2021 Tennessee signee Taylor Huff
Three-time ECNL Player Development Program invitee
Three-time ECNL All-Ohio Valley Conference
Named to the Best XI at the 2018 ECNL National Camp in Portland, Oregon
Selected to participate in the 2019 ECNL National Selection Game in Greer, South Carolina
Also played two years of high school soccer as a freshman and sophomore for Olmsted Falls, earning all-conference honors both years while picking up all-state accolades in 2018
Fusco: "I chose Tennessee because it was the school that was the best fit for me and had everything I was looking for. I loved the campus, coaches and the soccer program."

Taylor Huff
Lucas, Ohio
Madison Comprehensive HS / Internationals SC
Midfielder/Forward / 5-8
Notables:
Three-time United Soccer Coaches All-American midfielder for Madison Comprehensive HS in Mansfield, Ohio
Rated as the No. 68 overall prospect and No. 21 midfielder by IMG Academy / TopDrawerSoccer.com for the class of 2021
Holds the Ohio state record with 93 career assists, to go along with 133 career goals scored
Named 2020 Ohio Girls Player of the Year by the Ohio Scholastic Soccer Coaches Association
Led her high school team to an undefeated 21-0-3 record this fall, capping off her senior season with a Division II state title
Named the Ohio Division II girls' soccer player of the year in 2019 after to leading her team to a runner-up finish in the state tournament
Earned District II Player of the Year, All-State and All-Region honors in four consecutive seasons
Plays club soccer for Internationals SC alongside fellow 2021 Tennessee signee Jordan Fusco
Has ran track for two seasons for Madison Comprehensive HS, qualifying for the state championships in the 400-meter dash
Huff: "I chose Tennessee because as soon as I stepped on campus as a high school freshman, it felt like home. Everyone was so welcoming and caring. I also wanted to go somewhere warmer than Ohio!"

Claire Rain
Tampa, Fla.
H.B. Plant HS / Tampa Bay United
Defender/Forward / 5-9
Notables:
Plays high school soccer for H.B. Plant High School in Tampa, Florida, logging 15 assists and 11 goals as a defender the past three seasons
Named First Team All-Western Conference and team MVP in 2019
Plays club soccer for Tampa Bay United Rowdies, earning All-Southeast Conference honors during the 2017-18 campaign
Invited to participate in the ECNL Player Development Program (PDP) in back-to-back years
Ran track as a sophomore and junior at H.B. Plant, posting state qualifying times in the 100m and 400m with her personal-best times of 12.0 and 56.7 seconds, respectively
Rain: "I chose the University of Tennessee because I wanted to be closer to home and play in the SEC."

Briana Sayoc
North Bellmore, N.Y.
Wellington C. Mepham HS / East Meadow SC
Midfielder / 5-2
Notables:
Four-year standout for Wellington C. Mepham High School in upstate New York, earning All-Region and All-State honors in 2019
Rated as the No. 116 overall prospect and No. 37 midfielder by IMG Academy / TopDrawerSoccer.com for the 2021 class
Played club soccer for East Meadow SC on Villa for eight years, serving as a team captain for seven years
Led East Meadow SC to a conference championship and runner-up finish at the ECNL National Finals in July 2018, and was later named an honorable mention for the national tournament's Best XI
Participated in several elite camps throughout her prep career, including the Adidas Next Generation ESP in Lyon, France and ECNL National Training Camp in Portland, Oregon
Named to the roster for the 2019 ECNL National Selection Game in Greer, South Carolina
Attended her first U.S. Youth National Team camp in February 2017
Sayoc: "I chose to attend the University of Tennessee because my dream is to play soccer at the next level. UT has one of the best coaching staffs, and they will help me continue to develop and improve as a soccer athlete. From the first visit at UT I fell in love with the campus and positive environment. I knew this is where I wanted to spend my college years."

Emmy Schleifer
Lake Worth, Fla.
American Heritage HS / Team Boca
Midfielder/Defender / 5-6
Notables:
Rated as the No. 110 overall prospect and No. 35 midfielder by IMG Academy / TopDrawerSoccer.com for the 2021 class
Named a Second Team All-American by TopDrawerSoccer.com for the 2019-20 campaign
Attended a pair of U.S. Youth National Team camps in 2017
Named to the U.S. Youth Soccer National Championships Best XI in 2019
Four-time First Team All-State performer for American Heritage High School in Plantation, Florida
Led her club Team Boca to a South Region championship in 2019, in addition to back-to-back state championships in 2018 and 2019
Named to the ODP Interregional 'Starting 11' team three years in a row
Also played tennis for the American Heritage Stallions for four years, winning the district singles championship during the 2019-20 season
Schleifer: "Tennessee is the combination of everything I could ever want in a college. The environment of an SEC school is of course unmatchable. The second I stepped foot on campus, I fell in love with everything about it. From Knoxville, to Regal Stadium, to the fantastic coaching staff and the amazing program they uphold, I couldn't imagine myself anywhere else!"

Jenna Stayart
Cary, Ill.
Cary-Grove Community HS / Eclipse Select
Midfielder / 5-3
Notables:
Two-time All-State midfielder for Cary-Grove Community High School in Cary, Illinois, about an hour outside of Chicago
Rated as a three-star prospect by TopDrawerSoccer.com, who recognized Stayart as an Indiana 'State Star' for the 2018-19 season
Led her club team, Eclipse Select, to a No. 1 national ranking during the 2019-20 campaign
Named to the U15 ECNL National Playoffs Best XI in the summer of 2018
Earned All-Area, All-Sectional and All-Conference honors as a high school freshman and sophomore in 2018 and 2019, totaling 42 goals and 11 assists over those two seasons
Stayart: "I chose to attend the University of Tennessee because I knew I wanted to play at a school that competes in the SEC conference, and immediately after visiting, Tennessee just felt like the perfect fit. I fell in love with the soccer program, the staff, the campus, and the overall atmosphere."

Ally Zazzara
Woodstock, Ga.
Etowah HS / Concorde Fire SC
Goalkeeper / 5-9
Notables:
Four-year letter winner for Etowah High School in Woodstock, Georgia, earning first team All-Region honors in 2018 and 2019
Plays club soccer for Concorde Fire SC, helping her team secure back-to-back ECNL Southeast Conference championships in 2018 and 2019
Helped Concorde Fire SC earn ECNL National Playoffs appearances in 2016 and 2018
Named the MVP of her high school soccer team in 2019, along with defensive MVP honors in 2018 and 2019
Stood out as a two-sport athlete at Etowah HS as a 1,000-point scorer for the basketball program, holding the school record for most points (42) and most made three points (8) in a single game
Zazzara: "I chose Tennessee because it had the big school atmosphere that I was looking for, while also having a great engineering program. The soccer program is one of the best with amazing coaches that made Tennessee seem like the perfect place for me."