Teams from 10 countries attend Dallas International Girls Cup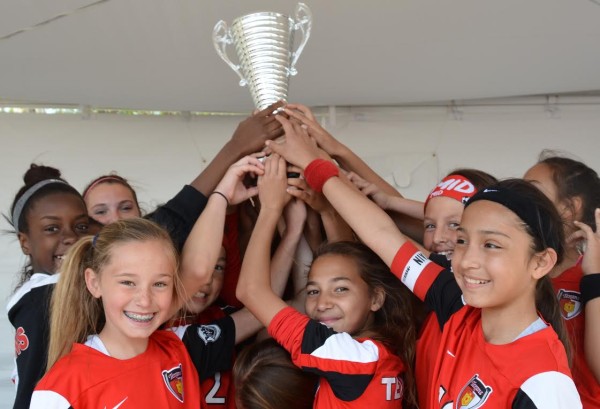 (Via Dallas Texans) – The 2016 Dallas International Girls Cup concluded on Sunday with final matches that lived up to the excitement of the tournament all week.
The 2016 tournament was the biggest edition yet with more than 100 of the best girls' teams from around the world. This year the tournament welcomed 10 nations including Mexico, Sweden, Denmark, England, Finland, Australia, Germany, The Netherlands, Canada, and the United States. Over 80 college coaches were in attendance during the tournament as well scouting and recruiting domestic and international players.
This year we welcomed the Arsenal FC Ladies, one of the top pro clubs in the world in England, to their first Dallas International Girls Cup. On Thursday evening the Arsenal Ladies played in a featured game of the tournament against the best ECNL team in their age category, D'Feeters U-14 ECNL. The Arsenal Ladies came away with a 3-1 win in this game.
+Read: All champions crowned as Dallas Cup concludes on Sunday
This set the tone for them the rest of the tournament as they ended up winning the championship in the U-14 division with a 3-0 win over Lonestar SC ECNL in the championship match.
"We were delighted to take part in the Dallas International Girls Cup for the first time," said Arsenal Ladies Manager John Bayer. "It was a fantastic learning experience for our young U-14 players and the tournament organizers could not have done more to make us feel welcome and valued."
On Sunday, the tournament finals took place and most of the games live up to the billing as they were fiercely competitive games between great teams. See below for a list of champions and finalists.
Champions
U12: Dallas Texans South 04 Girls
U13: Solar Chelsea Red 03
U14: Arsenal Ladies FC
U15: FC Dallas 02 ECNL
U16: Solar Chelsea Elite 00
U17: Dallas Texans U17 ECNL
Finalists
U12: Dallas Texans South 04 Girls and San Diego Surf EGSL 04
U13: Solar Chelsea Red 03 and Sting 03 Gutierrez
U14: Arsenal Ladies FC and Lonestar Soccer Club 02 ECNL
U15: FC Dallas 02 ECNL and Dallas Texans ECNL
U16: Solar Chelsea Elite 00 and Dallas Texans ECNL
U17: Dallas Texans U17 ECNL and Solar Chelsea SC 99 Elite