Tampa Bay Rowdies to host Phoenix Rising FC in 2020 USL Championship Final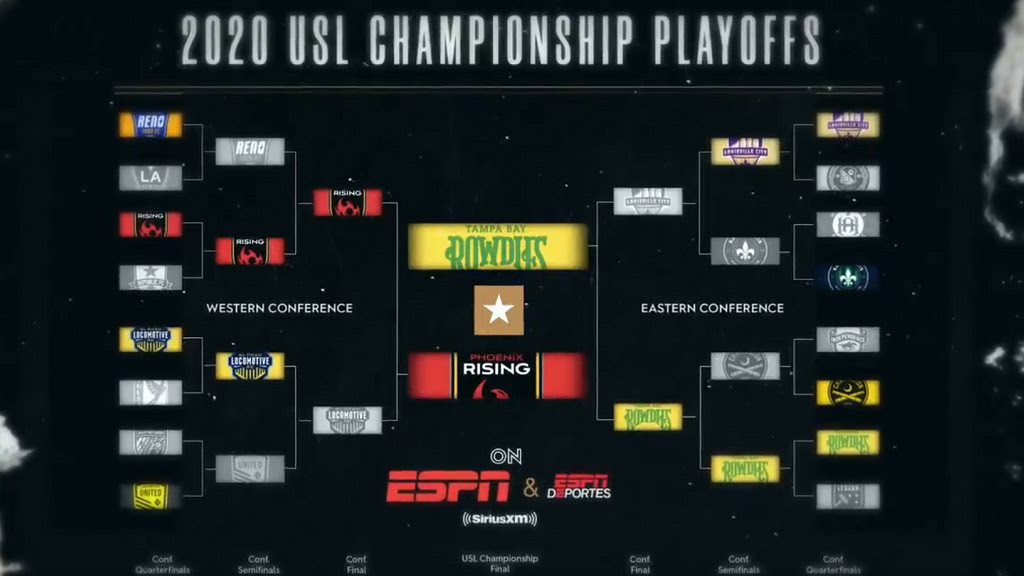 TAMPA, Fla. – The Tampa Bay Rowdies will play host to Phoenix Rising FC in the 2020 USL Championship Final after an action-packed Saturday night saw each side claim its respective Conference title.
Kickoff in the 2020 Championship Final is scheduled for 8:30 p.m. ET on Sunday, November 1 at Al Lang Stadium in downtown St. Petersburg, Fla., and the game will be aired live nationally on ESPN, ESPN Deportes and SiriusXM FC.
The Rowdies advanced to their first USL Championship Final since joining the league in 2017 as they ended Louisville City FC's bid for a fourth consecutive Eastern Conference Title, taking a 2-1 victory at Lynn Family Stadium behind first-half goals from Zach Steinberger and Sebastian Guenzatti. Led by Head Coach Neill Collins, the Rowdies have lost only once at home this season and will be looking for their second league title overall in the club's modern era.
Rising FC claimed its second trip to the USL Championship Final in the past three seasons as it took a 4-2 victory in a penalty shootout after playing to a 1-1 draw after regulation and extra time against El Paso Locomotive FC at Casino Arizona Field.
Phoenix has seen all three of its contests go to extra time this postseason, having previously edged out Sacramento Republic FC in extra time in the Conference Quarterfinals before defeating Reno 1868 FC in a penalty shootout in the Conference Semifinals. Featuring 2019 Championship MVP Solomon Asante, Phoenix's powerful attack has recorded 47 goals in 18 games this season, good for second in the league.
2020 USL Championship Final
Sunday, November 1
Tampa Bay Rowdies vs. Phoenix Rising FC, 8:30 p.m. ET
Al Lang Stadium, St. Petersburg, Fla. – ESPN, ESPN Deportes, SiriusXM FC
2020 USL Championship Playoffs
Eastern Conference Quarterfinals
Saturday, October 10
Charleston Battery 2, Charlotte Independence 1 (AET)
Louisville City FC 2, Pittsburgh Riverhounds SC 0
Saint Louis FC 1, Hartford Athletic 0
Tampa Bay Rowdies 4, Birmingham Legion FC 2
Eastern Conference Semifinals
Saturday, October 17
Louisville City FC 2, Saint Louis FC 0
Tampa Bay Rowdies 1, Charleston Battery 0
Eastern Conference Final
Saturday, October 24
Tampa Bay Rowdies 2, Louisville City FC 1
Western Conference Quarterfinals
El Paso Locomotive FC 2, FC Tulsa 2 (AET)
El Paso wins 4-2 in a penalty shootout
New Mexico United 1, San Antonio FC 0 (AET)
Phoenix Rising FC 1, Sacramento Republic FC 0 (AET)
Reno 1868 FC 4, LA Galaxy II 1
Western Conference Semifinals
Saturday, October 17
El Paso Locomotive FC 1, New Mexico United 1 (AET)
El Paso wins 5-3 in a penalty shootout
Phoenix Rising FC 2, Reno 1868 FC 2 (AET)
Phoenix wins 5-4 in a penalty shootout
Western Conference Final
Saturday, October 24
Phoenix Rising FC 1, El Paso Locomotive FC 1 (AET)
Phoenix wins 4-2 in a penalty shootout