Tab Ramos agrees to extension as U.S. Soccer Youth Technical Director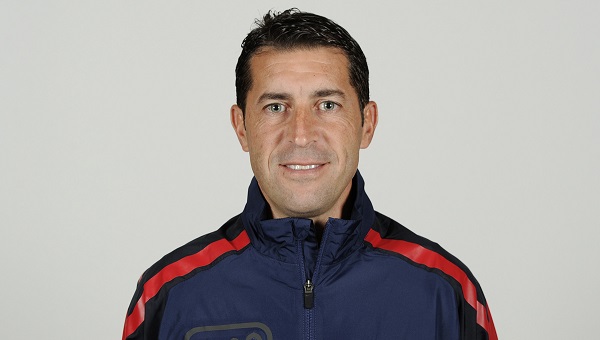 CHICAGO (Via U.S. Soccer) – Former U.S. Men's National Team player Tab Ramos will continue as U.S. Soccer Youth Technical Director and U-20 Men's National Team head coach after agreeing to an extension. Ramos has served as Youth Technical Director since Nov. 2013 and head coach of the U-20 MNT since Oct. 2011.
In his role, Ramos oversees the full integration of the Youth National Team program, now structured to provide a full developmental pathway from the U-14 level up through the U-20 level. Earlier this year, Ramos led the U-20 Men's National Team to its first CONCACAF U-20 Championship title and a quarterfinal run at the FIFA U-20 World Cup in Korea Republic.
"I am very excited to continue my work at U.S. Soccer as Youth Technical Director and U-20 Men's National Team head coach," Ramos said. "I am pleased with the historic results we have achieved on the field over the last few years as we continue pushing to set higher standards. We have provided great experiences to players who are now beginning to make room for themselves on the Senior National Team. My Youth Technical Director role gives me the opportunity to continue the integration of all our Youth National Teams as well as helping with the implementation of our Player Development Initiatives nationwide which will help our youth players develop at a much faster rate for years to come."
+READ: Roster named for U.S. U-17 MNT pre-World Cup training camp
The U.S. Soccer Youth National Team program has seen remarkable success and progress with Ramos at the helm. During his tenure, YNT player pools have deepened with quality players that are producing results at the international level. The U.S. was the only country to reach the final in all three age groups during this year's CONCACAF Championships: U-20, U-17 and U-15. The U-20's victory against Mexico was the team's first in 31 years. At the U-20 World Cup, Ramos led the squad to back-to-back quarterfinals (2015, 2017) for the first time in program history and the team did not lose a match in regulation.
The U-17s are also primed for a strong performance at next month's FIFA U-17 World Cup after a runner-up finish at the CONCACAF U-17 Championship. Over the last two years, the U-15, U-16, U-18 and U-19 National Teams have also taken home multiple tournament titles.
"Tab has been an important part of our National Team program for many years, first as a player and more recently as a coach and Youth Technical Director," said U.S. Soccer President Sunil Gulati. "His experience allows him to see the U.S. Soccer landscape in a way that few others can. We are excited to extend his contract in a role that is crucial to our organization, and to soccer in the U.S., as the next generations of players continue to evolve."
Inducted into the National Soccer Hall of Fame as a player in 2005, Ramos spent thirteen years as a member of the Men's National Team from 1988 to 2000. Ramos has represented the U.S. in nine World Cups, more than anyone in U.S. Soccer history: as a player in the 1983 U-20 World Cup, 1989 FIFA Futsal World Cup, 1990, 1994 and 1998 FIFA World Cups and as a coach in the 2013, 2015 and 2017 U-20 World Cups and the 2014 FIFA World Cup. Ramos started every game for the U.S. in the 1990 and 1994 tournaments.
In 1990, he was named U.S. Soccer Athlete of the Year after helping the USA reach its first World Cup in 40 years. Ramos is the only player in U.S. Soccer history to score in World Cup qualifying in three different decades and he scored one of the most famous goals in U.S. Soccer history, a 1-0 World Cup qualifying win against Costa Rica in Portland, Ore. In 1997.
Ramos was the first player to sign with Major League Soccer in 1995 and spent the last seven years of his playing career helping launch the league as a standout for the New York/New Jersey MetroStars.
After his retirement, Ramos founded current Development Academy member club NJSA 04 in Aberdeen, N.J. He received his U.S. Soccer "Pro" coaching license in 2016.