Syracuse University men's soccer adds four new players for spring semester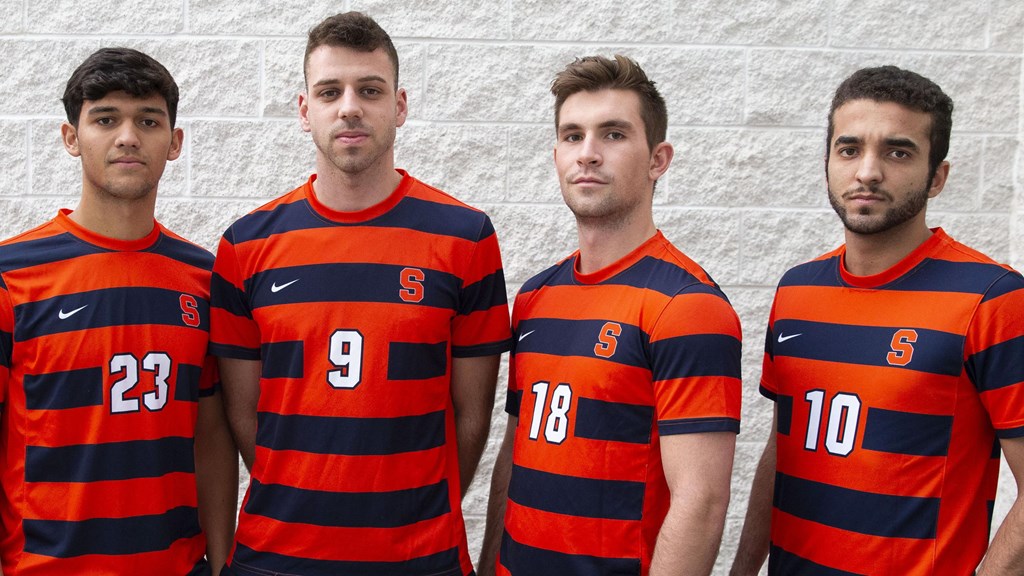 SYRACUSE, N.Y. – Syracuse University head men's soccer coach Ian McIntyre has announced that four players have joined the program.
Matt McDonnell (Smithtown, N.Y.), Nathan Toldeo (Frisco, Texas), Manel Busquets (Barcelona, Spain) and Roque Viegas (Sao Paulo, Brazil) are on campus and participating in spring practice.
"It is always an advantage to have the right student-athletes join your program for the spring campaign," McIntyre said. "We have added quality, character and important leadership to our squad with the introduction of Matt, Manel, Roque and Nathan. Each of these talented young men will take great pride in representing our Syracuse program. They will tremendously help our continuous efforts to improve both on and off the soccer pitch. We are delighted to welcome these four outstanding young men into our program. I cannot wait to get to work and quickly integrate them into our team."
Matt McDonnell – Smithtown, N.Y. – Boston University
McDonnell transfers from Boston University where he played in 56 games and scored 20 goals with 10 assists. McDonnell captained the BU team for his last two years and was recognized as an All-Patriot League honoree in 2017 and 2019. Prior to BU, he won a USYSA national championship with Smithtown Arsenal. McDonnell will be a graduate student at Syracuse with one year of eligibility remaining.
"Matt is an experienced, talented player who will add something a little different to our attack," McIntyre said. "He is a physical, direct player who possesses the ability to score goals in a variety of different ways. Matt always makes life uncomfortable for opposing defenders and he has the (wonderful) knack of getting onto the end of service in the penalty area."
Nathan Toledo – Frisco, Texas – Lone Star HS
Toledo is a member of the USSDA FC Dallas U19 team and plays as a central defender. He captained the U17 FC Dallas Academy squad and was selected to the Best XI Central Conference team during a year when his team finished as a national runner-up.
"Nathan is a terrific player who has come through one of the very best MLS academies," McIntyre said. "He is a player that is able to break up play and then he can quickly transition into attack. He is a good individual defender who makes those players around him better. He is a smart player that connects the game extremely well, and he has the personality to impose himself onto a game."
Manel Busquets – Barcelona, Spain – Duquesne University
Busquets transfers from Duquesne University where he started 31 games and registered 11 goals and seven assists during the past two years. He was named to the 2019 All-Atlantic 10 First Team and the 2018 Atlantic 10 All-Rookie Team. He has also represented Kaw Valley FC in USL League Two.
"Manel possesses excellent balance, close technical control, and the ability to go past defenders," McIntyre said. "He is a direct, aggressive player who will provide us additional quality in the final third. He has a wonderful work ethic to complement his natural talent. I am looking forward to watching Manel continue to grow as a player here at Syracuse."
Roque Viegas – Sao Paulo, Brazil – Monroe Community College
Viegas scored 14 goals and registered 12 assists on the Monroe Community College Mustangs team that won the 2019 NJCAA Division I national championship. Monroe College went 18-0-0 and secured its first-ever national title. Prior to arriving at Monroe, Viegas played for the Red Bull Brazil Academy and last summer he played for the Treasure Coast Tritons of USL League Two alongside current Syracuse players Christian Miesch and Kyle Gruno.
"Roque is a very composed, technical player who always seems to have a lot of time on the ball," McIntyre said. "He makes the game look very simple and is an intelligent player who brings other players into the game.  Roque will provide us an unpredictability in the final third and he has the ability to make a quick transition to life in the ACC."
This group joins a squad that earned an at-large bid to the 2019 NCAA Tournament. Syracuse defeated Rhode Island in the first round to advance to the second round for the sixth time in the last eight years.