SYC Soccer hires Stephen Tupy as U9-U12 Director of Coaches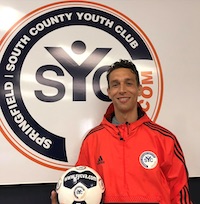 Springfield VA (Via SYC Soccer) – SYC Soccer has announced the hiring of Stephen Tupy to SYC Soccer as the club's Director of Coaches for the U9-U12 age groups.
He will provide more oversight in the U9-U12 age groups and will work closely with all of the players and coaches in the younger age groups to make sure the training environment at SYC Soccer is world class in the younger age groups. Tupy has over 10 years of coaching experience at the Club, High School and Collegiate levels in Southern California and Northern Virginia. He holds a USSF National "B" Coaching License, National Youth Coaching License, and USFF State Level 2 Futsal License.
Tupy began coaching competitive soccer in Southern California after his playing career ended. He coached for several youth clubs including NHB, Pateadores, and Downtown SC as well as for school programs at USC Magnet and Beverly HIlls HS. After moving back to Northern Virginia, Tupy served as an Assistant Coach for the Mens/Boys Soccer Programs at the University of Mary Washington, Hayfield Secondary, Annandale HS, Edison HS, and St. Stephens/St. Agnus.
Most recently, Tupy was a head coach and staff trainer for LMVSC. He trained players in the Developmental Programs and coached many of the top travel boys and girls U9-U11 teams. He was also the club's founding Futsal Director. Tupy was selected to be one of the coaches for the CCL United program that takes the top players in CCL to compete overseas, and he will be working closely this summer with the CCL United 2004 Girls Premiership and Championship teams that will compete in the Vildbjerg Cup in Denmark.
During his 4 years at LMVSC, Tupy found a passion for developing players at the younger age groups. His training produced players that were technically sound, confident, "free thinking," and tactically aware. Tupy's teams won 3 VA State Cup Championships, 1 Regional Championship, and were a 2018 National Championship contender. He has been the head coach of various boys and girls teams between the ages of U9-U13 that have been championship/finalists in many of the top tournaments in the region.
Furthermore, under Tupy's guidance as the Futsal Director, the program produced numerous championship and finalist teams on the local, state, and regional levels. He has coached and trained many players that have not only successfully transitioned into the 11v11 game, but have also gone on to play in college and professionally.
SYC Soccer Technical Director Esteban "Este" Maldonado said: "We are thrilled to have Tupy join SYC Soccer. His success coaching in the competitive market in California and also what he has shown in Northern Virginia has been nothing but remarkable. He has developed some of the best players and teams in the DMV area in the short period of time he has been in the area, and I consider him one of the best Youth Coaches in the Region without a doubt. His track record speaks for itself. Not only is Tupy a quality coach and teacher of the game, but most importantly he is a great person with great character and we are very happy he will be impacting our players and coaches at SYC Soccer in a positive way on and off the field."
Tupy grew up in Alexandria where he was a standout player for local Edison High School. He went on to play for North Carolina Wesleyan, where he won two Conference Championships, made two NCAA tournament appearances and had a run in the Sweet 16. Upon finishing college, Coach Tupy played professionally in Iceland and the in the USL- Pro Leagues.