Strong showings for Potomac area clubs at ECNL San Diego Showcase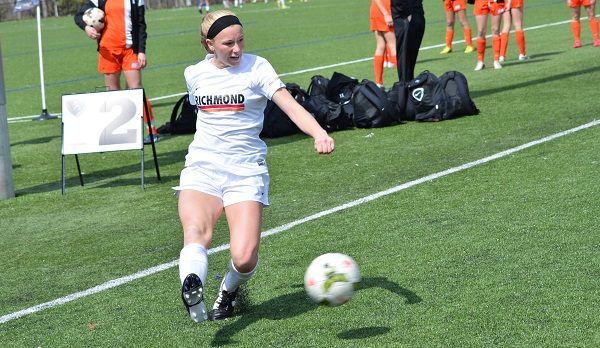 Potomac area ECNL clubs Bethesda SC, Maryland United FC and Richmond United traveled West this past weekend to compete in the ECNL San Diego Showcase among a collection of teams from every region of the United States. Among the top performances of the weekend included the Maryland United U-16s who went a perfect 3-0-0, the Richmond United U-15s going 2-1-0 with a pair of quality wins over top California sides, and the Maryland United U-18s who went 1-0-2 picking up points in every game.
[player_box id=48448 leftright=right]Kori Locksley scored in each game for the Maryland United U-16 squad which earned a 2-0 win over California side MVLA on Friday, a 1-0 win over Oregon side Crossfire United on Saturday and a 2-1 win over Eagles SC of Southern California on Sunday. Along with Locksley's 3 goals and 1 assist and a superb team effort defensively throughout the event, Jamie Shiflett added two goals for MUFC while Alexis Hogarth and Gabrielle Rivera each added 1 assist. [player_box id=43425 leftright=right]
[player_box id=44525 leftright=right]Richmond United's U-15 side shut out a strong San Diego Surf team 2-0 on Friday and followed up with a gritty 2-1 win over De Anza Force on Saturday before falling in a tough 2-1 match to Crossfire United on [player_box id=51528 leftright=right]Sunday. Paige Franks and Jordan Canniff led United with 2 goals each, Natalie Maurer netted one and McKinley Burkett and Kiersten Hening each had 1 assist at the showcase.
Meanwhile, the Maryland United U-18s allowed just 1 goal in San Diego. MUFC opened the event with a clean sheet in a scoreless draw against FC Nova (Idaho), beat Santa Rosa United (California) 3-1 on Saturday and followed with a 0-0 match against Pleasanton Rage (California) on Sunday.
See below for full results of Potomac area teams at the ECNL San Diego Showcase…
U-15
Apr 10 10:00am

2nd in Chesapeake Division (9-1-4)

Goals: Paige Franks, Natalie Maurer

Assists: McKinley Burkett, Kiersten Hening

5th in Southwest Conf. (7-2-3)

Apr 10 2:20pm

2nd in Ohio Valley Division (4-2-1)

2nd in California Div. (3-1-4)

Apr 11 12:00pm

1st in California Division (5-3-2)

Goals: Sonia Chan

Assists: Anastasia Kravitz

2nd in Chesapeake Division (9-1-4)

Goals: Jordan Canniff (2)

Apr 11 12:20pm

2nd in Ohio Valley Division (4-2-1)

2nd in Colorado Division (7-2-3)

Apr 12 7:30am

5th in Mountain Division (1-4-1)

Goals: Madison Ellsworth

Assists: Amanda Stine

2nd in Chesapeake Div. (9-1-4)

Goals: Paige Franks

Apr 12 9:15am

2nd in Ohio Valley Division (4-2-1)

4th in California Division (2-4-3)

Goals: Mia Shenk

Assists: Bethan Parry
U-16
Apr 10 10:20am

1st in Ohio Valley Div. (5-0-2)

2nd in New England Division (3-2-0)

Goals: Jenna Barnes

Apr 10 12:00pm

4th in Ohio Valley Division (2-3-1)

Goals: Kori Locksley, Jamie Shiflett

Assists: Kori Locksley, Alexis Hogarth

3rd in California Div. (3-6-0)

Apr 11 12:20pm

2nd in Mountain Division (4-1-2)

4th in Ohio Valley Division (2-3-1)

Goals: Kori Locksley

Apr 11 4:00pm

1st in Ohio Valley Div. (5-0-2)

2nd in Midwest Conference (8-2-0)

Apr 12 11:30am

1st in Ohio Valley Div. (5-0-2)

3rd in California Div. (3-6-0)

Goals: Julia Lodoen

Assists: Kendra Wilkerson

Apr 12 3:15pm

4th in Southwest Conference (7-2-4)

4th in Ohio Valley Division (2-3-1)

Goals: Kori Locksley, Jamie Shiflett

Assists: Gabrielle Rivera
U-17
Apr 10 10:00am

2nd in Ohio Valley Div. (4-2-0)

Goals: Kia Rankin

Assists: Allison Higgs

4th in California Division (3-4-1)

Goals: Madeline Duncan, Jillian Jamero

Assists: Kasie Beckelman, Christina Edwards

Apr 10 12:00pm

5th in Ohio Valley Div. (1-5-1)

2nd in Mountain Division (5-1-3)

Apr 11 2:00pm

2nd in Ohio Valley Div. (4-2-0)

2nd in Southwest Conference (9-1-2)

Goals: Anastasia Eleftheriou

Apr 11 2:00pm

5th in Ohio Valley Div. (1-5-1)

4th in Mountain Division (3-3-0)

Apr 12 11:15am

2nd in Ohio Valley Div. (4-2-0)

Goals: Karen Aye, Gabrielle Vincent

2nd in Midwest Conference (7-1-4)

Apr 12 1:15pm

5th in Ohio Valley Div. (1-5-1)

9th in Southwest Conference (4-7-2)
U-18
Apr 10 2:20pm

5th in Mountain Division (1-5-1)

4th in Ohio Valley Div. (1-1-3)

Apr 11 10:00am

4th in Ohio Valley Div. (1-1-3)

Goals: Kimberly McPhearson, Fern Peters, Emily Taylor

Assists: Fern Peters, Julianna Smith

5th in California Div. (1-7-0)

Apr 12 1:15pm

4th in Ohio Valley Div. (1-1-3)

2nd in California Division (6-4-0)