Stock rising for U.S. U-18 MNT keeper, Georgetown commit JT Marcinkowski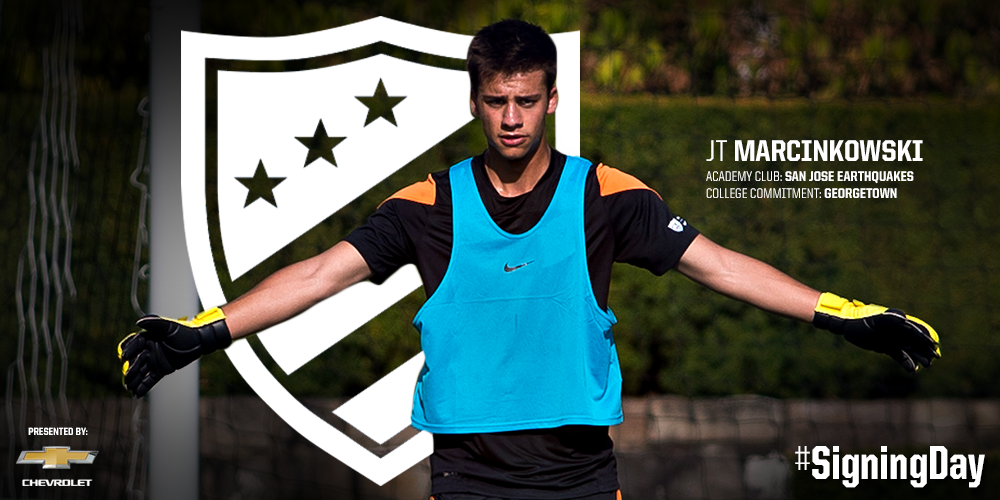 The United States U-18 Men's National Team called in two goalkeepers for the NTC Invitational. One was the son of senior squad head coach Jürgen Klinsmann. The other is JT Marcinkowski, a phenom entering his freshman year at Georgetown.
Marcinkowski lives in Alamo, Cal., near San Francisco, and plays for the San Jose Earthquakes Development Academy team. He has also featured 24 times for US youth national teams, with the most recent camp, which stretched from July 6 to July 14, continuing a string of call-ups for the 5-foot-11 goalkeeper.
"I think it's every soccer player's ambition to play for their country," Georgetown University Head Coach Brian Wiese, who will coach Marcinkowski this season, said, "The fact that [Marcinkowski] has been a regular in with the youth national team … is no surprise to us."
While not as tall or imposing as some of his peers, including Klinsmann, Marcinkowski is quick and sure with his hands. Maybe most impressively, his distribution is very good, showing an awareness of the field that is not always found at his age.
The same talent that caught the eye of U-18 Head Coach Javier Perez made Marcinkowski one of the most highly sought after college recruits in the nation. Collegesoccernews.com listed him as the second best overall player in the 2015 graduating class. When he committed to Georgetown University, he immediately became part of one of yet another strong recruiting class for the Hoyas and a player that Wiese and his staff valued very highly.
+Read: U.S. U-18 MNT in Carson, Calif. for camp, NTC Invitational
"We feel he is the best goalkeeper in the country for his class, pretty comfortably," Wiese said, adding later, "He's maybe the most polished goalkeeper coming in as a freshman that I've ever recruited in my 20 years coaching college."
Georgetown is currently ranked fifth in the country and is enjoying one of the best stretches in program history. The Hoyas made the national championship game in 2012 and the quarterfinals of the NCAA tournament least season. It has top three ranked teams — Virginia, UCLA and Providence — on its schedule for the 2015 season. A relative newcomer to the upper echelon of the college game, Georgetown has used a series of strong recruiting classes and a technical, possession based style of play to become one of the best teams in the nation.
The arrival of a highly touted keeper is well timed for the Georgetown program. Goalkeeper Tomas Gomez took over the starting role as a freshman and kept it for all four of his years as a Hoya. Gomez finished his senior year and signed with the San Jose Earthquakes, however, leaving a spot open in net.
Marcinkowski, then, will have a chance to contend from day one for the starting spot. Despite the national team appearances and recruiting profile, winning the goalkeeping job is not a sure thing. The Hoyas have junior Mitchell Auer on the roster with two years of experience as a back up to his credit. Standing at 6'5", Auer looks the part and performed well in an exhibition game against Duke in the spring. Familiarity with the team and life at the university could also work to his benefit.
+Read: NPL Finals: Full game film, highlights from championship matches
With two goalkeepers bringing different strengths to the table, Georgetown will have a real competition for the starting job. In the past, Wiese has not shied away from giving freshmen starting roles from day one. Gomez started the first game of his freshman season in 2011. For now, however, Marcinkowski and Auer both seem to have a chance to take over the starting role.
"You're always evaluating everyday in training, and the games are their own metric. The competition will be pretty intense for these guys, and they will have a really short period of time to claim the top spot," Wiese said.
If Marcinkowski does take the top spot, then he will be jumping into one of the best defenses in NCAA Division I soccer. It is returning all four starters for the third season in a row, including centerback Joshua Yaro, who turned down a chance to be the number one overall pick in last year's MLS SuperDraft to return to school for his junior year. Add in another highly rated recruit in defender Peter Schropp and the back line should be a strength for the Hoyas. A dependable and talented defense will make the learning curve that much easier for a freshman keeper.
"There's not a lot of teaching that needs to happen for the players in front of the goalkeeper. Hopefully that means your goalkeeper can relax a little bit and just give information, concentrate on the position and make saves until he gets his feet under him," Wiese said.
College soccer has a generally poor reputation when it comes to developing players and is often the subject of debate. Nevertheless, going to school has paid off for a number of keepers with national team experience. Brad Guzan, Nick Rimando and Sean Johnson all played NCAA soccer and have gone on to start for the US Men's National Team. Zack Steffen of Maryland, who featured for the US at the U-20 World Cup earlier this summer, and Alex Bono of Syracuse are recent graduates who are building careers based on their experience in college.
All of that, though, is a ways in the future for Marcinkowski. For now, he has had plenty of soccer to focus on. His San Jose Earthquakes U17/U-18 team advanced to the semifinals of the US Soccer Development Academy playoffs before falling 2-0 in the semifinals. Marcinkowski's goal was under pressure for much of the match, and he was called into action early and often in the defeat, just three days after the national team camp ended.
The US U-18 National Team played twice in the NTC Invitational, falling to Uruguay 2-1 and drawing with the Czech Republic 1-1. Marcinkowski did not play in either match. Despite this, the benefits of a call-up are not limited to in-game action and will help set him up for a bright future both as a Hoya and as a professional.
"I think it gives [Marcinkowski] a lot of confidence, but I also think it gives him a lot of high-level experience to draw from that [he] can apply certainly for his time at Georgetown and beyond," Wiese said.