Defense leads New York SC U-16 boys to NPL Finals title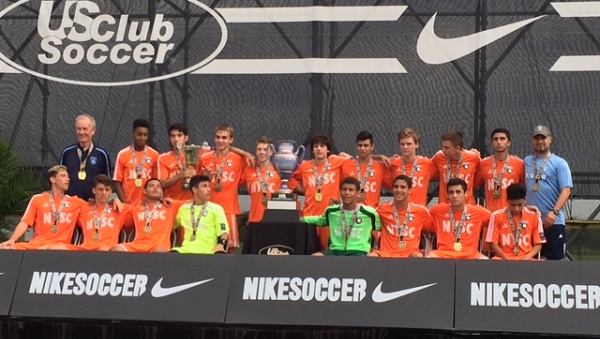 Entering the 2015 National Premier Leagues Finals, which took place July 9-13 in Westfield, Ind., New York Soccer Club U-16 boys head coach Mark Heffernan asked his team to do three things.
The first task for his team was to set a style of play.
"Offensively, it was really important for us to try and maintain control of the possession and the tempo because an open, transitional game wasn't going to work well for us" Heffernan said.
The team's results in the tournament indicate success on that front. On its way to a U-16 championship, New York SC went undefeated, posting a 4-0-1 record against the top competition in the country. It had a goal differential of +7, a number made possible by large amounts of possession and a stout defense, the subject of Heffernan's second goal for his players.
"Defensively, we were really focused on making sure we worked for each other and making sure we didn't get exposed in 1-v-1 situations," Heffernan said.
The team allowed just one goal over the course of five games and preserved clean sheets in the semifinal and final. Only one other team allowed so few goals, and New York SC defeated that team in the semifinal. Most importantly, the game plans in the attack and on defense were tied together by an overall mindset adopted by the players.
+Read: Revamped Princeton SA U-17 Girls ready for National Cup Finals
"The last thing, I said to them 'there are millions of kids out there each year, and very few players get to play for a national championship. Just leave everything on the field. Just give everything for your teammates,'" Heffernan said. "That level of commitment to the cause was brilliant from my boys."
The three-part marching orders proved to be a winning formula, leading the team to a championship in one of the biggest national tournaments on the youth soccer calendar. The NPL Finals tournament includes the best teams from 19 youth leagues scattered across the United States.
New York SC qualified for the tournament from the Eastern Development Program, one of those 19 leagues. It won the EDP U-16 North division, finishing with the only undefeated record.
The climax of the team's NPL season came on Monday, July 13, when it faced off against LA Premier FC White for the championship. New York SC walked away with a 2-0 win in a final game that embodied the first two of its head coach's three goals: control the pace of the game and play solid defense.
+Read: Manhattan SC U-18 boys seek to defend US Youth Soccer national title
"My team [was] very, very strong in terms of [keeping the ball and dictating tempo], certainly in the first two thirds of the game," Heffernan said. "In the last third of the game, the defense kept up and did what they needed to do."
These accomplishments are all the more impressive considering the relative age of the team. The U-16 age group includes teams largely made up of players born in 1998. New York SC's roster had just three players born in 1998, and those three have their birthdays in August or later. For Heffernan, the team's ability to face older competition and come out on top is closely related to that third goal he laid out for his players before the tournament: Relentless effort.
"The team just worked incredibly hard for each other," Heffernan said.
New York SC 99 boys squad, coached by Heffernan and Shahaab Langroudi includes: Jack Beer, Nicholas Berghold, Michael Branca, Jack Cohen, Fernando Docters, Luis Galenao, Greg Ginsberg, Dhruv Girgenti, Alex Juma, Kofi Hope-Gund, Rio Hope-Gund, Freddie Nava, David Noel, Mattias Prando, James Sands, Enzo Sangiacomo and Giuliano Santucci.
2015 NPL Finals Boys Champions
U-13: U-13 New York Red Bulls
U-14: Santa Clara Sporting 00B Green
U-15: FC Dallas U-15 Pre-Academy
U-16: New York Soccer Club B99
U-17: Pac San Jose Indios
U-18: Campton United 96 MDL
2015 NPL Finals Girls Champions
U-13: NEFC Elite U-13
U-14: Washington Rush G 00
U-15: FC Virginia United Premier 99
U-16: NEFC Elite U-16
U-17: NJ Stallions Dynamite
U-18: NEFC Elite U-18